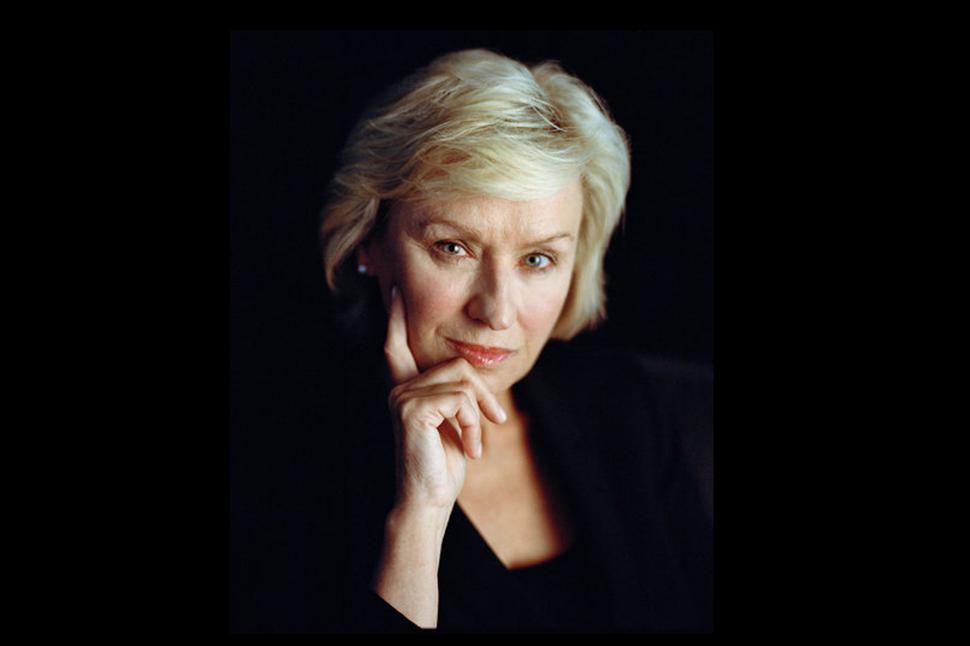 Tina Brown on Women's Rights
This international media maven's mission now is to improve the role of women in the world
Friday Jan. 1, 2016
I'm in a pretty Chelsea back street, desperately trying to stop Tina Brown from being mown down by a white van.
Oblivious to my cries of "watch out!" and defiant in her fuchsia jacket, the fearless blonde digs her heels into the tarmac for our photographer — and laughs.
How many powerful women laugh as much as Brown does? In my experience, not many. Maybe they feel humour undermines their importance — or maybe power just takes decades to relax into. With her first editorship (of Tatler) at 25, and second (of Vanity Fair, where she was given the Manhattan corner office, clothing allowance and A-list Yellow Pages every journalist dreams of) at 30, the Maidenhead-born 61-year-old has had longer than most.
That said, Brown's Oxford contemporaries will tell you that her wit was a trademark no amount of success could eradicate.
"Humour is very dangerous indeed these days," she laments, once safely ensconced in a nearby cafe. "When I first moved to America I was far too unbridled, and I'm still a bit of a reckless character, so I often get into trouble. But I think that women in top positions in the US are so circumscribed by PR now. There's this terrible fear of causing offence and 'mis-speaking', which has become a problem here too, because there's now nothing you can say without someone taking umbrage. This whole issue of 'trigger words' just makes you terrified for free speech! I say, let's save the umbrage for important things. Let's save it for rape, domestic violence and the tremendous inequality that still exists across the world."
It's these issues that Brown is in London to address, at the seventh annual Women in the World summit, where the likes of Meryl Streep, Carey Mulligan, Nicole Kidman, Queen Rania of Jordan, Theresa May and German Defence Minister Ursula von der Leyen convened at Cadogan Hall to speak and hear the stories of Syrian refugee Mervat Alsman, and Zhanna Nemtsova, the daughter of murdered Russian dissident Boris Nemtsov, among others.
"Women in the World isn't me on some feminist jihad," Brown says — her speech so fast and clipped that it sounds like her words are struggling to keep up with her thoughts. "I see myself on a storytelling mission — because first and foremost I'm a journalist."
As the wife of British newspaper legend Sir Harold Evans, and the woman who increased the sales of an ailing Vanity Fair from 200,000 to 1.2 million, before reinventing The New Yorker and launching the Daily Beast news site, Brown knows all too well that "people aren't moved by issues, but stories".
"It took the photograph of that little boy on the beach, Aylan Kurdi, to get people engaged, and yet it had been four years ... So rather than make any kind of feminist statement, I prefer to have women get the attention they need by telling their stories."
Shrugging off the accusations of "elitism" recently levelled at her summit (tickets, costing as much as £150, quickly sold out), Brown assures me that there will be plenty of students in attendance and that every event on the schedule is being live-streamed free from their website. "By launching 'Generation Girl' [which targets younger audiences and their concerns], I wanted to make sure that we had a large number of young girls' voices coming from the stage, too, because otherwise it's very easy to end up with women who have achieved, achieved, achieved."
One of the concerns Brown has chosen to highlight in a talk — Selfie: The High Cost of Low Confidence — are the pressures social media places on young women.
"I wouldn't want to be young now," she shudders. "Social media is so distorting on the young mind — and particularly exhausting for girls, who are extremely self-conscious anyway. Then there's the thing of everybody pretending they're having such a fabulous time, when they're not. Nobody ever posts a picture of themselves watching re-runs of Law and Order on the couch in their pyjamas ... "
When I ask whether Brown's 24-year-old daughter, Isabel (she also has a 29-year-old son, George), has been affected by the suffocating social media-enhanced emphasis on female appearance, she tells me: "No — well, yes, because she's just decided she won't give a damn about it."
Brown's particularly admiring of this, because it's an attitude it took her and her close friend Hillary Clinton the better part of half a century to adopt. "Unfortunately, that only really happened for me in my 50s, and now I'm finding life so much more relaxing."
Both women can and will do Fifth Avenue chic as well as the next power player, but the days of either being bullied into looking a certain way by anyone — certainly the likes of Donald Trump — are long gone. And, by the way, "if it comes down to Trump v Hillary in 2016, she'll fact-check him into the dust".
As a 21-year-old described by British Vogue as "the most sought-after journalist on Fleet St", the daughter of film producer George Brown once said that she particularly loved "meeting well-known women, because I'm interested in what makes them a success". Shoot the question back at her 40 years later and she has discovered the answer: "Focus. A prime example of that is Meryl [Streep], because it doesn't matter how big or small, she puts as much care into everything she does. And it's got harder and harder to do that, with all the distractions we now have coming at us."
Brown agrees that relationships require a level of focus, too, but in the 34 years she and Evans have been together, she says, she has never found her marriage to be hard work. "Listen, I adore my husband, so I haven't found any of it in the least bit hard work. He gives me a long rope to play out, but I do think it's so important to give your husband attention. I know, for example — in my head — the number of days I can spend away from Harry without damaging our bond. So there are times when I'd love to go somewhere and work on a project, but don't do it because I want to get home to Harry. And I don't view those things as sacrifices, because I want to do them."
So when she hears women bleating about why they won't pick up their husband's socks? "Oh, get over it," she chuckles. "I really don't think you want to bring a militant attitude into a marriage. My husband does things I hate doing and I do all kinds of things that he doesn't want to be bothered with. I'm a terrible cook, and luckily Harry doesn't care about food. If he did, we would be divorced. But just as I understand that he needs space and encouragement, he understands that all this," she smiles, designating the activity around her, the watch-tapping assistant and the iPhone loaded with an hour's worth of demands, "makes me happy."
With one best-seller — The Diana Chronicles — published in 2007 and a long-awaited memoir, Media Beast, due out next year, there is one thing Brown feels she's failed at, however, "and that's downtime".
"I used to have something called my 'Tuscany cupboard'," she smiles, "in which I'd put all the clippings about that tour of the Greek islands and 'in the path of Mary Shelley' road trip I was going to do when I had time. And I will do those things one day."
Of course. Just not today.
— The Daily Telegraph

• For more information on Women in the World, go to nytimes.com/womenintheworld
Share this:
More Culture & Travel / Features & Profiles