Touring Dunedin with Slick Willy's
10 top Dunedin spots to eat, drink, walk, dine and visit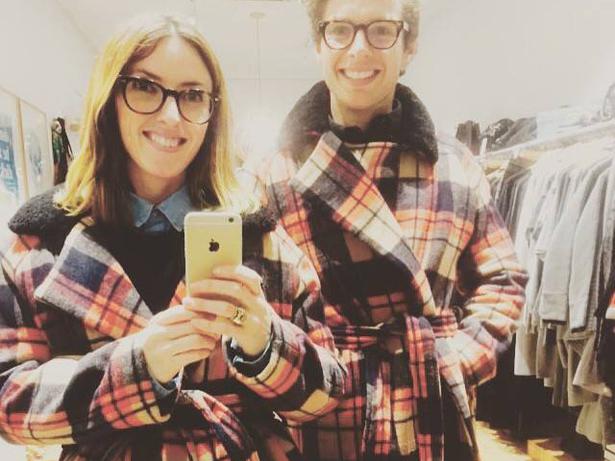 Saturday June 6, 2015
Slick Willy's owner Amy Henderson has lived in Dunedin her whole life and probably should be made a town ambassador as she loves the city that much. Not to mention she and her family practically run half of it. Amy started working on the shop floor aged 17 and 10 years ago she bought Slick Willy's with her sister after the death of the original owner.
She recalls that in the early days she begged Stolen Girlfriends Club to let her stock them, with now more than 70 designer brands sold at the store. For the last few years her best friend and store manager, William Hyndman, has been helping run this store with her (however, yesterday was sadly his last day as he's moving to Auckland); he also makes made-to-order Rupert Smiles leather bags, stocked in the store. Amy and her sister also own the cafes The Perc Cafe and the Perc Exchange, which opened three days ago. Their mother owns a design and homeware store at St Claire beach called Moi Design and another in the city, Moi On George, which she runs with another of Amy's sisters. Clearly, Amy knows and loves Dunedin. We asked her and William to share their tried-and-true top spots in the city.

AMY'S TOP SPOTS
Pequeno Lounge Bar
This bar is down a hidden alleyway in the basement of the historic Savoy building. Every Thursday they have live jazz and, in the middle of winter, a roaring fire. You can order in food, from the Japanese and Italian restaurants above, to eat in the bar. This is the kind of place you would never just stumble upon. You either need to know about it or go there with a local.
Otago Farmers' Market
A particular crowd pleaser at these Saturday markets is the Peasant Bakery inside the station. "They do the best croissants I've had in my entire life — I've been all through Europe and nobody does bread like that," says Amy. The market is great for fresh organic vegetables. Other recommended stores are The Tart Tin and The Bacon Buttie Station. Good idea to take cash with you. 
7am-12.30pm at Dunedin Railway Station, 1 Anzac Ave.
Best Cafe
The oldest fish and chip shop in Dunedin, which has been there since 1932. Dining at Best Cafe is like entering a 70s time warp. Customers travel far and wide for their fresh Bluff oysters.
Opening hours: Monday –Thursday 11.30am 2.30pm , 5pm-8pm and Friday – Saturday 11.30am- 2.30pm, 5pm-9pm. 30 Stuart St, Dunedin, 9016 Ph (03) 477 8059.
The Port Royale Cafe
In Port Chalmers, which is a 20-minute drive from the city centre. Port Chalmers is known for being a very artistic community, with many vintage stores and a great secondhand bookstore on the same street as the cafe. The Port Royale has great coffee, food and fascinating ceramic artwork by local artist Jim Cooper on the shelves and walls.
Winter opening hours: 8am-3.30pm Monday–Friday, 8.30am-4pm Saturday–Sunday. 10 George St, Port Chalmers, Ph (03) 472 8283.
Tunnel Beach
This spot has been described as the most romantic spot in Dunedin, 7km out of the city. It is a 20-minute walk from the car park to Tunnel Beach, where you will encounter sandstone boulders and cliffs. Amy says whenever she has a visitor in town she always takes them out here. "It is the most phenomenal view — photos don't do it justice — you feel like you are in a different country."

WILLIAM'S TOP SPOTS

The Esplanade
Described as a piece of Italy perched on the beachfront at picturesque St Clair Beach. This resturant is a must-visit. The atmosphere, plus the food is great and they have wine on tap. The margarita pizza, tiramisu and a Peroni shandy come highly recommended by William. Also, an insider's tip is get a table and high stool up by the bar rather than a regular table as this offers a more relaxed, but social dining experience.
Pineapple Track
This sub-alpine walk has 360-degree views from the top, looking out over Dunedin, Central Otago, and is great in all types of weather — snowing, a clear day, at dusk, or sunset. If you leave from the Bull Ring it is a 3km walk that will take you around 40 minutes.
St Clair Hot Salt Water Pool
An outdoor pool that shares a likeness with the pool at Icebergs on Bondi Beach in Sydney. Just out to the right of St Clair Beach, it is heated and open during daylight saving months.
Lovers' Leap
This walk and spectacular outlook comes highly recommended. Make sure to go at the right time of year as you will need to cross farmland, which is closed to the public between September 1-October 15 for lambing. About a 40-minute drive from the city centre.
Kiki Beware
Each month this self-described refreshment room hosts different artwork by new and emerging artists. This spot has a great atmosphere, coffee and food, and their fries come with five different salt options. They are also in the process of merchandising their own roasted coffee brand. Plus they serve alcohol and are open late.
Share this:
More Culture & Travel / Going Places