SPONSORED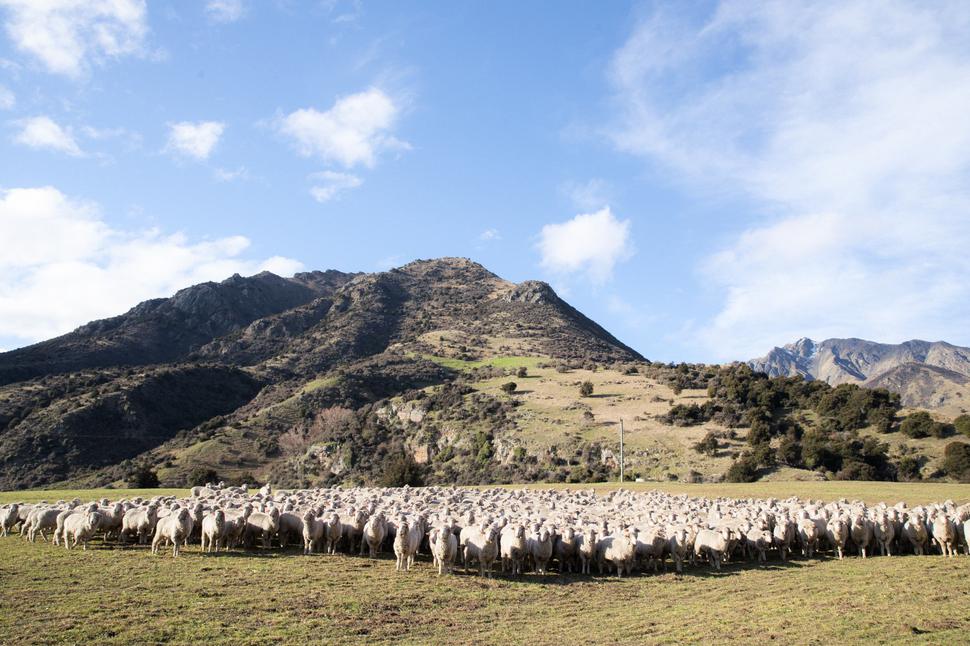 Traversing & Truffling In The South, Claire Chitham Unearths Luxuries Aplenty
Claire experiences a few luxurious delights that were the tip of the iceberg in what is already a nature filled journey through stunning South Island scenery in the Jaguar E-PACE.
Friday Sept. 10, 2021
It's been said that the purpose of poetry is to try and describe that in life which defies description. I'm no poet but I'm now tasked with trying to describe a place and a feeling that is instantly minimised once you try to attach words to them. A storyteller's conundrum.

Anyone who's spent time roaming Aotearoa will, I hope, have had the experience of feeling humbled within our landscape. We live in a land that inspires awe at many a turn. In one glorious weekend I drove the 2021 Jaguar E-PACE from Queenstown through the Crown Range to Wanaka, from its neighbour Lake Hawea down through the stunning Kawerau gorge to Bannockburn, and back again. Insert expletives here. It feels trite to try and be poetic about mountains. Maybe swear words are a better fit. But the wash of wonder and humility I felt as I floated between all those peaks was both grounding and enlightening all at once. I felt poetic, even if I couldn't find the words.

READ: Reconnecting With Singer Reb Fountain In Otautahi Christchurch
The one thing you cannot do in this Lake Districts region is ignore your environment. It envelops and dwarfs you. We live in a country dominated by our whenua and the resources that spring from it. But how good are we really at tending to it, learning from it, honouring and protecting it while continuing to live off it? As far as custodians who are trying to shape a better picture for future generations of this land, you can't get very more exemplary right now than Geoff and Justine Ross and their team at Lake Hawea Station.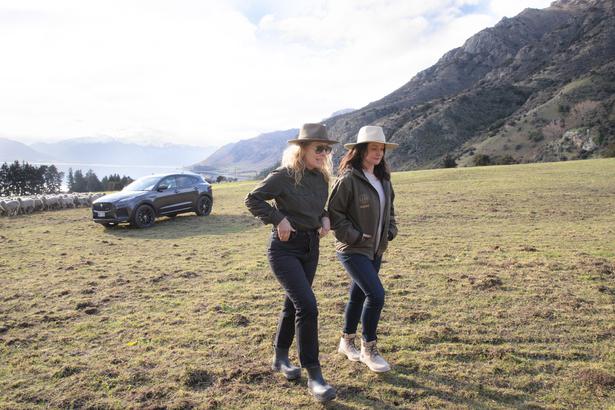 After only two and a half years since taking on the head-spinning task they set for themselves, they have turned their 6,500 hectare station into New Zealand's first carbon clear merino wool and Angus beef-producing farm. Their proudly displayed logo and carbon clear certification mean that as a working farm, they are now sequestering more carbon than they emit. Their livestock graze and thrive in regenerating bio-diverse paddocks, their high-end merino wool production processes are fully traceable and tracked, they've planted over 16,000 native trees in two years and have a mandate to reach 100,000 in ten years and they are on a mission to show and teach others that farming can be the solution to many of the problems our country faces, while also being a profitable and productive opportunity for all the people behind it.
Justine and Geoff themselves are a 30-year strong love story who have both had environmental passions running through their veins their entire lives. Now their whole family is a part of that story too. If you want some great lessons in the science and the realities of our climate crisis, follow their eldest son Finn (@ecointerpreter) who does a great job of explaining the tricky stuff. By being laser-focused on the station's environmental impact and regenerative goals they are now starting to prove that their product can be both high value and high demand. Luxury brands looking for innovative partners are chasing them down. Like all farming and outdoor endeavours it hasn't been easy, it's almost broken them a few times over, but the rewards feel like they are now starting to sprout and spread just like their wildflowers and kowhai do.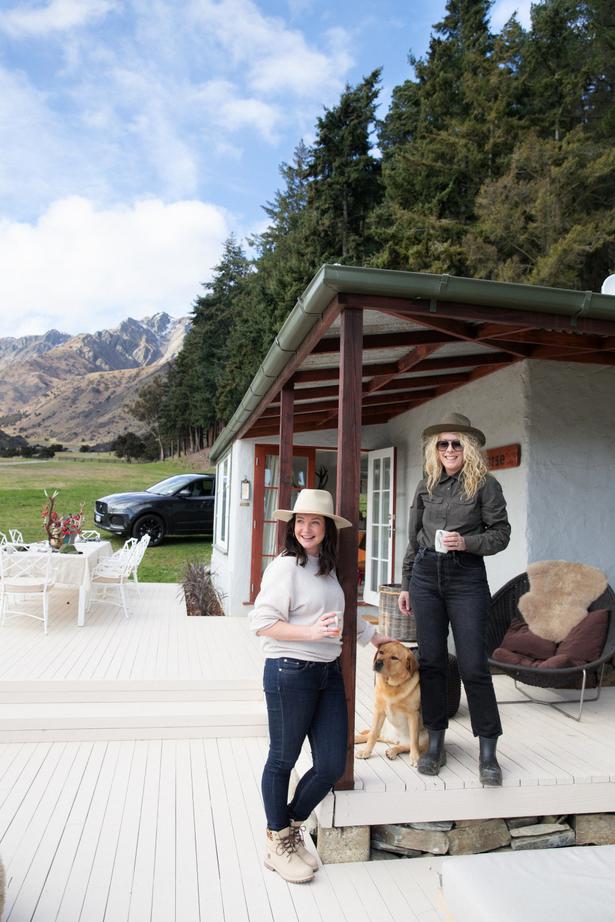 Justine's innate sense of style has helped make adjusting to farming life look effortlessly glamorous from the outside, but she's quick to point out that's just good marketing. The sweat and tears have been very real. But one dreamy night staying in their bespoke shepherding cottages was enough to bring all my McLeod's Daughters dreams to the fore and lull me into believing I too might have the mettle. Well, I had the hats at least. Waking to the sound of silence, staring across glassy Lake Hawea to the majestic mountains that wrap around you, sipping tea by the stoked outdoor fire and how exactly am I supposed to go back to city life from this?
READ: Two Creatives Hit The Road In A Powerful New Jaguar E-PACE
When they offered to let me take my stead into one of their regen paddocks with the help of farm manager Jack and his trusty sheepdog Tom, I wanted to make sure my sleek beast would stand out for all the right reasons, not just it's sassy good looks. Jaguar as a world-leading luxury brand has a mandate to produce entirely electric vehicles by 2025 and sister brand Land Rover will welcome six pure electric variants in the next five years. My mild-hybrid E-PACE helps me monitor my energy output as I drive, a consciously mastered element that adds to the appeal of the E-PACE. It is worth noting here that Jaguar's flagship all-electric I-PACE which has won World Green Car of The Year, World Car of The Year and NZ Car of The Year, this brand knows the ingredients for building excellent performing electric vehicles — holistic synergies with the ethos of the station we found ourselves on.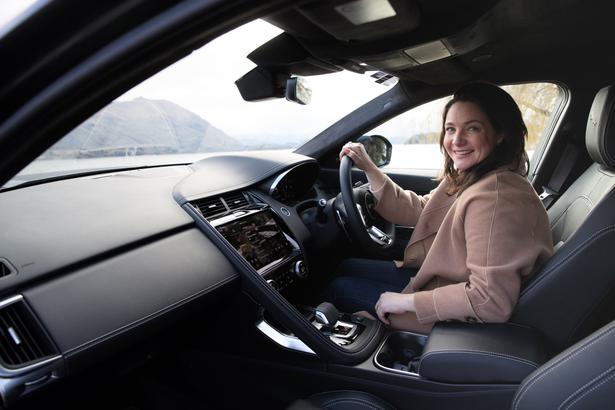 From the quality of the soil and its effect on its environs, to the diversity of plant life and wildlife springing from it, the animals that are feeding off it to the food and resources they produce — the cycle and continued evolution of life here is at the epi-centre of everything they do at Lake Hawea Station. It's inspiring and deeply motivating.
It's no surprise that Justine has become such an integral part of the local landscape here, her passion for their mission is imbued in everything she does. With her community spirit spilling over, she insisted on showing me her favourite local spots. Wanaka is host to a rising number of cool, bespoke businesses as its resident numbers grow.
Jussie's Wanaka Hit List: Scroggin for your local organic cafe needs, Kika for food that will never disappoint. Revology for divine gifts, teas and sustainable homewares, Wilson & Dorset if you want to steal her wintery interior design looks for your own with their gorgeous sheepskins, and Ukiyo hair salon which must have one of the best views of any hair salon in the world. And if you're in the market for a romantic getaway in this area, a must-stay are the geodomes at Cross Hill Camps in Lake Hawea (take the option where you have dinner with the hosts — outstanding southern hospitality and local food at its finest).
A day of learning and reflection, was followed by a night of rest thanks to the Sofitel who welcomed our weary troop with deep baths and crisp sheets, a must stay for the adventurers looking for a little indulgence. With local produce on the brain there was one more mission I had in mind while down here and I chose my journeyman for his affinity for good tyres, good taste and his sense of smell.
Chef Matt Lambert achieved his Michelin-starred dream at his NYC restaurant The Musket Room over eight years ago, but it was being back amongst those 'remarkable' ranges in Queenstown that lured him home for good. He's transplanted his family back to Auckland and splits his time between the two locations of Rodd & Gunn-aligned restaurant, The Lodge Bar.
As a self-described westie, Matt and I had loads of car chat to fizz over as we swung our E- PACE along the winding roads towards Bannockburn, notably the grace and power this car has. Oh, and the sound system. It might be my favourite thing about this car. It's more expletives loud. But we were left speechless and silent more than once as we rounded corners to see those grandiose, snow-capped mountain ranges piercing the sky. Our appreciation for the arid, taupe landscape grew as we curved away from the hidden goldmines in the Kawarau Gorge towards the marbled terroir dominated by the views of the river as we got closer to our destination. We were hunting for our own gold in these hills. Truffle gold that is.
READ: Claire Chitham Finds A Lot To Love On Waiheke
Mirani and Rod Keillor from Black Quail Estate have owned the vineyard for twenty years but have more recently added truffle farm to their repertoire along with their award-winning Pinot Noir. Not content with awards for wine, the couple can now add 2021 ECC Home of the Year award to their collection. Worth looking up for its minimalist architectural glory, set against the painterly backdrop of the desert valley it's nestled within, punctuated by the glistening emerald Kawerau river. Again, these words minimise its beauty.
Matt and I were introduced to their fluffy Italian fur-baby, Nico, (he's a Lagotto Romanaglo) and his ferocious nose. He did not disappoint as we scoured beneath the hazelnut trees for that black gold. Matt even did some of the sniffing out himself. Eureka! We hit pay dirt! I knew I'd brought the right nose with me. They smell quite different in the earth than they do in an oil by the way. And they taste even better when fresh.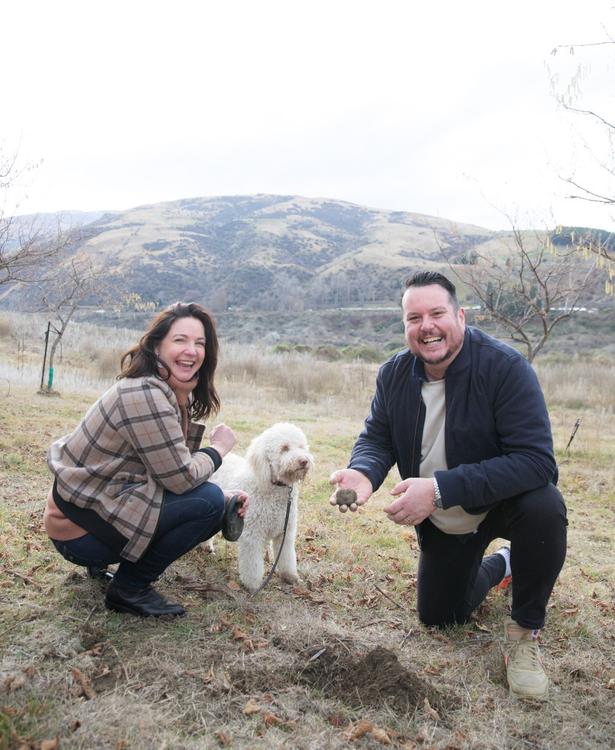 I learnt from Matt that when you've dug up your own like that you can afford to be overly generous when it comes to grating it all over your buttery pasta that night. We basically ate a plate of truffle, with a little linguini on the side, as we toasted our success back in the warmth of the Lodge Bar.
While I was lucky enough to experience all these luxurious delights on my travels, the true takeaway from a trip like that is always the mystical effect that nature has on the soul. Little problems vanish when in the presence of greatness. Bigger issues, like our climate, our environment, and protecting our most valuable resources of this whenua become paramount. Asking ourselves 'what can we do today to help protect tomorrow?' so that we can continue to enjoy the gifts of this land is a good start.
This story brings our series to a grand end. Thank you to everyone who made this series such an extraordinary one, this final trip was incredibly memorable for everyone involves; Lake Hawea Station, The Sofitel, Black Quail Estate and of course Jaguar. 
Claire Chitham can be seen on our screens and has a recipe book of her own on wellbeing and gut health out now, Good For You is available at bookstores and online at Goodforyoutv.co.nz
For more on the Jaguar E-PACE head to Jaguar.co.nz
Share this:
More Culture & Travel / Going Places