TBT: TV and Film Remakes Worth Watching
The Notebook, Gilmore Girls and Ab Fab are among the latest movies and TV shows to be rebooted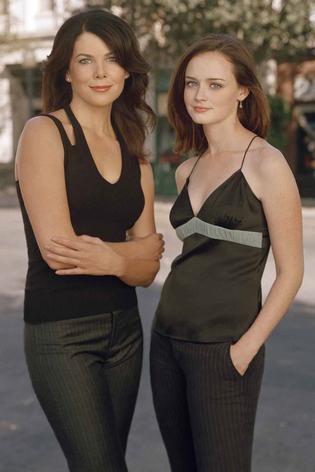 The X Files is back, Fuller House premieres next week, Grease: Live aired last month, and the Friends cast (minus Matthew Perry) are set to reunite this weekend for a tribute to director James Burrows. Remakes, sequels and reboots are as popular as ever. As networks and studios continue to mine the recent past for new content, we look at the TV and film remakes worth watching.
Ab Fab: The Movie
Patsy and Edina are back and so are their fabulous outfits. The movie version of the beloved 90s sitcom will feature some of the biggest names in fashion and Hollywood alongside Jennifer Saunders and Joanna Lumley, including Rebel Wilson, Cara Delevingne, Kate Moss, Joan Collins, Giles Deacon, Victoria Beckham and, reportedly, Kim Kardashian. To be released in July this year.
Gilmore Girls
Netflix is reviving 00s TV series Gilmore Girls via four 90-minute "movies". The final chapter will be helmed by creator Amy Sherman-Palladino, and many of the original cast members will be back, including stars Lauren Graham and Alexis Bledel. Fans are hoping these episodes will bring a sense of closure to the series, with Sherman-Palladino having left the show before the final season. Production is under way.
The Notebook
A TV series portraying Noah and Allie's tumultuous relationship (as seen in the 2004 movie based on Nicholas Sparks' novel) is in development. The CW president Mark Pedowitz said he did not believe we would see the older version of the couple this time though, with the focus to be on the early days of their relationship. The big question is, who will be able to fill Ryan Gosling and Rachel McAdams' shoes?
My Best Friend's Wedding
Next on the list of movies morphing into TV shows is the 1997 Julia Roberts rom-com My Best Friend's Wedding. The original writers and producers are on board for Fox's new series, which will pick up where the movie left off, following Julianne Potter (Roberts' character) and her friend George (originally played by Rupert Everett) through their life in New York City.
Cruel Intentions
The 1999 movie version of the French novel Les Liaisons Dangereuses cast Sarah Michelle Gellar, Ryan Phillippe, Selma Blair and Reese Witherspoon in a scandalous world of money, sex, drugs and power. Now, a TV pilot has been ordered for a sequel set 15 years in the future, which will follow Sebastian and Annette's son Bash Casey. The film's writer-director Roger Kumble is on board, along with the writers of last year's hit musical parody of the movie.
Share this: