Twenty-seven Names on their love of David Shrigley
The art-loving designers have a soft spot for the visiting British artist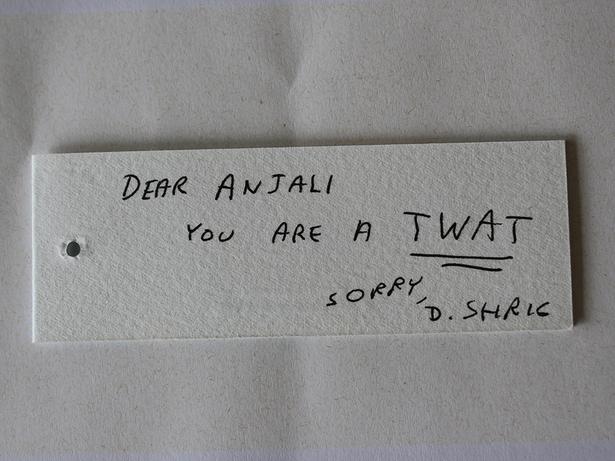 Thursday March 5, 2015
David Shrigley will exhibit in New Zealand for the first time as part of the Auckland Arts Festival this month, as the 2015 International Resident Artist at Auckland gallery Two Rooms.
The artist is best known for his line drawings with a distinctive deadpan humour — think of a cat shaking a mouse's hand with speech bubble saying, "I won't kill you".
It's that dark humour that appeals to the art-loving designers behind Twenty-seven Names, Anjali Stewart and Rachel Easting. They discovered David's work in 2004 through one of his books, and have been fans since — here, they share more on their love of the British artist.
"We love that David's work is funny. There is a huge amount of humour involved, which makes the work really accessible to the viewer, that's why he has such a wide-reaching audience.
"Our favourite David Shrigley piece would be the drawing of a man going on stage to receive an award saying, 'As I go up to receive my award I wave to friends and family in the crowd,' with the crowd responding, 'twat', 'you're a twat', 'you twat', 'twat'.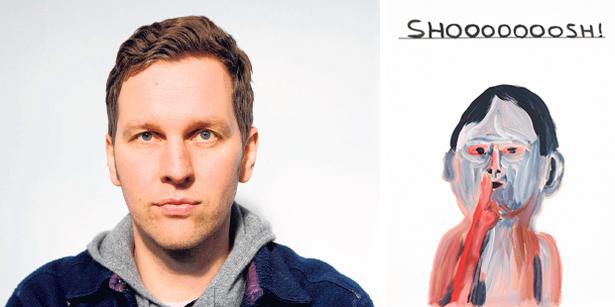 "A friend of Anjali's went to a book-signing of his in New York, and knows she is a massive fan so asked him to pen something for her on the back of a gift card. He asked her what she'd like it to say, she was like, 'umm — just call her a twat'. He obliged and responded, 'if only everyone was this easily pleased'. Anjali keeps it at work as a constant reminder of who she is.
"His work has loosely influenced things we have designed. His dry wit has spurred on some of our slogan tees from seasons past. We have so many of his books — The Book of Shrigley, Let's Wrestle, Red Book and more. These are always a wonderful world to delve into when we are feeling stuck on ideas or need to just take time out from design.
There's always something that will help to form an idea or jog your memory to come up with something."
"Rachel was lucky enough to visit Melbourne last month while David's exhibition Life and Life Drawing was showing. This was the first time she'd actually seen his work in a gallery setting rather than in books etc, and it was awesome. One of the best parts was a grid of about 10 large paintings all hanging on one wall which were beautiful in colour, as well as witty and clever in content — as you'd expect.
"The sculpture components were a real highlight as well — especially a little bronze reminiscent of Degas' ballerina, but in a much less palatable position.
"Humour is very important in art and in fashion. In art it's a very real way to connect with the audience. We love that it can cover all topics and subjects and especially in Shrigley's work, it means that there is something personal that everyone can relate to.
"It's a way of breaching serious and dark ideas and giving them light and a platform to be discussed. In fashion, the same goes — we have both always really enjoyed fashion that can be playful and not take itself too seriously.
"Tracy Emin is another of our favourite artists. We were lucky enough to see her retrospective at the Hayward Gallery in London a few years back, it was so beautiful, especially the quilts — they are so detailed. We admire her honesty and poetic voice.
"Vanessa Beecroft, Gillian Wearing, Rineke Dijkstra: the way they capture women in their work has always resonated with us — we've based photo shoots on their work."

• David Shrigley, March 6-April 18, at Two Rooms gallery, 16 Putiki St, Newton.
Share this:
More Culture & Travel / The Latest