Watch Viceland's My House & Go Inside New York's Fierce Ballroom Scene
Ever wonder where phrases such as 'spill the tea' and 'throw shade' originated? New York's queer voguing scene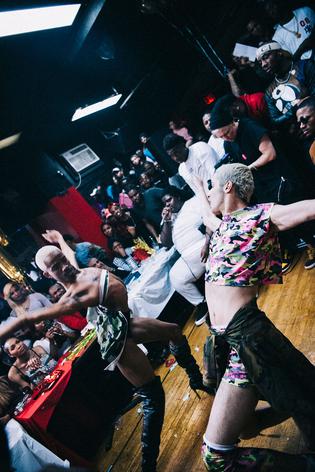 In Viceland's new documentary series My House, we meet the modern generation of vogue stars hoping to reach legendary status in the 'ballroom'. There are no stuffy ball-gowns here, however. The ballroom is the fierce battleground where competing 'houses' (performance groups) strut their stuff, and was where voguing as a dance style began.
Both fashion and pop culture have a lot to thank the ballroom scene for. In 1990, Jennie Livingston released her iconic doco-film Paris is Burning, which focused on New York's ball culture, and that same year Madonna brought mainstream attention to the movement with her 1990 hit Vogue.
Before the success of RuPaul's Drag Race, RuPaul's career began with performing in the underground ball circuit, and locally, the movement has inspired FAFSWAG, an Auckland-based collective which celebrates queer Pacific Island culture and contemporary arts.
READ: Beauty Routine: Performance Artist & FAFSWAG Member Akashi Fisi'inaua
Likewise, ballroom culture takes cues from the fashion industry, with 'House of Balenciaga', 'House of Miyake-Mugler' and 'House of Lanvin' all going head-to-head to be the best.
The ballroom scene is so much more than a fun Friday night outing for those participating — it's a crucial community and a place people facing stigma can express themselves and break barriers. As we're told in the first episode of My House: "Ballroom is our release, our battleground, our strength, our imagination, our story."
MY HOUSE
Mondays from 4 June, 7.30pm
VICELAND
SKY Channel 13
Share this: