TBT: Vinyl Costume Designer John Dunn
John Dunn on recreating the 70s for Mick Jagger and Martin Scorsese' TV series Vinyl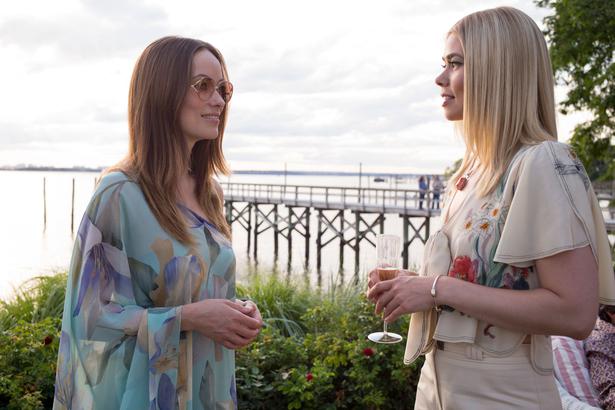 Thursday March 24, 2016
Vinyl, a collaboration between Mick Jagger, Martin Scorsese and writers Rich Cohen and Terence Winter, recreates the glamorous yet gritty music scene of 1970s New York City. The new HBO series, showing on Sky's SoHo and Neon, has John Dunn to thank for its amazing costumes – think sky-high platforms, perfect flares and vintage Biba.
The top designer's credits include Mad Men, Factory Girl, and Boardwalk Empire – where he also worked with Scorsese, Winter and Vinyl star Bobby Cannavale, and was awarded two Costume Designers Guild Awards. We speak to him about working on Vinyl, and living in New York in the 70s.
Tell us about your planning process for Vinyl.
The first steps are to read the script and map out the worlds the characters will inhabit throughout the series. For Vinyl this included real places in NYC in 1973. Music venues like Max's Kansas City, Times Square, the Chelsea Hotel and lesser known places like recording studios and the underground dance clubs in the Bronx which were the birthplace of 70s disco.
We put together shelves of books filled with pictures and images of the city at that time. We then meet with the producers, director and the production designer to discuss the mood and tone they are trying to capture. For Vinyl we agreed to focus on the gritty and often tawdry nature of the city in 1973. So we strove very hard to keep it real and not glamourise or whitewash the times. This meant collecting clothing for the actors with an edgy quality rather than the Sears catalogue or glossy magazine version of things.
Were there any particular musicians or icons from the era that inspired you?
So many! The New York Dolls and David Bowie; glam-rock was at its highpoint in '73. The Ramones, who were still to form but were individually already on the scene in the city. Because of the scale of the show and the NYC music mix being so rich in 1973, we had to research everyone, from Bob Marley and the Wailers to Robert Goulet, Alice Cooper, Elvis Presley and John Lennon. And in the downtown world we looked to Andy Warhol, Robert Mapplethorpe and Patti Smith.
Where did you source the costumes?
In order to costume the series we had to virtually create a 1973 department store, able to outfit the wide range of characters on the show. We built a large collection from costume rental houses largely based in Hollywood like Western Costumes and Motion Picture Costume Rentals.
Simultaneously, thanks to the Internet, we have an army of vintage vendors across the country collecting pieces for us and searching for specific items such as men's platform shoes and bell bottom jeans which we never have enough of. We have one design assistant whose entire job is marshalling this shopping operation and sending out the word as new needs arise.
We often buy pieces we have no assigned spot for, but that could be useful to have on hand when new scripts come out as filming progresses. In NYC, two of my favourite shops are Ritual Vintage and Stella Dallas.
READ: Recreating the 70s for Westside
Who was your favourite character to dress?
There are so many cool characters to dress in Vinyl but probably Devon and Juno. Helping the actresses create the physical look of those characters was great fun; we'd have marathon fitting sessions with racks of vintage we collected from all over. But the clothing has to help tell the story to the audience; it isn't just a fashion show. So that's the puzzle that is so interesting to solve with these characters.
What was it like working with Mick Jagger and Martin Scorsese?
Both are keenly sensitive to the importance of costumes on their projects; it's really like making a painting that moves with two geniuses as your collaborators. If my work is any good it is only because I get to work with these great visionaries.
How much of a vision did they bring to the look?
We send out fitting photos of every character, major or minor, for comment before sending the actor in front of the camera. Their feedback was an invaluable guide to maintaining the look of the entire project.
What about you - did you bring much of your personal history to this role?
I made my move from the sticks to NYC in 1976, and Vinyl begins in 1973, but so much of what NYC was then was still around when I arrived. The grit, the edge, the tawdriness. As the show progresses into the 70s I am quite certain I'll experience more than my share of flashbacks on set.
What were you doing at that time?
Like many, I think, I knew my move to NYC was inevitable. I didn't know exactly what I was meant to do there but I was certain it was the only thing for me. I fell into costume shop work primarily for the theatre, as I had been a theatre major in school. I decided to apprentice myself to the best costume designers at work in the Broadway world; I targeted designers whose work really told the story through costumes. And as a gay man, NYC in the 70s was about as liberating and exciting a mecca as any place on earth.
You've worked on many other amazing shows and movies, how does Vinyl compare?
The first season of any new project is always insanely difficult; there's no road map yet. That said, the satisfaction level when some of it comes out alright is immensely satisfying. And I think we've gotten this story off to a really great start.
What do you like to do on days off in the city?
NYC is so rich culturally that when I'm not working, I try to immerse myself in anything but costume and fashion. I could spend days in the American Museum of Natural History two blocks from my place.
I'm also a huge cinephile and love foreign films; I think they are the leading reason for the enduring compulsion of humans to come together in a dark room with images flickering on a screen.
Tell us something about yourself that not everyone knows…
Over the years, I have costumed three different actors playing Andy Warhol in three different projects (David Bowie, Guy Pearce and John Cameron Mitchell).
And for HBO's Vinyl, I designed costumes for an actor portraying David Bowie in 1973. That was totally cool.
Share this: