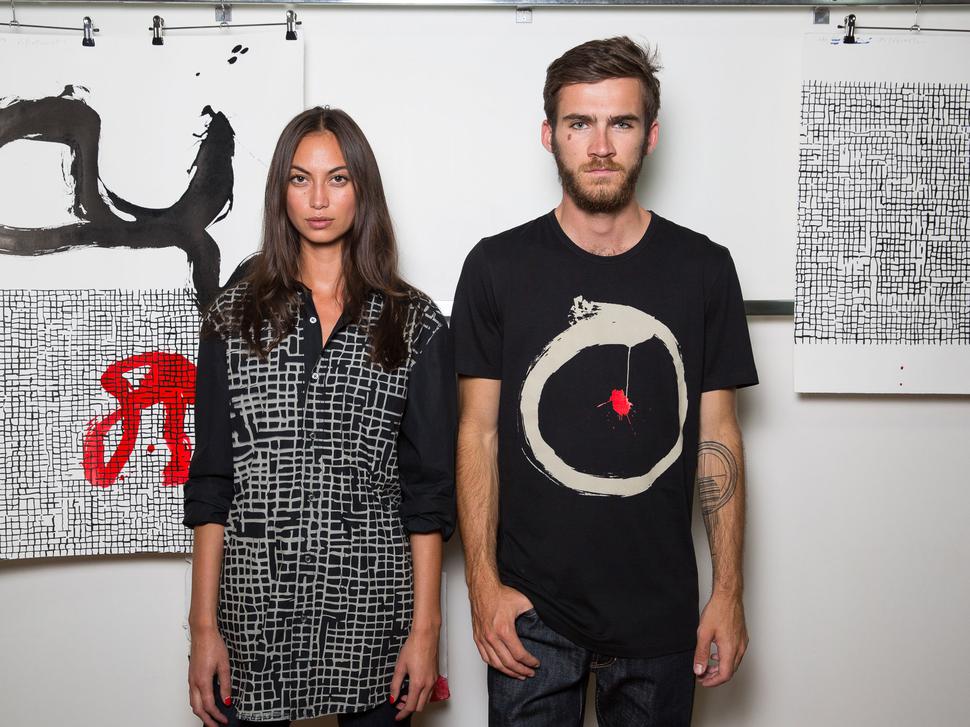 Workshop's Artful Arrangement
An inspired idea from an iconic kiwi brand becomes a multi-media project
Wednesday March 11, 2015
Workshop has collaborated with many artists over the years but their latest, with New York-based New Zealand artist Max Gimblett and Napier's Martin Poppelwell, is their most significant. The pair worked together for the first time to create new works on ceramics and paper — and a limited edition printed collection featuring men's and women's T-shirts, shirts, dresses and jackets. Viva spoke to the artists, and Workshop's head designer Chris Cherry, about the thinking behind the project.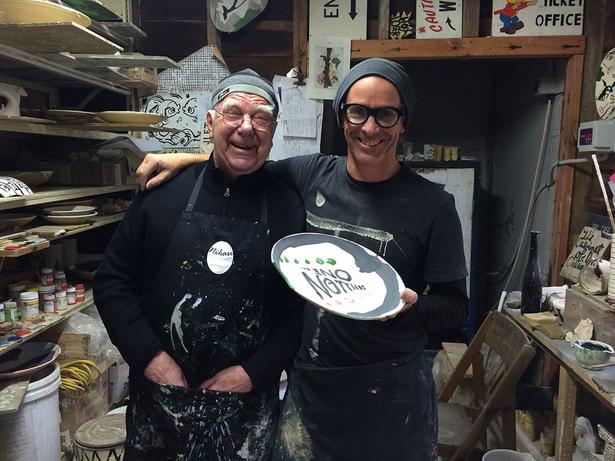 CHRIS CHERRY
"Last year Max emailed me saying he was coming back to New Zealand and was keen to do some more work together. Soon after, I found myself in Martin's studio in Hawkes Bay discussing over a glass of wine what projects we might do together and a light bulb went off in my head. Knowing that Martin and Max knew each other quite well and had considerable respect and admiration for each other's work, I had no hesitation in sharing the idea. We arranged for Max to spend several days with Martin in his studio in Hawkes Bay.
Helen [Cherry] and I visited over the weekend and discussed possibilities, shared our thoughts but really just let them get on with it. The finished works were shipped to Auckland where we spent hours with them in our workroom, finally translating elements from the works on to the garments.
The unglazed ceramics were all made by Martin prior to Max's arrival. Some were painted individually, some collaboratively, as were the works on paper. There will also be a small number of unique garments hand-printed and painted by Max and Martin. They are both hugely talented, enthusiastic artists and it's a privilege and a whole lot of fun to work with them. The strength, simplicity and graphic nature of their work translates beautifully on to fabric."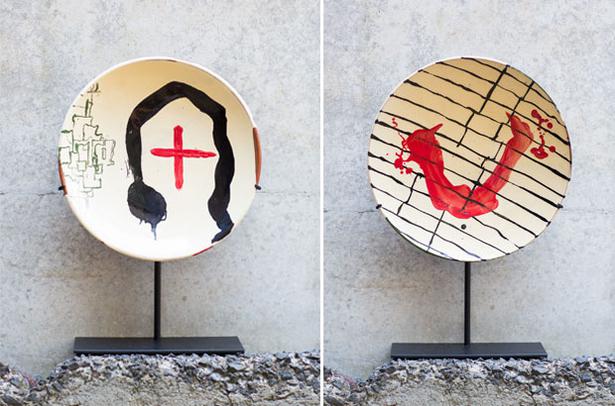 MAX GIMBLETT
What made you say yes to the Workshop collaboration with Chris and Martin?
My respect for Chris Cherry's clothing and for Martin's paintings, drawings and ceramics.
Do you have certain criteria when it comes to deciding whether to work on commercial projects?
I don't particularly differentiate between my own work in the studio and commercial. All art made is for sale.
How do you feel about people wearing your work? What statement will the wearer be making?
Well, I think it's exciting, it's a turn-on. Stimulating, something fresh. It's an alignment with high modernism, a branding. Visually we move in images. It's very old in the history of man.
How did you approach this project?
Martin and I worked together in his studio in Napier for a week. Nothing was done independently. In the past, some of my works, particularly my calligraphic works and those with skulls, were produced as screenprints with Gow Langsford Gallery, then some of these were passed to Chris Cherry and his team.
How well do you know Martin personally?
I know Martin extremely well. He has a high-tuned, first-rate imagination, is very inventive and is an altogether classy artist, who I am delighted to be collaborating with. He is a loving human being, a caring soulful man and this is just the beginning for Martin and I. The tip of the iceberg.
What are your thoughts on Martin's work?
Martin's work is very fresh and inventive. Full of humour, altogether original. A refreshing brand of high modernism. He is in a territory of his own, in New Zealand and overseas. I see a great future for Martin and his work.
What are your thoughts on the resulting images in the Workshop collaboration?
They are very fresh, singular. Of course until we see them on clothing we don't know the final reality. They left my hands as works on paper and ceramics. I trust Chris and his team of designers to do good things.
Other than this project, what are you working on?
I have an exhibition called Sea of Dragons at Gow Langsford Gallery (until March 28) and I'm working on a big show planned for Gow Langsford in early 2016. I'll be signing books at the gallery on Saturday as part of Auckland Arts Festival's White Night.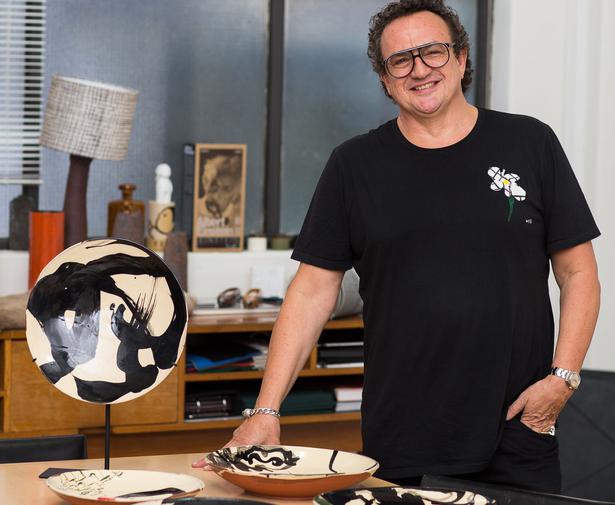 MARTIN POPPELWELL
Why did you agree to be a part of the Workshop collaboration?
I really wanted to work with Max. Chris suggested that Max could get down to Napier to work on some ceramic pieces and it seemed like the opportunity to just see how things unfolded.
How do you feel about people wearing your work? What statement will the wearer be making?
People purchase a garment because they want to wear it. There is also the possibility that such projects allow a glimpse of one's philosophy and practice. The collaborations are done in very limited numbers, so it's not likely you would see another one!
Do you have certain criteria when it comes to deciding whether to work on commercial projects?
Pretty much any project ends up having some aspect of commerce or economy. Though one might not make much from it, one certainly doesn't lose money if at all possible. It has always struck me that the bread and butter aspects of a practice have to be on the same level as the supposed art component, so it's all very relevant.
How did you approach this project?
By trying not to over-think anything and therefore being prepared to discover where the combination of thought and energy would take us both. Max is wonderfully fluid in his approach and can cover a good deal of ground in what appears to be a short period of time. Yet there is endless looking, re-looking and discussion and editing. In his generous way he brought a satchel full of ink brushes down to the Napier studio, and nine months on I am only just beginning to work out how to use them. I'm fully aware of how much significance we both place on brush work and density of colour.
What are your thoughts on the resulting images?
In a way they are a conversation between Max and myself, and so one is able to often see two parts to each work. The plates were built before Max arrived, of course, and in that way one could really step back and allow the ground to be my area, and Max's brushwork to establish a bold graphic element. It was this unhindered restraint that has allowed much of the work to breathe. We have not worked together before. One could describe much of the process as a beautiful risk.
How well do you know Max personally?
It has been over the past five to six years that I have really made the effort to talk to Max, after seeing his survey show at the New Gallery in Auckland in 2007.
What are your thoughts on Max's work?
Max has established a unique approach to making artwork, one that bears a great deal of scrutiny. It encompasses a breadth of thought and being that locates it slap in the midst of the conscious. The way he practices on a precipice of beauty and daring is a divine gift.
How much do you identify with his work/creative process?
I prefer to work quickly, but with Max there is often a tremendous amount of setting up before the paint and materials are brought into play. Particularly with pottery, it feels that part of the art is to somehow make the entire object/painting present simultaneously. There are no hard and fast rules.

• Works on paper are around $3500, unframed and ceramics $2000-$2250. Limited edition garments will range from $149 to around $500. Max Gimblett represented by Gow Langsford Gallery. Martin Poppelwell represented by Melanie Roger Gallery.
Share this: