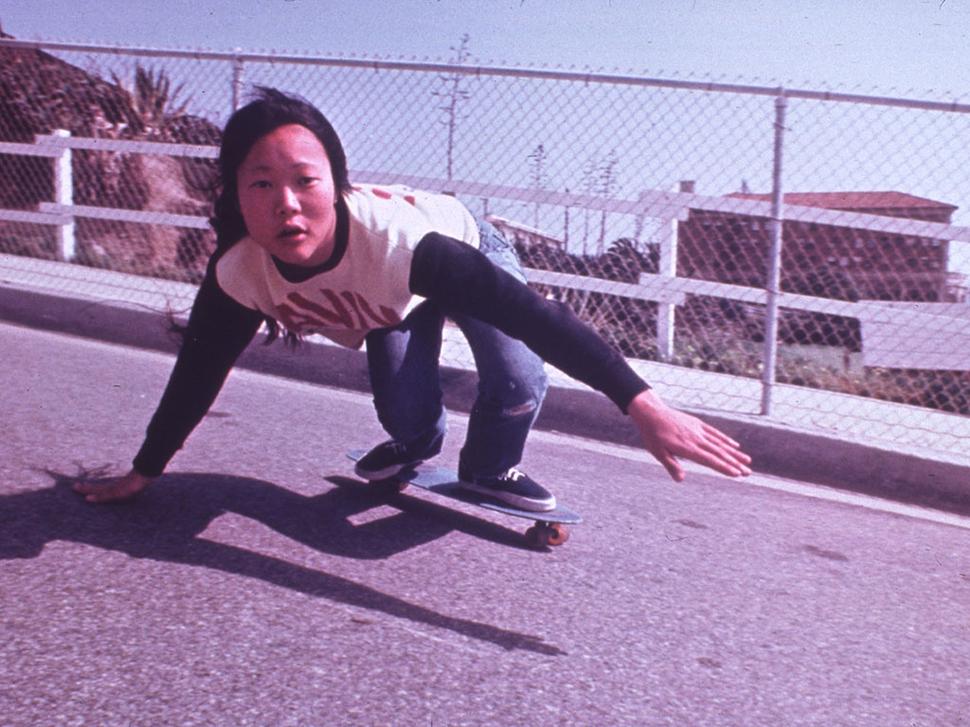 Dogged Advocate
If environmental activist, artist and educator Peggy Oki cares about anything more than surfing and skateboarding, it's whales and dolphins
Friday April 3, 2015
In the mid-1970s Japanese-American Peggy Oki was the only female skateboard member in the pioneering Zephyr skateboarding team, a story made famous in the Dogtown and Z-Boys documentary. The team would drain swimming pools and pull signature skate moves called "The Bert". Essentially, they revolutionised the sport.
In 2012, Oki was inducted to the Skateboarding Hall of Fame. But her passion today is for the ocean, and for 30 years, she has been a vocal, creative advocate for cetacean (whales' and dolphins') rights.
It's 9pm in Santa Monica, California, and Oki has just returned home from a six-week stint in New Zealand, where she also posed in the campaign for Raglan-based brand Bad Things Apparel. She has visited regularly since the 80s, after watching the surf film Endless Summer — coming to hunt out world-class Raglan waves and help bring awareness to the plight of the endangered maui's dolphin, the world's rarest and smallest known subspecies with only 50 found off the North Island's west coast beaches.
Oki recalls she was about 23 when she first heard about dolphins being trapped in yellowfin tuna nets in the eastern Pacific. Tens of thousands of dolphins were dying in these nets each year and she vividly remembers her first act of activism to save them — sending cleaned-out, crushed tuna cans in envelopes to the companies, with a letter saying it was the last can of tuna she would buy until they stopped killing dolphins.
From then, she became more involved in fighting for sea mammals' rights. She became fired up when she heard about pink dolphins being killed in the Amazon and that some countries were still whaling.
"I thought it had finished in the 80s but when I found out that Japan and Norway were still whaling — that was the thing that I got more into in terms of raising awareness."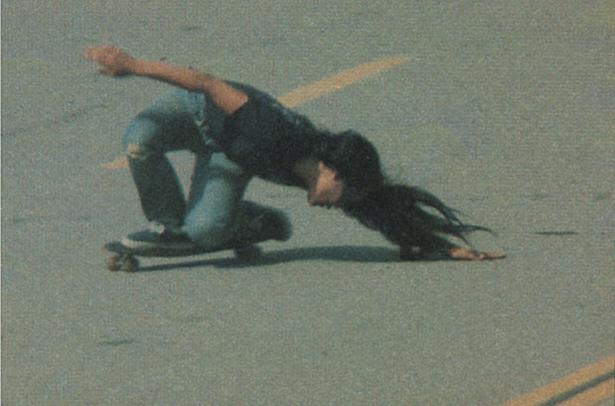 In 2004, Oki founded the Origami Whales Project, to raise awareness of the threat posed by whaling nations. She has since, with help from people all around the world, created a series of colourful origami curtains made of more than 38,000 paper whales — to signify how many whales have been killed since 1986 (when the International Whaling Commission brought in its moratorium on commercial whaling). She has taken her curtain to the IWC and protested there twice.
The idea to fold origami whales came from the story of Sadako Sasaki, a 13-year-old Japanese girl who was exposed to radiation from the Hiroshima bomb. Her friends came to visit her while she was dying of leukaemia and said, "Why don't you fold 1000 origami paper cranes and make that your wish to the gods — that you want to live."
Sasaki got to 650 cranes then died.
"She didn't make it, but a really sweet quote from her is, 'I will write peace on your wings and you will go around the world'," says Oki.
Oki was born in America but both her parents are from Hiroshima. This story of hope triggered the idea for her to fold and hang her origami whale curtains in protest at how many whales would be killed by Japan and Norway that year.
As an extension of the Origami Whales Project, Oki — who has a fine arts degree and trained in marine biology — has set up a teaching programme to educate children and teens about human threats to cetaceans and their ocean habitat.
"I learned about how enthusiastic kids are, how much they care. When given the opportunity to be part of something they will just dive into it."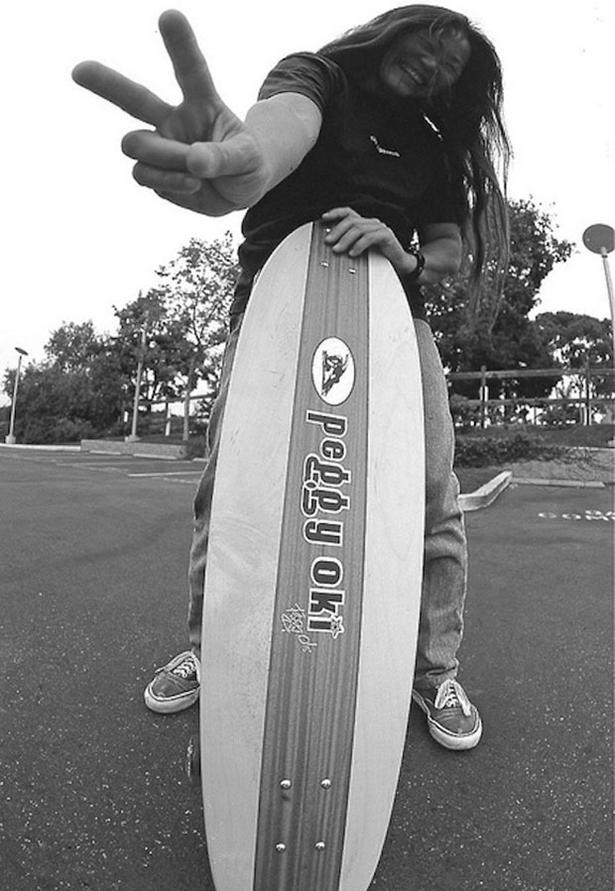 Seven years ago, after learning how serious the situation was for New Zealand's maui's dolphin, she decided to take action. First, with the help of a Raglan-based teacher she decided to create a maui's curtain.
"I just said, that's insane. I've got to do something more to help these dolphins. So I decided to make an Origami maui's dolphin curtain with the help of school kids, then present it to the prime minister."
The students studied the dolphins, held a poetry competition and received funding from the World Wide Fund for Nature (WWF) to travel to Wellington to meet John Key.
"But he didn't want to give any time to meet these school children — so the organiser from WWF organised an exhibit for the curtain at Te Papa Museum. I guess there's a special room for children's art so we had the curtain there. It was almost better, seeing as John Key didn't care anyway, that people could be educated about the dolphins."
In 2012 Oki set up the Let's Face It visual petition campaign (in which people send in a photo of themselves with the endangered maui's and hector's dolphins) to urge the New Zealand Government to take immediate measures to protect them.
Oki is now 58 and showing little sign of slowing down. She has always had a keen sense of adventure. She recalls sneaking out before her parents were awake to enter skate competitions.
"I was surfing at Santa Monica Beach, the location that centred around the Zephyr shop, and because I wanted to develop my surfing ability, I thought I will develop my skateboarding when there's no surf." One day when she was practising, one of the boys from the team asked her if she wanted to join.
As well as surfing and skateboarding, Oki is an avid rock climber, and has tried BMX biking and horseriding. "As a child I was what might be referred to as a tomboy. I always did the things that were not quite girly, like getting into rock throwing fights with boys."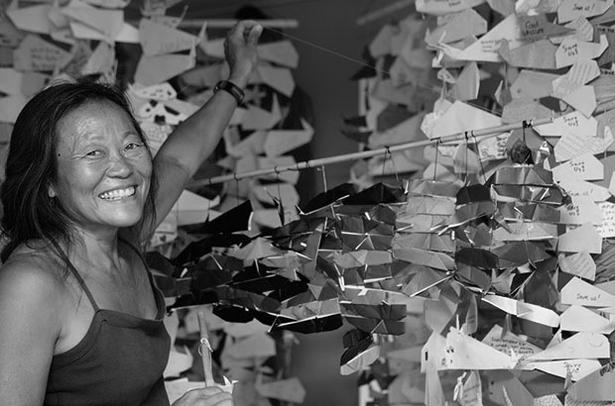 She has been vegan for around 14 years, and a vegetarian before that, explaining that when she realised what animals suffered, giving up meat was nothing. While talking to Viva she is wearing a "Save Lolita" T-shirt; this is in reference to a lone female orca that has been in captivity for 44 years at Miami Seaquarium, another initiative that Oki is passionate about.
Public speaking is also very important to her and something she wants to do more of. She hopes to return to New Zealand in June, having been invited to speak at a TEDx event.
The message she most wants to share is not that everyone should want to save dolphins and whales the way that she does — but instead that they should believe in something, and dedicate some time to what they do care about. "Just sacrificing a couple of hours a week, maybe two hours or less of watching television and instead directing their energy towards something they feel very strongly about."

• To find out more visit Peggyoki.com and lets-face-it-dolphins.com.
Share this: