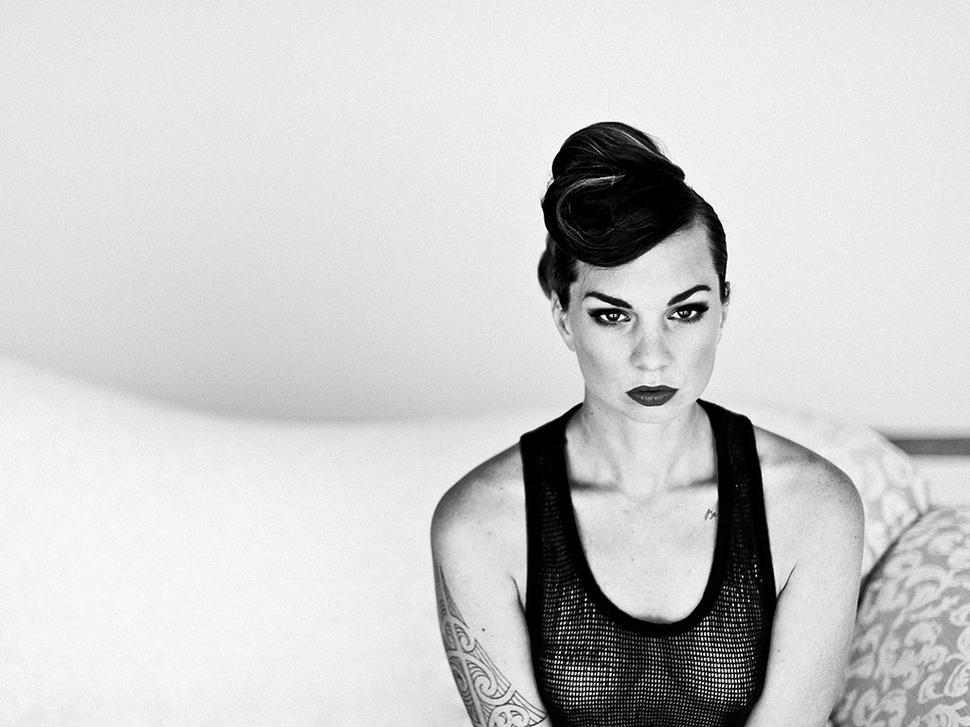 Hangin' with Hollie
The soulful Kiwi talks recording, travelling, and standing next to Bob Dylan
Wednesday May 27, 2015
Hollie Smith is busy recording her new album, and planning some winter shows. She is set to perform in Auckland on June 14, in the first of Viva and Ostro's Dinner and a Show events — where she will also help Josh Emett design a dish. We caught up with the Tauranga-based singer-songwriter.

Tell us about the new album you have been working on — how was the process?
The writing process has been going on for a few years, but just bit by bit and slow. Like a stoned slug type slow. Just started the recording bit, it's going well so far. I'm excited but have a long way to go yet.
What kind of music can we expect?
Not sure how it's gonna end up sounding at this point. It's still just early days. I'm liking the songs, and the arrangements are coming together but it's all changeable at this point.
And when will it be released?
It was due out end of May ... this year. Lol. I would like to release by the end of the year... September/October, maybe.
What else have you been working on?
Pretty much just the album stuff — got a couple shows going on too, a little run down south in June and bits and pieces personally. I'm trying to do more art at the moment and have been brainstorming some side projects.
What kind of show can we expect at Viva and Ostro's Dinner and a Show?
I'm gonna be working with my keyboard player Dan and intend to do a really smooth lounge set of ballads for the dinner. Then we will be doing a later set of grooves. I'll wear something sparkly.
Last year you toured North America and Europe, how did you find that?
Amazing — I had scattered dates so got to look around and see some stuff too. Cool little gig in NYC. The Montreal Jazz Festival was a live career highlight — did two shows almost back to back playing to about 50,000 to 60,000 people. It's a rad place. I work with the New Zealand Olympic Committee, so we then did a few shows in the UK, then went to Glasgow for the Commonwealth Games where I indulged in sports and drinking. Oh and did some shows.
You've met and worked with some amazing artists, tell me about some of the most interesting.
Am I name-dropping now? Had a very amusing night out with Chris Martin, a tea date with Roger Daltrey, got drunk with KT Tunstall, stood next to Bob Dylan. You don't talk to Bob Dylan.

What do you love about your line of work?
Doing shows, travelling, freedom from routine, learning, practising, meeting new people, meeting like-minded people, touring, doing long hours and hard work.
And what do you least like?
Every single thing I just said. It's not as easy as it looks.
You are based in Tauranga, is that right? What are some of your favourite things to do there?
Yep, I really love it. I'm a fulltime mum so I go to school every day. Does that count? Or the park. School and park. That's totally about it.
What is inspiring you right now?
My son and my positive and wonderful friends and family.
Any current favourite music, movies, TV series or books?
I loved the Jonas Jonasson books The Girl who Saved the King of Sweden and The Hundred Year Old Man.... I'm not really a TV person but to be predictable, Game of Thrones. Current iPod playlist is Kendrick Lamar, Kimbra and Black Joe Lewis. Last movie I watched and loved was Kingsman.
Anything else you'd like to add?
Support New Zealand music. This does not mean listening to it on Spotify but actually purchasing it and going to see some live acts. That would be grand! Peace out.
Viva and Ostro's Dinner and a Show, the second Sunday of each month from June, looks to be winter's hottest ticket. 
Hollie Smith kicks off the festivities on June 14, followed by Barnaby Weir and Friends (July 12), the Nathan Haines Quartet (August 9) and The Peter Urlich Swingin' Duet (September 13). 
Guests will enjoy a three-course menu from Josh Emett, with one dish co-designed by the night's performer, before moving through to Ostro's City Terrace for the second half of the show.
Limited tickets, $150 for Dinner and a Show, 6.30pm to 9pm (or $25 for City Terrace show, 9pm). reservations@seafarers.co.nz or 09 302 9888.
Share this:
More Culture & Travel / > Local