Real Weddings: Jade & Ben Young
This couple went for casual and custom-made, at Old Forest School in Pongakawa Valley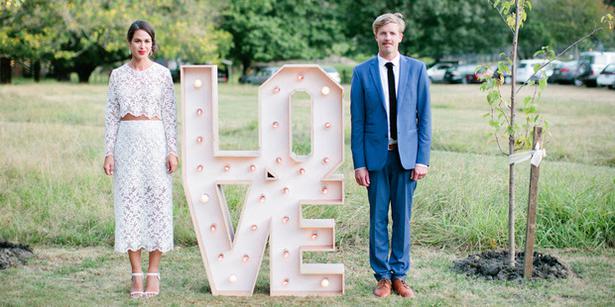 Tuesday Aug. 5, 2014
THE APPROACH
We both wanted it to be a really casual, low-key vibe. It was really important to us that everyone was relaxed and having a good time and that the day wasn't just about ourselves but about all our friends and family, too. The day is about thanking all the people in your life for being amazing as much as it is about you.
THE PROPOSAL
Ben's proposal blew me away. He had spent months and months creating an animated film (with the help of some friends), which was based around a beautiful song his sister wrote especially for the proposal. He tricked me into being in parts of the video and it was about how much we had done together so far. He set up a beautiful night-time picnic with festoon lights and a projector screen and played it for me. We had a bunch of friends hiding in the dark who rushed out afterwards to celebrate with us.
PRE-WEDDING EVENTS
I was lucky (unlucky?) enough to have two hens parties as did Ben with the stag do's. I have such an amazing bunch of girls in both Australia and New Zealand who threw me a really good send-off. One was a 90s prom night in a private apartment overlooking Sydney Harbour and the other was a Mexican fiesta on the beachfront at Waihi.
Ben had two weekends away with the boys surfing, skating and a lot of other things . . . I'll let your imagination take care of that.
DRESS & SUIT
I had in my head exactly what I wanted and was lucky enough to have a good friend send me a link to a Karla Spetic dress that was perfect. I had a day trying on dresses but none of them was me. I went straight back that day and bought the dress. It was casual, not too over the top and, most importantly, I felt like myself in it.
My shoes were by Senso and everything else was either borrowed or from places like Farmers. I don't think you need to spend a lot on the small things. Ben bought his suit from Marcs (on sale, of course). It was the perfect blue he had been looking for. His shoes were Vanishing Elephant. We really found the whole outfit thing very easy.
BRIDESMAIDS AND GROOMSMEN
The groomsmen wore Asos chinos as we could order them all at once and could return them easily if they didn't fit. They all wore their own white shirts.
I really wanted my bridesmaids to feel special on the day so I let them choose whatever they wanted to wear in white or cream - I didn't mind if it was all a bit thrown together and electic; at least that way they would all feel like themselves and be comfortable on the day. They all have great style so I knew it would come together. It was probably a bit hard for them to decide but it made it one less thing I had to think about. The dresses were mixed from Miss Crabb, Shakuhachi, Glassons and Asos.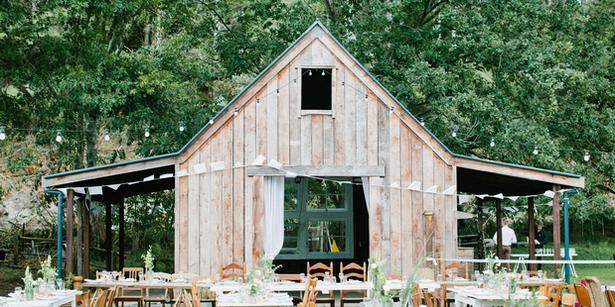 RINGS
My ring is from a jewellery designer in New York called Anna Sheffield. I was joking around with Ben about buying it for me months before he proposed - I think he went back through my computer history to find it. Ben's ring was made by a local jeweller from Waihi Beach, where we are both from, Jayne Jolly of Off the Bench.
HAIR & MAKEUP
All the hair was done by Fiona Wright, who I couldn't recommend more highly. She was such a beautiful person and made the morning super-easy and relaxed. Fiona also did my makeup. The bridesmaids' makeup was done by Beckie Thurston, of Soul Beauty Rooms from Waihi Beach, who also did an amazing job.
BEAUTY PREP
I had a facial a week before the wedding and just made sure I drank a lot of water. I also had a manicure and pedicure with Shellac nails to make sure nothing chipped. 
LOCATION
The wedding was at Old Forest School in Pongakawa Valley, a restored old school with so much character.
We were so lucky to have a warm, still night and perfect day for the wedding, which meant we could have the reception outside, under the stars. It is also super-close to Pukehina Beach so we suggested guests all rent accommodation there as there are a whole heap of beachfront holiday homes for rent. We organised a bus to pick people up and drop them off after the wedding.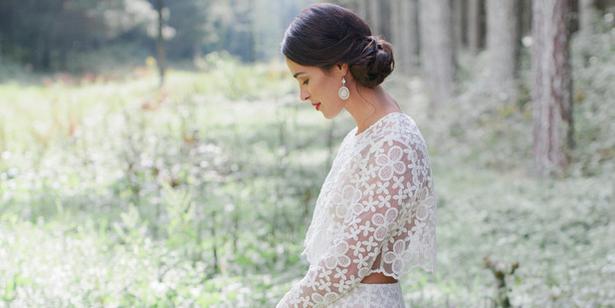 TABLE SETTINGS
Old Forest School provide these beautiful rustic trestle tables and mix-match chairs. We had quite large numbers so hired a few more seats and Ben made some more tables out of old doors. It was very eclectic. We did everything ourselves with the help of family and friends. We had log rounds for the tables with a whole bunch of glass jars.
FLOWERS
I knew I only wanted greens and whites, no colour. Rosies Wildflower Co did such an amazing job of selecting a variety of beautiful wildflowers and we had buckets delivered to us the night before the wedding. The bridesmaids made the bouquets the morning of the wedding.
CAKE
The cakes were made by Nona's Homemade Cakes. I ordered about seven in lots of different flavours and the wedding cake was a layered cake topped with flowers. It was very simple and understated.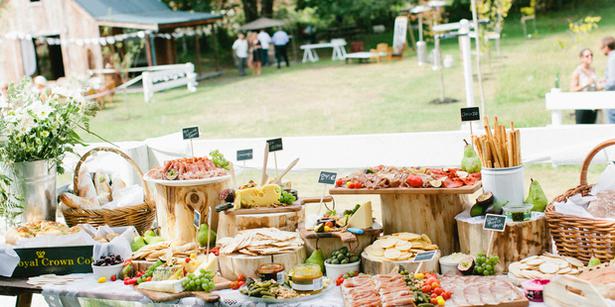 ENTERTAINMENT
We are lucky enough to have lots of creative friends and called on their help for the day! Ben's sister sang the engagement song as I walked down the aisle and we had two close friends DJ the evening away.
PHOTOGRAPHER
Anna Kidman. There isn't enough words to say how wonderful she is. So calming and such a lovely human being. She managed to get shots without us ever feeling like we had to pose awkwardly and we are so happy with the outcome of the shots, it captured the day perfectly.
SPECIAL MOMENT
There were so many moments that made the day special. If I had to choose one, though, I think it would be my little sister rapping her bridesmaid speech. We were huge Fresh Prince of Bel Air fans when we were little and would always rap the beginning.
HONEYMOON
We both left our jobs and decided to take two months off. We travelled through France, Portugal, Spain and Morocco, travelling quite intrepid, not your typical honeymoon, but it is what we love doing.
TOP TIP FOR BRIDES-TO-BE
Sounds so cliche but don't stress the small stuff. On the day no one notices and neither do you. 

* For more inspiring weddings, read Sue and Deborah's story here, and see Samantha and Kishan's double wedding here. Find your Viva Weddings Special Edition in today's Herald.
Share this: