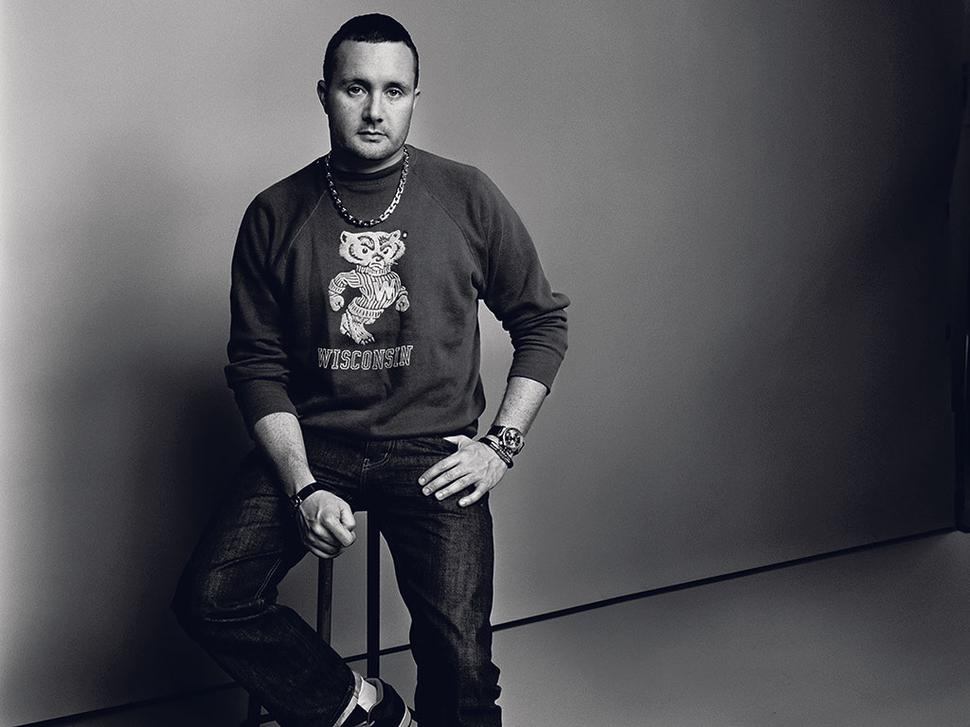 The Extra Mile
When the artistic director for Louis Vuitton men's division travelled to India for inspiration, writer Mitchell Oakley Smith got a privileged glimpse into his creative process
Wednesday March 4, 2015
When Kim Jones travelled to India a year ago, he didn't realise at the time just how influential it would be on his work. "I got back and opened the trunk book and was looking at the history of the house and saw these maharajas from the 1920s with [Louis] Vuitton luggage and thought, gosh, that's just perfect," explains Jones, the house's artistic director of menswear.
We've met — almost one year after that visit — in India's so-called Pink City, Jaipur. "These men really understood luxury," says Jones.
Indeed, some of the French house's most important clients during the first half of the 20th century were Indian, including one in particular, Jagatjit Singh, the Maharaja of Kapurthala, Punjab, who was the owner of about 60 Louis Vuitton trunks, many individually designed to hold his swords, turbans and traditional attire.
It's fascinating to see just how global the Louis Vuitton brand was a century ago, explaining its ubiquitous presence in the contemporary market. More interestingly it gives context to Jones' spring 2015 collection, which India has come to inspire in a large way. "But I'm never so referential," prefaces the designer. "I take inspiration, an idea, and then I move it forward." So while the direct and original connection between the luxury house and India is through these maharajas and their rather decadent orders, Jones' manifestation of the country is more modern. "There's a really cool street style here.
I liked the idea of a modern India, and so I've taken all these different things — a sort of 70s tailoring, pink and orange [colours], mirror work, a bit of a military undertone — and mixed them all around and given them something new."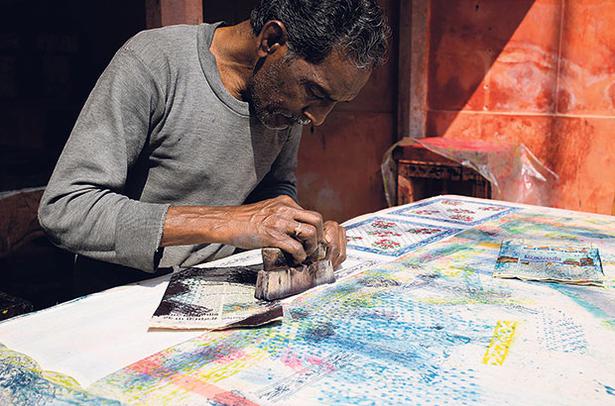 At the Rambagh Palace in Jaipur, where we stayed with Jones on this trip, the guards dotted around the grounds wore uniforms that might have been right off the runway. A higher waist and lean, almost flared trouser leg formed the core of Jones' collection, which included double-breasted two-piece suits and coats, belted safari jackets, zip-up boiler suits, cropped bomber jackets and short-sleeve button-down shirts. Fabrics, too, were in keeping with the inspiration: crisply pressed whites, zig zag patterns, suede and, on a few special items, shisha mirror-work. It was all in keeping with the 70s feeling of the spring collections, but the luxuriousness of it felt specific to Louis Vuitton.
It's not the first time Jones has taken the Louis Vuitton customer away from Paris. Last winter the designer headed to the Atacama Desert in Chile on a research trip, employing the colours of the landscape and traditional crafts of the indigenous people in his collection for the house. For spring 2013, he looked to the sea for inspiration with a collection that riffed on the 30th anniversary of the Louis Vuitton Cup, with leather boat shoes, wetsuits and rubberised sailing jackets. "Quite simply, [Louis Vuitton is] a travel brand, so I think it's important to look at the whole world," he explains.
But this is Louis Vuitton we're talking about — the world's biggest luxury brand — so there's a certain element of reinterpretation at play in Jones' collection rather than a simple adoption of local crafts. As he puts it: "You're quite spoilt as a designer at Vuitton because you can make anything. You have these facilities to make the most amazing things." In keeping with the more streamlined notion of luxury today — one that favours discretion over ostentation — Jones uses the house's various metiers in sparing ways, often for details only the wearer might notice. On each of the tiny mirrors that adorns a jumpsuit and a denim jacket from the spring collection, for example, the Louis Vuitton monogram is engraved, almost invisible to the onlooker.
"You do have a showier man but also a more classic one, and that's why the collections are so broad," explains Jones. "I guess I'm fairly logical as a designer, I work with a lot of common sense, but you want to have fun with it as well." For him, the easiest way to compartmentalise the different approaches to design is by season: the biannual runway collections are his most recognisable and most daring; the pre-collections are slightly more conservative or relevant to a typical shop floor; while the permanent Icons collection is for the everyday shopper, filled with pieces that have come to be icons of the house, like suiting.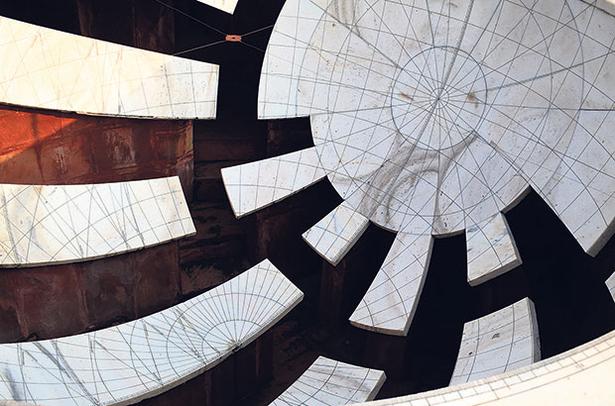 "I have very constructive conversations with our CEO [Michael Burke] about what we need in the range. I understand parameters of Vuitton. I've been there for four years so I know what resources I have, what technology I have, and I have really good relationships so that we can have a straightforward conversation about what we're going to do."
Those four years have gone by quickly, not least because of the changes in the womenswear arm — the departure of Marc Jacobs caused a ripple in the industry, and his 16 years as artistic director were celebrated in a farewell collection of his various design highlights, while the arrival of Nicolas Ghesquiere in his place was met with much excitement, and ushered in a new era for the house — but Jones has very steadily built up what was a fairly nonexistent menswear profile for Louis Vuitton.
Of course, his has long been a favoured name in fashion circles. Having studied at Central Saint Martins College of Art & Design — whose recently passed away professor of fashion, Louise Wilson, was the one who encouraged Jones to visit India — the 40-year-old designer worked stints at Mulberry, Alexander McQueen, Topman and Uniqlo, as well as a stylist at magazines Arena Homme, Dazed & Confused and AnOther, and under his own name at Umbro and Dunhill, from 2008 until the Louis Vuitton appointment.
Jones is of the belief that a little personality, a slight subversion of convention, goes a long way with today's fickle consumers. "So many [menswear] brands tend to get a bit conservative, and personality is key nowadays because people want to buy something they feel connected to, and I think the language I speak is easy for people to understand, it translates globally, and it's not too pretentious.
"Fashion has changed so much and now street does inform high fashion. I mean, you look at Dior and there's a full catsuit on the runway [spring 2015 haute couture], which is something that comes right out of the club, and I think that's great, in the same way that I like seeing the young guys coming to our casting wearing a vintage suit and making it their own, making it feel young and fresh. I'm observing this all the time."
Jones is aware of the global-roaming nature of the Louis Vuitton customer — a frequent flyer many times over — so he cleverly fuses technologically advanced manufacturing processes with the luxuriousness of handcrafts. "It's about facilitating the easiness of a man's life, so he has a suit that won't crease on a plane, or he can get a shirt out of his suitcase without having to iron it. So we do use a lot of tech-y fabrics but in a way that they feel classics, because it's important to have balance." And with the mix of runway and retail-specific collections, he can pull back or really focus on certain elements of a man's wardrobe — tailoring, say, or leisurewear — at different times, allowing the accessories to tell the Louis Vuitton story.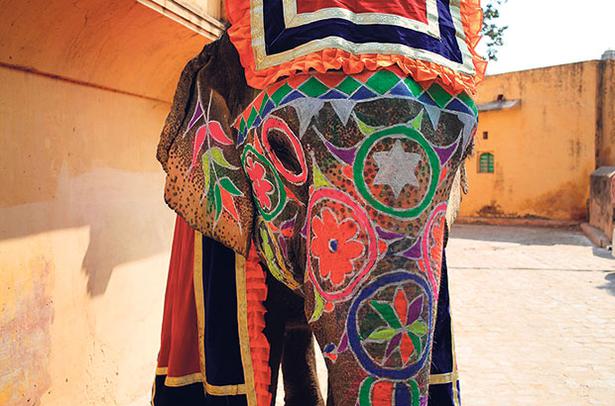 On the shop floor, that's really all that ties the men's and women's arms of the house together, too, starkly in contrast to other big-name brands, like Burberry or Prada. Ghesquiere and Jones work separately, treating their respective collections as unique to their customer rather than adopting a his-and-her approach. "We work in very different ways," confirms Jones. "There's a synergy there, and you pick up on trends and whatnot, but we work at such different paces and timings that they're really their own things."
However, there's undoubtedly a greater focus on ready-to-wear under the two designers. Where Jacobs was responsible for lavish show productions that were, each season, the talk of the industry, the clothes themselves weren't greatly accessible to an everyday wearer, seemingly window dressing to the house's bigger star: the bags. But Louis Vuitton has pulled back on its aggressive branding and global expansion in recent years following the slowing of the luxury market in China and a collective shying away from ubiquitous branding, with customers favouring the subtlety and discreet nature of brands like Celine and Hermes.
In response, Jones and Ghesquiere's fuller, more wearable clothing offerings are bridging that gap, heralding a new era in luxury. And as a result, Louis Vuitton has become a hot-ticket item in the menswear world all over again. "I don't hear it so much because I'm sort of removed, but friends tell me that everyone loves what we're doing, that they want all the clothes," says Jones. "It's really gained popularity, and that's a really exciting place to be in."
Share this:
More Culture & Travel / The Latest