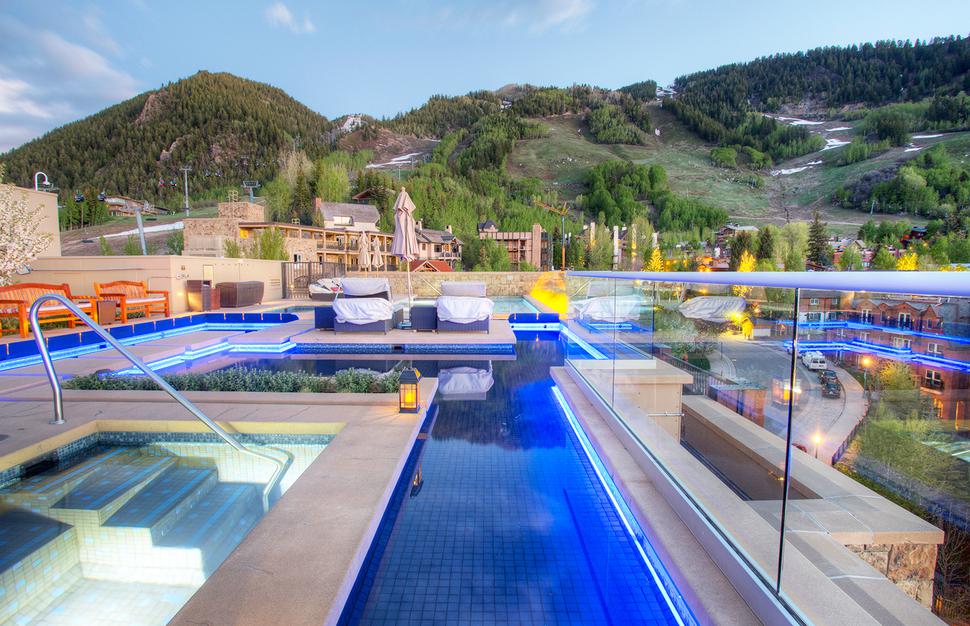 The winter playground of the rich and famous
Suzanne Dale finds that there's much more to do than ski in picture-perfect Aspen and the neighbouring Snowmass resort
Wednesday April 8, 2015
Surely Disney had a hand in the master plan of Aspen: a tidy grid of cobbled streets, elegant shops, improbably perfect gardens and cookie-cutter cottages so sweet you fairly itch to squeeze them. There are no traffic lights, no fast food outlets. It's unlikely the studio would have included the legal marijuana shops but real life has to intrude somewhere. Try as you do to get that song out of your head, you can't blame Glen Campbell for singing the area's praises. Colorado really is Rocky Mountain High.
The day we fly into its tiny Aspen airport, there are 100 private jets parked up alongside the terminal. There will be 200 on any day come winter. New Zealand's wealthiest man Graeme Hart is one of the many billionaires who keep a home here. In winter, and at 2400m above sea level, the steep peaks of Aspen and the higher neighbouring Snowmass resort will be drenched in snow.
But in autumn, as the aspen trees in this former mining town turn from green to a striking gold, there's plenty of shopping, culture and adventure to entice a fair-weather visitor to the region, a quick two-hour flight from LA.
Friday: Through a wedge in the Rockies, our plane lowers its way gingerly to Aspen. From here it's a short drive to Snowmass, 2623m, the family friendly resort village that's a manicured cluster of shops, restaurants, hotel spas and cycle trails, nestled between the alps.
With pre-dinner drinks, we sit at tables huddled around fire pits on the Westin's panoramic deck. Nights and mornings are cool here but the days, warm and bright. It's a burger then a welcome early night when I get the first reminder of the altitude: a thumping headache.
Saturday: Up at 6.45am (3C) for the highest altitude annual hot air balloon festival in the country. Twenty eight balloons over two days. Someone sees a black bear in a garden, just as the basket starts to lower for an unscheduled drop.
(Should a balloon land in someone's yard it's tradition that the balloonist compensates the householder with a bottle of Champagne.)
Black bears, migrating elk, deer and foxes inhabit the area. Hungry bears have been known to break into houses and cars looking for food. Special sealed rubbish bins aim to minimise the raids. Nuisance bears are tagged and relocated the first time they cause an issue. If they are caught returning to the site, wildlife officers are required to euthanise them.
Last summer, 11 campgrounds were closed to ease the conflicts. Over dinner a local tells how a bear squeezed its ways into her home through a small open window, went to the freezer, took out the icecream and ate it. Thoughtfully, it left no mess before departing. The family kept the bear paw prints on the window as a memento.
Back at Snowmass, the temperature is rising. We meet at Venga Venga for Mexican. The annual wine festival is on down in the valley so we hop into a free cable car (Skittles, the locals call them) which takes us to Base Camp, the lower village. From there it's an easy 30 minutes' walk to the flat to sample wine and local restaurant food matches.
We are warned against our endeavour by the cable car attendant who drawls that "it'll take y'all one hour" to walk and he urges us to consider the bus. Public transport is free in Snowmass (and Aspen) and if no bus is due you merely phone for one.
Sunday: A leisurely breakfast and then a moderate hour-long hike along the Rim Trail up to Yin Yang Mountain and down again, feasting on the views of Snowmass, Mt Daly and Capitol Peak. We are all puffing and shallow breathing and, boy, are we thirsty. It's that altitude again. At the Stew Pot we eat chicken salad (we're loving the American chopped salads) and then have a welcome massage at the Viceroy Snowmass hotel.
Luxury hotel designer Jean Michel-Gathy and interior designer Kelly Wearstler have injected real glamour here. Dinner is at the Viceroy's swish Eight K restaurant, with its long glass bar and Aspen-trunk screen dividers. The menu is inspired by New Orleans so there are grits and jumbo lump crab, Louisiana crawfish tails and shrimp Creole. I taste elk meat, slow-cooked in a delicious baby pie.
Monday: Anderson Ranch Arts Center at Snowmass, 15 minutes out of Aspen, is a historic ranch that's been made over into a series of studios, galleries and accommodation for students who come from across the world for an extensive series of workshops. There are free seminars, a cafe and auctionettes. Artists in residence include celebrated Japanese karatsu ceramicist Takashi Nakazato, who is wrapping up some of his newly fired pieces as we arrive. Leaving Snowmass, we squeeze into Aspen's Explore bookshop — every wall in every room in the cottage is stuffed with books.
Then it's off to a few nights of five-star luxury at Aspen institution, The Little Nell. Nothing is too much trouble here. The best peaches in the world sit in a fruit basket in the spacious rooms. There are home-made cookies and snacks and a housemade trail mix. Guest rooms at The Little Nell (647 East Durant Ave) are serviced twice daily and a welcome carafe of water is left beside our beds each night.
Late afternoon we stop for a cooling viognier on the terrace at The Little Nell's upstairs Ajax Tavern. Actor and comedian John Goodman is sitting nearby but no one raises an eyebrow.
Cocktails are a serious thing at Justice Snow's (see box below) and mixologist Joshua-Peter Smith asks what you feel like and then gets creative. Conservatively, though, I opt for a classic French 75 (gin, Champagne, lemon juice and sugar syrup).
Close by for dinner is Nobu Matsuhisa's Matsuhisa restaurant which serves delicate seafood and sushi, including broiled black cod with miso, white bass with truffle kobe steak and delicious yellowtail jalapeno sashimi. At the next table, disgraced cyclist Lance Armstrong is looking popular: beautiful diners stop to chat.
Tuesday: Breakfast and an early morning bike tour of Aspen's historical sites. Cycles can be hired for 30-minute rides through a bike-share programme. WE-cycle stations are dotted around town, $7 a day for as many rides as you wish, taking us through the town's West End neighbourhood with its charming Victorian homes and gardens.
We lunch at So Cafe on the roof of the new Aspen Art Museum (cnr Spring St and Hyman Ave). The menu is small and fresh and there are those wonderful Colorado peaches again, this time in a salad with burrata and mixed tomatoes.
The art museum is the work of Shigeru Ban, the winner of 2014's Pritzker Prize, architecture's top award. Shigeru is, of course, known to many Kiwis as the designer of Christchurch's Cardboard Cathedral. Ban designed the art museum, which shows contemporary and modern works, to be viewed from the top down — like skiing down a mountain. The museum overlooks Aspen Mountain, known as Ajax, the town's main skifield. Admission is free.
It's art all the way for us. Forty minutes out of town there's the minimal Powers Art Centre (Highway 82, Carbondale), which houses pop artist Jasper Johns' works on paper. Returning to Aspen, we stop at the Woody Creek Tavern, frequented by counter-cultural "Gonzo" journalist Hunter S. Thompson, its walls jammed with thousands of Polaroid photos of patrons.
The tavern is famous for its margaritas so a stop is de rigueur. Later with a glass of Champagne in hand we await a massage at the St Regis Remede Spa (315 East Dean St) and afterwards, because it's promoted as helping to relieve the side effects of high altitude and alcohol overuse, we opt for an oxygen session.
At the classically plush Steakhouse No 316 (316 East Hopkins Ave) they take their meat seriously but it's the side order that has us staring. It's a stack of onion rings so enormous they could be used for a game of quoits. And, yes, the steaks were great.
Wednesday: At the edge of town sits the Aspen Institute and its Aspen Meadows Resort. The resort is a more affordable option for visitors than the town's luxury hotels but it is also a modernist gem, a must for anyone interested in Bauhaus design.
Set out like a campus, and featuring artworks through its secluded grounds, the institute was founded by Walter Paepcke, who commissioned Bauhaus architect and artist Herbert Bayer to transform farmland into a place where the spirit could be moved. An on-site gallery is free to view and features the works of Bayer. No guards, just you and the paintings (and maybe a camera or two).
Come afternoon, we take a bone-shaking jeep ride up to the summit of Aspen Mountain (3417m) for breathtaking views of the Rocky Mountains. Free camping is allowed. We follow the ski trails down, passed Bonnie's restaurant where Ivana Trump and Marla Maples once got into a catfight over The Donald. Back in town over lunch on the terrace at the Hotel Jerome's Prospect restaurant, we nibble on the complimentary (and irresistible) cornbread and watch the streamlined ladies-who-lunch with their tiny pooches and their plates of lobster salad.
Dinner is at The Nell's elegant Element 47 restaurant and then there's a tour of the wine room and cellar by master sommelier Carlton McCoy. Impressively, The Little Nell has had more master sommeliers come through its establishment than any other hotel restaurant in the world. A passionate advocate but no wine snob, Carlton, nevertheless, shows us wine at $40,000 a bottle and says $10,000 wine orders at dinner are not uncommon. Guests are welcome to visit the wine room where Carlton will lead them through tastings (and inevitable purchases).
Thursday: An early start for a 20-minute drive to Maroon Bells, apparently the most photographed mountains in North America. Even at 7.30am, photographers line the lake below with their tripods. There's a faint dusting of snow on the bare peaks and, below them, swathes of golden aspen trees.
The path from the lake is blocked with a sign warning of bear activity in the area (licensed hunters are encouraged to shoot here to keep the growing population down). There's also a warning about moose, which aren't usually found here and which aren't as friendly as you might imagine. The park surrounding Maroon Bells is closed to cars from 9am-5pm so it's up early and at it unless you take a tour bus.
After breakfast back at The Little Nell (lemon souffle pancakes) we take a short hike in the Castle Creek Valley through the Ashcroft Ghost Town, once home to 3500 silver miners. In July the fields are full of bright wildflowers. Our ACES (Aspen Centre for Environmental Studies) guide, Julia, leads us beside the river en route to the Pine Creek Cookhouse for lunch.
ACES runs a number of free daily programmes for visitors as well and has guides for hire. In summer, the log-cabin cookhouse can be reached on foot or by car but in winter the snow makes it inaccessible to vehicles so you must cross-country ski, don snow shoes and walk or take a romantic horse-drawn sleigh. The cuisine is light, modern and fresh and the outdoor terrace a great place to enjoy a wine on a sunny day. And you may just want to take in that view.

• Suzanne Dale travelled to Aspen courtesy of Aspen Chamber and Snowmass Tourism.


BAR HOPPING AND DINING IN ASPEN
Cache Cache bistro for modern French American dishes. 205 South Mill St.
Jimmy's An always busy bar with casual American food. Upstairs, cnr of Mill St and Hopkins Ave.
Justice Snow's Featuring the largest cocktail list in North America, one that is imaginative and constantly updated. With live music, it is popular and is open for Colorado-inspired breakfasts, lunches and dinners. Downstairs in the opera house building, 328 East Hyman Ave.
Caribou Club a traditional and luxurious private members' club (think mahogany, antler chandeliers, huge roaring fire) for tea, drinks, dinner and, unexpectedly, for disco and dancing from 10pm. Temporary weekly memberships for two, US$500. More at Christmas and at busier times of the year. Collins Block.
J-Bar at the Hotel Jerome Founded in 1889 with traditional American styling, it's one of the most popular bars in town. Famous, too, for the famous people who have frequented it, including John Wayne, Lana Turner and Hunter S. Thompson, who sat at the end of the bar five nights a week. He divided his drinking time between J-Bar and the Woody Creek Tavern (see story). Its burgers have been voted the best in town. 330 East Main St.
Ajax Tavern at The Little Nell for casual meals and mountain-side drinks.
Share this:
More Culture & Travel / > International