Viva's hot list for 2013
Diaries at the ready! From fashion to film, music to must-reads, and comedy imports to culinary treats — there's just so much that's exciting us about the year ahead.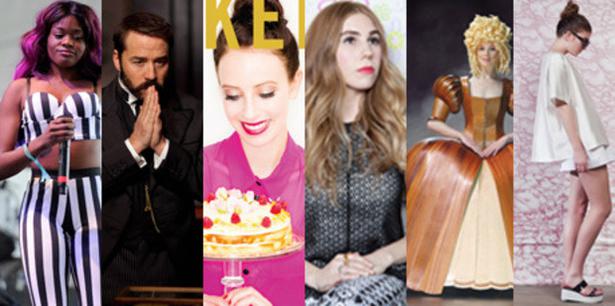 Wednesday Jan. 30, 2013
On the food scene
We're picking 2013 will see our top chefs start taking a fresh look at vegetarian food, not as a fad but as a way of giving a healthier, more challenging slant to their repertoire. It's rumoured Michael Meredith may even open a 100 per cent vegetarian restaurant. Stand by for creations that are both vital and dazzling and made to make us feel good.
Festivals are always worth putting in the diary and the Melbourne Food & Wine Festival (March 2013) can't be beaten for sheer star quality and range of events within the city during festival weeks. Last year it was all about Fire, this year it's all things Earthly. Also worth checking out will be the Healthy Living Show in Auckland later in the year and the inaugural NZ Edible Garden Show in Hawkes Bay in spring.
Bagels will be big this year if Al Brown has anything to do with it. He's setting up a New York deli in Federal St, near his famously popular Depot Eatery, and making his own real deal bagels from a bakery in the hip space formerly pegged for the Rhubarb Lane development, now City Works Depot.
The same complex, in Wellesley St West, is one to watch for more exciting food ventures in 2013 with TV's Michael Van de Elzen of Food Truck fame parking the van in the site that was previously Secret Garden.
Keep an eye out for more artisan dairy suppliers to join Lewis Road Creamery, that smoking everything will continue, that we'll learn to age our meat properly, that green drinks will be everywhere now we all understand their enormous, life-giving properties, and raw food will continue to rise in popularity. We'll understand that going, and growing, local still makes the most sense, that eating is set to become more casual, but fine dining will always win our hearts and we predict that some of our top restaurants will even join the pop-up trend.
Here's to a great year of food adventures!
The beauty news
Marni is the latest fashion house to join the lucrative fragrance business with the launch of their scent next month. The bottle, covered in Marni's signature polka dots, was inspired by a vintage bottle designer Consuelo Castiglioni found in a flea market. No word yet on whether we'll get it here.
Elsewhere in fashion and beauty partnerships is an exciting makeup line from Lanvin's Alber Elbaz in collaboration with Lancome, set to be released here and worldwide on June 15.
One to watch: Jordan Rondel
She has built up a strong following with The Caker, her specialty handmade cake and baking company that focuses on organic ingredients and has seen her bake for clients like Kate Sylvester, Glassons, Lucy and the Powder Room and Universal Music - and soon she'll have her own cookbook, with the release of The Caker: 50 New and Unusual Cake Recipes (Random House) in April, featuring photography by our own Babiche Martens.
Making moves
2012 was all about Britomart, but expect Ponsonby to be this year's retail precinct.Karen Walker will move her Ponsonby boutique down the road into the premium corner space formerly occupied by takeaway joint Murder Burger, opposite the new retail development currently in construction Lot 3 which will be a mix of offices and boutique fashion stores. Meanwhile in Mt Eden, the Bloc development will expand, with the addition of homewares store Douglas & Bec moving in with current tenants Collect-ed by LeeAnn Yare, Bo Concept, Citta Design, Cool Food Cafe, Pencil Boutique and World Beauty.
Music: New albums
Rapper Azealia Banks - she of 212 fame and a fashion industry favourite - is set to release her debut album, called Broke With Expensive Taste, early in the year.
The year of pop? Britney Spears, Justin Timberlake and Destiny's Child are all making musical comebacks, while Lady Gaga will release Artpop at some stage too - which will reportedly include a collaboration with Banks, and a film by photographer Terry Richardson documenting the album's creation.
The Strokes, who influenced a range of designers in their heyday, will return after a five-year hiatus with a new album by the end of the year.
Anika Moa, Boh Runga and Hollie Smith, three strong women in voice and personality who also happen to be mega-babes, have combined talents to release a debut album, Peace of Mind, on February 1.
Centre stage
The Royal New Zealand Ballet marks 60 years of dance with year-long celebrations. In February they will debut Made to Move, three new works celebrating the joy of dance, with the year's centrepiece performance of Swan Lake (pictured) in July.
Also on the cultural radar? The Auckland Triennial opens in May, with 35 artists from 15 countries on show at the Auckland Art Gallery and other sites around the city. Curator Hou Hanru has asked artists, collectives and architects to interpret the cultural, social, architectural and urban characteristics of the city. In March the city will be bustling with artistic atmosphere, with theatre, dance, music, visual arts and more as part of the Auckland Arts Festival, with the Auckland Fringe Festivalbeginning February 15.
Book club
New Zealand-born illustrator Kelly Thompson will release Darkness of Noon in March, a collaboration with photographer Derek Henderson featuring nudes of model Zippora Seven in photographic and illustrative form. This will be launched at the L'Oreal Melbourne Fashion Festival and locally at The Department Store on May 30. Local hair expert Richard Kavanagh will also release a book in March: Love Your Hair (Random House) will feature "recipes" for 24 hair styles.
Other fashion-focused coffee-table books for 2013 include Pattern (Phaidon), which showcases 100 of the world's top designers (and comes with its own shoulder bag), and Philip Treacy by Kevin Davies (Phaidon), a photographic archive of the world-famous milliner, while Vogue's Andre Leon Talley will release Little Black Dress (Rizzoli), a celebration and history of fashion's favourite garment.
Must-see drama
What with The Killing and Homeland, 2012 is going to be a hard act to follow television-wise. But don't panic: there are highlights on the horizon. With Jane Campion as director and Mad Men's Elisabeth Moss starring as a young detective, the six-part Top of the Lake which was shot around Queenstown, has stellar credentials (UKTV in March). Jeremy Piven takes the title role in Mr Selfridge about the flamboyant department store founder (TV One later in the year), while the stylish Kerry Washington plays crisis manager Olivia Pope in Scandal (TV One) - cue modern working girl wardrobe of power suits, platform heels and a great many coat. Sex and the City fans will be excited to hear that The Carrie Diaries, following Carrie Bradshaw's teen years, is screening now at TVNZ On Demand.
On our radar
Fashion is all about the new. Look out for these fresh faces this year.
Georgia Alice by Georgia Currie. Modern minimalism from this young designer, who has the backing of influential local fashion PR agency Showroom 22 - winter is her debut collection, and she's already dressed Samantha Hayes for the red carpet.
Eugenie by Liz Wilson. The former design assistant to Karen Walker has worked with various local designers on textile designs, but last year released one of the most interesting collections we've seen locally for a while, under the name Eugenie. That was a concept collection, made to develop her aesthetic and ideas and unfortunately won't be sold - but here's hoping this talent expands her talents further this year.
Arielle Mermin. We liked her groovy 1970s inspired collection at NZ Fashion Week last year, both wearable and cool - the cropped pant suits were memorable, but it's the silk dresses that will be worn most.
It will be sold through Made boutique and Dalston boutiques.
Three trends to try
1. Monochrome. Where Marc Jacobs goes, we all tend to follow, eventually. So when he showed 1960s-inspired black and white stripes for spring/summer 2013 it was clear monochrome would be big. Go vertical or horizontal, or cheat by tossing a white coat over a black ensemble.
2. Grunge. "Come as you are," sang Kurt Cobain in the 1990s. It seems Dries van Noten just got the message. His spring collection, a luxe homage to grunge, is one of our favourites. Get out your plaid shirt, but this time team it with a spangly skirt.
3. Ruffles. Gucci, Givenchy, Balenciaga, Marni and Chloe are flouncing about for spring/summer 2013 with oversized, statement-making ruffles. An update on the traditionally girly frill - with the exception of Chloe - these are more sculptural adornments, accenting otherwise 
minimal looks.
Style it girls
Her boss Lena Dunham may be the one everyone's talking and writing long-winded essays about, but our early pick for this year's fashion favourite is Girls star Zosia Mamet. The actress already has two hip shows on her resume - she also plays Lifemagazine assistant photo editor Joyce Ramsay on Mad Men - and off-screen has quietly become the most stylish and interesting of the "girls", favouring cool brands like Carven and Lanvin. She's also got the unimpressed fashion face perfected.
First chance to buy
Raf Simons' move to Dior and Hedi Slimane's to Saint Laurent were the big fashion stories of 2012 - and late January sees the first opportunity to get your hands on their debut ready-to-wear collections. Hang on to that Christmas money! The first Dior flagship store opens in Sydney this week.
First chance to see
Designer musical chairs continues into 2013, with much anticipation for Alexander Wang's first collection for Balenciaga to be shown in Paris in February. Recent collections for his namesake label have shown a design maturity, but is his talent developed enough to translate into a storied fashion house like Balenciaga?
Expect the beginning of global expansion from London-based designer Christopher Kane too, after partnering with global luxury conglomerate PPR earlier this month - expectations are high for his first collection since the announcement, to be shown in London in February. Also debuting early this year? J.W. Anderson's collection for Versace's younger line, Versus - incidentally, a role previously held by Kane.
Style on show
1980s fashion will be the focus of a major V&A show in London in July, showcasing the relationship between the underground club scene and fashion and its ongoing influence, through magazines like i-D, designers like John Galliano and Vivienne Westwood, and flamboyant club-goer and performance artist Leigh Bowery. That follows a showcase of David Bowie's archive - from original costumes to instruments - in March.
Also in London, The Design Museum pays homage to Paul Smith with a retrospective in 
November - while London's punk history will no doubt be on display at The Costume Institute in New York with the Punk: Chaos to Couture exhibition opening in May.
Closer to home, the Auckland Museum will celebrate 25 years of the World of Wearable Arts with Off the Wall, showcasing 20 showstopping costumes from the event's history chosen by founder Suzie Moncrieff and Weta Workshop's Sir Richard Taylor. From February 22.
Giving lip
Karen Walker's Runway Coral lipstick, a colour cooked up with Clinique for her February 2012 New York Fashion Week show and then added to the range, will finally hit the shelves in New Zealand mid-year.
Women on film
Helen Mirren stars alongside Anthony Hopkins in Hitchcock, a love story about the legendary director and his wife Alma, while Amanda Seyfried takes on the role of porn star Linda Lovelace in Lovelace. Michelle Williams, Rachel Weisz and Mila Kunis play a trio of witches in The Wizard of Oz prequel Oz: The Great and Powerfulin March. Chloe Moretz stars in the remake of the horror film Carrie, alongside Julianne Moore, in April. Later in the year, Naomi Watts will play Diana, Princess of Wales in Diana, and Christina Applegate returns as Veronica Corningstone inAnchorman: The Legend Continues.
Baz Luhrmann's highly anticipated adaptation of The Great Gatsby is set to be released around May, with Carey Mulligan as Daisy Buchanan and Isla Fisher as Myrtle - look out for costumes reflecting the decadence of the 1920s, given a modern fashion makeover. Designer Miuccia Prada has reworked 40 dresses from the Prada and Miu Miu archives for the film, while Tiffany & Co has provided Mulligan's jewellery.
Non-fiction picks
• Siri Hustvedt, Joan Bakewell and Susie Orbach are among the 50 women writing in Fifty Shades of Feminism (Little, Brown). Out in March.
• Guardian writer Hadley Freeman releases her second book mid-year, with Be Awesome (Fourth Estate), a guide for modern women - with topics like "How to read women's magazines without wanting to grow a penis" to "Beyond the armpit: A guide to being a modern day feminist".
• Anchee Min, whose memoir Red Azalea told of her childhood in Mao's China, picks up her story again in The Cooked Seed (Bloomsbury). Out in June.
• Geordie Greig revisits hi-s regular breakfasts with Lucian Freud in Breakfast with Lucian (Jonathan Cape). Out in May.
Must-read fiction
• Rebecca Miller returns with Jacob's Folly (Canongate), following the intertwined fates of Long Islanders living in separate centuries. Out in March.
• Lionel Shriver is back with Big Brother (HarperCollins), a novel about a woman who risks her marriage to help her obese brother. Out in May.
• In June, the prize-winning author Evie Wyld is back with All the Birds Singing(Jonathan Cape), about the sole inhabitant of a remote island.

- Compiled by Viva and Stella magazine
Share this:
More Culture & Travel / Going Out