Inside Vogue's 100th Birthday Party
Designers, models, photographers and celebrities celebrated British Vogue's centenary in London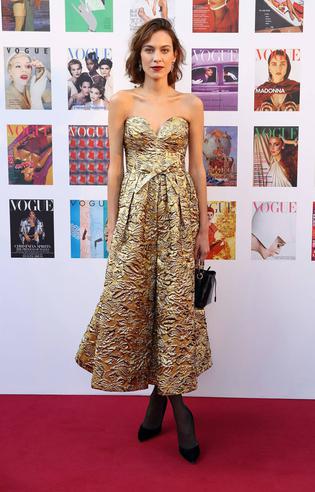 Sometimes what goes on around the edges of a party provides the best insights. Endearing to find out for instance, that hairdresser Sam McKnight  (he's tended everyone's locks from Diana, Princess of Wales's and Julianne Moore's to the Chanel show each season) only realised he'd forgotten all his brushes after he arrived at Kate Moss's Queen Anne residence in Highgate. They were about to rush out to Boots before closing time before they decided not to bother. Lucky that tousled is Moss's signature and that this was London, albeit Vogue's Centenary party, and not New York's uptight Met Ball.
Tom Ford was in a different kind of rush – he's been wrapping up his new film, a thriller he wrote as well as directed and for which he had to recast one of his actresses at the last minute. The substitute is Zawe Ashton (who memorably played Vod in Fresh Meat, one of TV's funniest comedies) who had to emote all her scenes to a blue screen. Isn't that a barren experience for an actor? "Not at all," insisted Ford, radiating positivity. Hmmm. Ashton meanwhile told me that having just finished a run in the play Maids, is taking a break from acting for a while to focus on directing.
Like all the best parties, and Vogue itself, Monday night's party was a dazzling, neck swiveling intersection of different cultures and interests. It's that unpredictable mix that's made the magazine a compelling record of its time. Artists, photographers, models, film directors, museum curators of course, plus the designer greats – Miuccia Prada, Giorgio Armani, Sarah Burton, Domenico Dolce and Stefano Gabbana – as well as entrepreneurs, politicians, the PM's wife, actors, writers...Sadiq Khan, London's newly installed mayor, (smaller and more personable than your average politico) arrived in David Gandy's slipstream. "Not a good look," muttered the mayor as the paparazzi rested their lenses. Hopefully that was a self-deprecating joke and not a sign of rampant insecurity.
GALLERY: Who Wore What at the Vogue 100 Gala
Joan Collins, dressed in uncannily similar vein to Alexa Chung, usurped someone else's seating at the dinner, placing herself where she felt she should be, rather than where her assigned placement indicated. You can take the actress out of Dynasty, but you can't surgically remove her inner diva.
Vogue and divas are, unfairly or not, perceived to be synonymous. Portraits and fashion shots by the great photographers who have worked for Vogue over its hundred – George George Hoyningen-Huene to David Bailey, Horst to Mario Testino, Cecil Beaton to Tim Walker – flanked the dinner tables you couldn't help wondering what the aristos who peppered Vogue's pages in the 1930s or the debs and haughty models who propped it up in the 1950s would have made of Cheryl Cole's thigh boots and tabard, or Kim Kardashian's nothing-to-the-imagination sheer Cavalli dress. Was that actually pubic hair on show? Probably a trick of light, given that Kim seems the kind of woman who has a slash and burn approach to every last hair on her body. It was she who told her audience at the Vogue Festival last weekend that while her husband, Kanye West prefers the "natural" look (whatever that amounts to in their world), she gave birth to her daughter in full make-up.
Talking of that appearance – at the festival and the party – it will divide. While American Vogue chases hits online by constantly featuring Kardashian stories, and infamously placed Kim and Kanye on a cover, British Vogue has mainly side-stepped them. Kim's talk on the Vogue stage on Saturday provoked a firestorm of protest on social media. It was also the first talk to sell out. Disconcertingly, it seems that she's actually quite funny and self-knowing in conversation (if you can take all the narcissism). Maybe those socialites and debs would have envied her freedom. She certainly polarises. So does Vogue. Not bad for a 100 year old.
READ: How to Throw an Anna Wintour Approved Party
Kanye incidentally spent the entire evening shooting his wife on his smart phone which is either sweet or creepy but either way sent Kate Moss, who was placed next to him, scuttling from her table after about 10 minutes to wedge herself in next to Sir Peter Blake, turning her back on Downton Abbey actress Laura Carmichael in the process. She and la Collins weren't the only ones not to sit where they were told. The secret to how the fashion set stay thin? Constant table hopping. No wonder there were so many ripped and unraveling dresses.
Most of the men dressed conservatively in black tie – not even fashion black tie, although a few broke out into velvet. Damian Lewis has a hipster beard. Dominic West has a brutal crop. I know this because there were cameras panning the room the entire evening and relaying the footage live onto big screens. "Jesus, that lighting," said one guest, wincing as he caught site of his profile blown up on a wall. Welcome to your next century, Vogue.
Share this: