Waihi: Town of plenty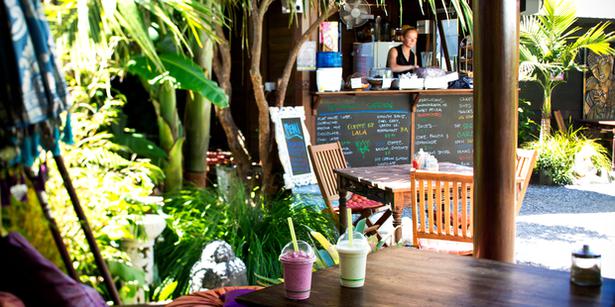 Wednesday Feb. 5, 2014
A road trip. It has that ring to it that tickles memories of those carefree days when we'd pile into a car older than ourselves and head off "on a mission" with the coast as our ultimate destination. Once there, we'd throw ourselves into the frothing surf before flopping down on the sand for the day. Ah, the pleasure of leisure.
Escaping from the city for a day trip still refreshes and energises me and if it involves great food, even better. My recent sojourn to the holiday-makers' town of Waihi Beach rocked my world. It's a less than two-hour drive from Auckland; through Paeroa with its Harmony free-range pork butchery and opshops brimming with bargains, then through the gorge that follows a river so inviting you'll want to stop for a swim, before hitting Waihi town, then out the other side until you reach the turn off to Waihi Beach. This small settlement stretches along a white sandy beach so stunning it'll take your breath away. But it's the stretch of Wilson Rd known as "The Village" that will really surprise you - it's crammed with foodie discoveries to replenish and nourish you, whatever your taste.

THE SECRET GARDEN
We stumbled upon the sub-tropical oasis that is The Secret Garden, a cafe created to transport you to the eastern serenity of Bali with its tinkling water features, giant fig and fruit trees, Balinese statues peering with their calm eyes and shaded wooden gazebos to sit in.
Serving organic coffee and simple, yet scrummy light meals, fresh fruit smoothies and health juices, it was hard to tear ourselves away.
• The Secret Garden cafe and shop, 17 Wilson Rd, ph (07) 863 4311,waihibeachsecret.co.nz

THE DELI
Small but perfectly formed, The Deli is perched at one end of the busy stretch of Wilson Rd. It's owned by Nicky Mowat, a food professional for more than 20 years who has cooked alongside the likes of Peter Gordon, at Wellington's Sugar Club, and owned her own seafood restaurant in Akaroa. Nicky was originally a bach owner in Waihi Beach before deciding to make it her permanent residence. She and husband Paul Weaver saw the need for seasonal, local deli food to go, so they started up their shop and now locals can call in for their organic ham carved fresh off the bone, chutneys and relishes, expertly made Allpress coffee and exceptionally good pies - the chicken with wholegrain mustard was one of the best I've eaten; punchy with a white wine sauce and packed full of chicken.
• The Deli, 28 Wilson Rd, ph (07) 863 5995, waihibeachdeli.co.nz

WAIHI BEACH BUTCHERY
Outside, the signs above the Waihi Beach Butchery say all the right things to my greedy eye - home-cured bacon and ham; game meats; gold-medal winning beef sausages. Inside we meet the owner, Marcus Burndred, who has been in the business for 23 years, and the range of meat he offers is seriously impressive. Marcus prides himself on stocking rabbit, quail, crocodile and pheasant, beef beautifully aged to a rich dark red and chooks that have had a decent life. We met many locals who were willing to say "Marcus' meat is the best", and his logo reads "Waihi Beach Butchery - meat you can't beat". We agree.
• Waihi Beach Butchery, 18 Wilson Rd, ph (07) 863 5203.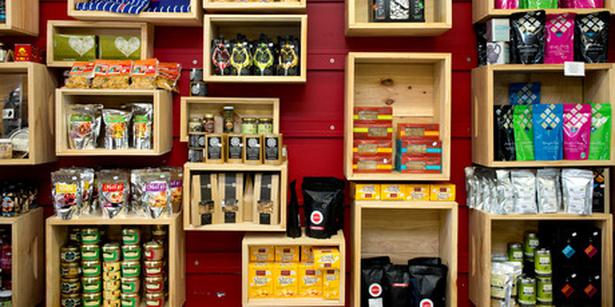 FARM GATE DELI
When I wander into Farm Gate Deli and Kitchen I do a double-take. Buckets at the doorway hold huge bunches of lush spinach and rhubarb, the chiller is stacked with ready-to-go meals, baskets overflow with loaves of top-quality locally made European breads, shelves are stacked with chutneys and oils, vinegars and sauces . . . in fact there seems to be anything and everything you'd want to make a foodie weekend of it here in the one store. A huge purpose-built kitchen out back pumps out salads, pates, meals and cakes as well as being the venue for hands-on cookery classes specialising in pasta making, fish and seafood and learning to bone meat and poultry. Enrol now I say.
• Farm Gate, 31 Wilson Rd, ph (07) 863 5160.

WILSON RD FISH SHOP
A beach town wouldn't be complete without a fish and chippy and this one's a treat - fresh fish in batter or crumbed, potato fritters, apple turnovers. Enough said.
• 27 Wilson Rd, ph (07) 863 5303.

THE STORE
At the Waihi Beach Hotel is a small gelateria and coffee counter, open from 7am seven days, with tempting counter food; house-made brioches, jam and custard-filled doughnuts, lamingtons with fresh cream and more.
• 60 Wilson Rd, Waihi Beach, ph (07) 863 5402 or waihibeachhotel.co.nz

BREADNZ
Although not strictly in Waihi Beach, the short 15-minute drive to Breadnz in Katikati is worth it for anyone who is interested in breadmaking. A typical Frenchman, Henri "Le Panetier" Sauret, takes his bread seriously, and having learned his craft in France from some of the best breadmakers, Henri now offers one- and two-day workshops from the bread house he and his wife, Megan, have established just outside Katikati. The workshops focus on the nutritiousness of genuine breads, how to make authentic sourdough and pizza, and the art of using wood ovens. Workshops run on the first Sunday of each month or by arrangement.
• Visit breadnz.com for details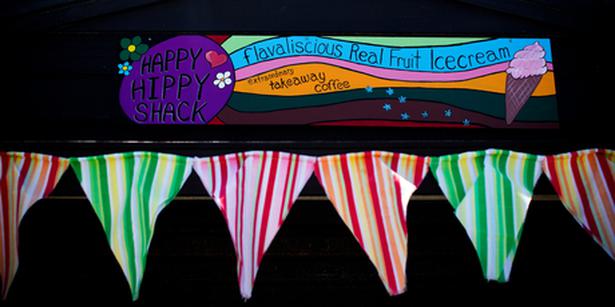 HAPPY HIPPY SHACK
Not far from the village and situated right on the beach beside the popular Flat White Cafe is the Happy Hippy Shack, with its cheerful bunting and real fruit icecreams. Nothing beats an icecream in one hand and the feeling of sand between the toes.
• 21 Shaw Rd, beside Flat White Cafe, Waihi Beach.

PRODUCE MARKETS
The local produce markets in the area are marvellous. The Waihi Beach Produce Market is held every Sunday from 9am to noon opposite the Waihi Beach Hotel on Wilson Rd, and in the township of Katikati (20 minutes' drive from Waihi Beach) the twilight Katikati Plant and Produce market is held every Friday from 4pm-6pm.
Share this:
More Culture & Travel / Going Places