What does Waitangi Day Mean to You?
New Zealand personalities share their take on Waitangi Day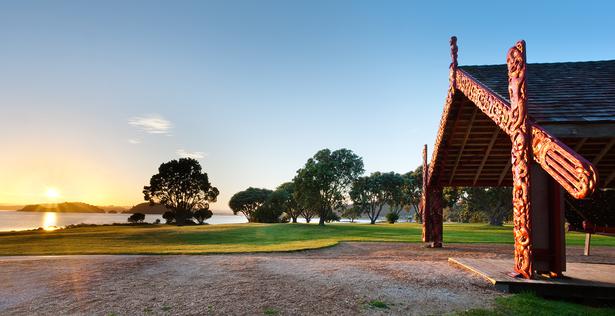 Friday Feb. 3, 2017
Tiffany Singh, artist
For me, Waitangi day is a moment to honour our evolution as a nation. There seems to be a new New Zealand on the horizon, one where we have the opportunity to establish a moral code that cements the values we want to prioritise moving forward as a nation. A nation that welcomes change and one that welcomes newcomers and the resettled community. For me Waitangi day is a chance to celebrate and honour the concept of ka mura, ka muri. A time when we we look to the past to inform the way we move into the future. Learn from those who have gone before us and recognise the past and present as a single, comprehensible 'space'. I hope it is a time where can all see ourselves as the kiatiaki of this land and see aotearoa as the ever evolving taonga that is and find a way to honour our past by embracing and refining the ideals for our future.
Jack Tame, co-host of Breakfast and Saturday morning host on Newstalk ZB
For me, Waitangi Day is a day to celebrate diversity and shared history. I'm not blindly patriotic – I like that for many Kiwis, Waitangi is an opportunity to protest and to recognise a complicated history. To me it's a sign of a decent country when people can freely and properly acknowledge the good and the bad. This is my first Waitangi Day in New Zealand since 2012 and after five years living overseas I feel luckier than ever to be a New Zealander. Lock me in for a shift on Breakfast, then some beach cricket and a triple scoop of hokey pokey! Chur.
Maia Cotton, model
As a child, Waitangi Day meant very little to me. It was simply exciting as it meant a day off school! But now that I have almost reached adulthood, I realise the importance of this day, especially being part-Maori. For me, it's a day to commemorate the wonderful coming together of two cultures, and acknowledge the importance of this in my own mixed family. I feel a sense of pride to be a Kiwi on Waitangi Day, and know that wherever I spend this day, whether it be New Zealand or afar, I continue to carry this pride with me.
Rhana Devenport, director of the Auckland Art Gallery
Having grown up in Australia, a country that has no treaty and a fraught relationship with its indigenous peoples, Waitangi Day possesses, for me, a powerful and positive resonance. It is an annual reminder of how radically different these two nations are in respect to their consideration about indigeneity, the legal and political ramifications of what the treaty entails, and the wider positive cultural impacts. I have enormous faith in art and its potential to expand our thinking, broaden our perception and enrich our emotional life, and I am constantly inspired by the contribution that Maori artists make to the world.
Kanoa Lloyd, co-host of TV3's The Project
I really look forward to everyone doing what they want to mark Waitangi Day. If you want to protest, it's your right and if you just want to spend time with family and feel grateful for all the things we have in this beautiful country, that's good too. 
Ngahuia Williams, Director of N Model Managment and model
Waitangi Day is a day when normally, if we are lucky, we can feel the sun on us while we spend time outside of work and be grateful for the summer months. It is a celebration of New Zealand which is cool, and as a Maori woman who learns about our history through my whanau, the day can be a touchy subject with some negative divide for multiple reasons. Regardless, we are one people which is something to be proud of.
Tiffany Jeans, Curio Noir
I am personally quite torn in regards to the signing of the treaty, which stems from opinions within my own whanau. I feel that as a nation the treaty hasn't really united us. It's interesting to me as we have such a pride and emphasis around sport, but not so much pride in regards to culture - not only Maori, but all cultures welcomed into our wonderful country. So sadly, Waitangi Day for me means a nice day off with the family.
Mike Puru, host of TV3's The Cafe and Radio Live host 
Waitangi Day has always been a day of reflection and conversation but more importantly, it's the day we celebrate this amazing country. A day we can spend with our loved ones; a day to relax. You don't have to buy eggs, you don't have to buy presents, there's no trick or treating or fireworks. It's our day, our unique New Zealand day.
Share this:
More Culture & Travel / Features & Profiles