Watch and Listen: Accessories of the Noughties
Be inspired by the era of bling with these highly accessorised videos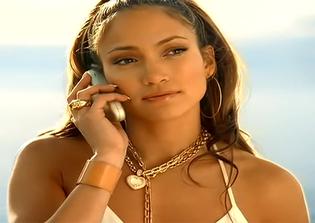 Timberland boots, hooped earrings, Fendi Baguette bags, mules - the 2000s was an era of bad taste that's making an irreverent return on the back of a logomania revival and Instagram nostalgia. We look back at some of the accessories that helped define the look of some of the biggest pop stars of the time, influencing the way people dressed post Y2K.
Try Again by Aaliyah (2001): Diamante chokers and belts
The late singer's transformation from fly girl to high fashion R&B chanteuse was made clear in this diamante set by noughties designer label of choice Dolce & Gabbana.
Love Don't Cost A Thing by Jennifer Lopez (2001): Fendi bag, gold belly chains and tinted aviators
J. Lo's style credentials and the era of bling made its presence felt in this noughties classic. Stella McCartney's tinted sunglasses were the most popular tinted aviators of the time.
Whenever, Wherever by Shakira (2001): Navajo belts
Slung nonchalantly around the hips, they emphasised the Colombian singers hip thrusts and, along with Sienna Miller, ushered in the noughties' love of all things Boho.
He Wasn't Man Enough For Me by Toni Braxton (2000): Name-plate necklaces
Along with Carrie Bradshaw, Toni's name plate necklace was particularly teamed well with another noughties wardrobe staple, the cowl neck top.
Survivor by Destiny's Child (2000): Bejewelled bandanas
Beyonce's moving CFDAs speech to accept her style icon award paid homage to her mother Tina Knowles, who created almost all of the trio's outfits during the noughties.
Sk8er Boi by Avril Lavigne (2002): Studded cuffs and trucker caps
Teenage angst in the noughties looked like Avril Lavigne's mall rat, delinquent rebel, complete with smudged eyeliner and skater accessories.
 Fallin' by Alicia Keys (2001): Trilby hats and hoops
Soul singer Alicia Keys' mix of jazz and R&B references extended to her wardrobe, popularising the trilby and sparking a trend for those wanting to look immediately cool.
Overload by The Sugababes (2000): Chokers, beanies and frosted make-up
Snarky snare drums and a whole lot of attitude, this breakthrough single showcased noughties style  and make-up and hair perfectly (Mutya's crimped hair a particular highlight).
I'm Outta Love by Anastacia (2000): Tinted sunglasses
Still known for wearing tinted prescription frames, Anastacia's break out video confirmed the arrival of cool sunglasses to wear everywhere, even inside the club.
Holler by the Spice Girls (2000): Chain belts, perspex cuffs and tinted sunglasses
With Ginger gone, the foursome explored their R&B persuasions with major hip hop producer of the noughties, Timberland. 
Jenny From The Block by Jennifer Lopez (2002): Timberland boots and baker boy cap
To emphasise she was still 'real' and that fame hadn't changed her, J. Lo took street style elements such as baker boy caps, oversized hoops and updated Timberland's – reminding everyone that she'll always be the same old Jenny from the Bronx. 
Hey Baby by No Doubt (2001): White belts, pointy heels and fingerless gloves
Gwen Stefani's style credentials are well-documented, and the accessories worn in this particualr video were very much of the era, including typical Gwen/SKA accessories in the mix.
Share this:
More Culture & Travel / Staying In