DIY Wedding Carrot Cake Recipe
Try this great DIY wedding carrot cake recipe from Natasha Collin's latest book The Homemade Wedding Cake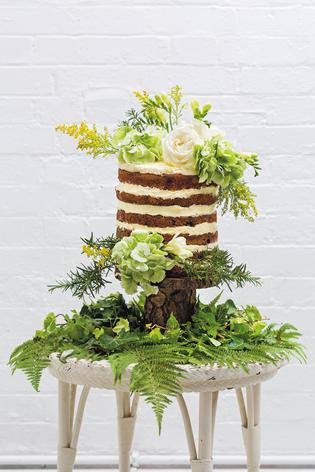 I have a good friend who dislikes any dried fruit, but I sneakily gave her some of this cake to sample and she loved it, even diving in for second helpings. She did look very sheepish when I mentioned the fruit, but it didn't stop her from helping herself to another piece!
The cake is decorated with real flowers, but you can use paper flowers to make the set-up easier for you if you prefer. I might even be tempted to find some lovely fresh carrots with their green fronds still attached and use those…
Baking skill: Easy
Decorating skill: Easy
How far in advance can it be made?
Up to five days before the wedding. Fill the cake 24 hours before the wedding, then wrap the sides in plastic wrap. Alternatively, the layers of the cake can be baked and then frozen for up to three months. As soon as the cake has cooled, wrap each layer in plastic wrap and then foil. Be careful that each layer doesn't get squashed or bashed while it is in the freezer.
Setting up: Give yourself an hour to set the cake out and add the flowers. This cake will keep fresh around six hours from unwrapping; any longer and the sides of the cake will start to dry out and the flowers will begin to wilt. If you are in a very warm, dry environment then it may be even sooner.
Portions: Each cake is made up of two layers and there are three cakes making up the whole, six layers in all. Each 20 cm (8 inch) cake yields 25 portions (75 portions in total).
Price per portion: Medium
Total making time: 5½ hours
Total baking time: 4½ hours
CARROT CAKE RECIPE
Prep: 30 minutes per layer. Ingredient quantities are for one layer: you will need six layers to recreate this cake. If you have multiple tins then you can bake up to three layers at once. You may have to switch them around after 30 minutes, to prevent overcooking where there may be a hotspot. Obviously you will need to double the ingredients for two tins' worth or triple them if you are making three layers at a time.
100 g (3½ oz) unsalted butter
100 g (3½ oz) light brown sugar
50 g (1¾ oz) dark brown sugar
3 eggs
1 teaspoon natural vanilla extract
150 g (5½ oz) self-raising flour
1 teaspoon ground cinnamon
1 teaspoon mixed (pumpkin pie) spice
½ teaspoon salt
200 g (7 oz) grated carrot
30 g (1 oz) walnut pieces
75 g (2¾ oz) sultanas (golden raisins)
Grated zest of 1 orange
1. Preheat the oven to 180°C (350°F).
2. Grease and line a 20 cm (8 inch) cake tin(s).
3. Melt the butter and set aside to cool.
4. Using a standing electric mixer fitted with the whisk attachment, beat together the combined sugar with the eggs until the mixture is light and fluffy. It should take around 4 minutes and should double in size.
5. Fold in the cooled melted butter and vanilla extract until they are totally incorporated into
the egg mixture.
6. Sift the flour, spices and salt together over the egg mixture and fold in gently. You need to keep as much air in the mixture as possible.
7. Fold in the grated carrot, walnuts, sultanas and orange zest.
8. Spoon the mixture into the tin. If you are baking more than one tin at a time then measure (or weigh) the mixture to divide it evenly between the tins. You want the baked layers to be as equal as possible to create a uniform cake.
9. Bake for 45 minutes: the cake is ready when a skewer inserted into the centre of the cake comes out clean.
BUTTERCREAM
Prep: 15 minutes per batch. To recreate the cake you will require three batches of the buttercream recipe below. If you have a standing electric mixer you could make it in two batches, but you will need to make it in three or even four batches if you are mixing the buttercream by hand. If you try to mix up a triple quantity with a handheld mixer you will more than likely burn out the motor.
450 g (1 lb) unsalted butter, softened
450 g (1 lb) icing (confectioners') sugar
Grated zest of 2 lemons
3 tablespoons freshly squeezed lemon juice
1. Beat the butter until it is light and fluffy.
2. Add the icing sugar and lemon zest and beat together well for about 5 minutes. You should find that the colour of the buttercream will really lighten: it should change from yellow to almost white.
3. Add the lemon juice and beat in well.
LAYERING AND TIERING THE CAKE
Prep: 24 hours ahead, covering the drum, 10 minutes; 15 minutes per tier
25 cm (10 inch) covered cake drum (see page 41)
25 cm (10 inch) thin cake board
Two 18 cm (7 inch) thin cake boards
Cake leveller or a large serrated knife and cocktail sticks (toothpicks)
Palette knife (or alternative, see page 37)
Spirit level (optional)
1. Level the layers using the method described on page 37. Brush off as many loose crumbs as you can from each layer.
2. Put a blob of buttercream on the 25 cm (10 inch) cake board then position one layer of the cake on top. Add a 2 cm (3/4 inch) layer of buttercream, either with a palette knife, making sure that the layer of buttercream is even all over the top as any unevenness will cause the cake stack to topple. Or you can use a piping (icing) bag (cut a 2 cm (3/4 inch) hole in a disposable bag) to pipe a layer of concentric circles that you then smooth over with a knife: this technique creates a more even layer.
3. Cut a strip of baking paper and wrap it around the side of the cake. You should find that the paper will stick to the buttercream, but if your buttercream proves particularly unsticky (or should that be stickless?) then secure the ends with some tape. Use a palette knife and spread the buttercream to the edge of the cake until it is flush to the paper. Do this to ensure a good clean edge to the buttercream so that your finished cake will look fabulous, darling!
4. Remove the baking paper. Place the next layer on the buttercream layer and take a moment to line it up so that there are no overhanging edges. Use a spirit level on top of this layer: if it is not level, gently push down the side of the cake that is too high.
5. Add a layer of buttercream using the same method as in steps 2 and 3.
6. Transfer the cake to the covered cake board (if using one), and dowel using the method described on page 50.
7. Repeat with the remaining two tiers (four layers), placing each cake on one of the 18 cm (7 inch) boards.
8. The top layer of each cake should be covered with a layer of buttercream.
9. Stack the cakes using dowels, following the method described on page 50.
DECORATING THE CAKE
Prep: 40 minutes to wire the flowers, 10 minutes to attach them to the cake
2 large white roses or decorative white cabbages
5 freesia sprays
3 hydrangea or shamrock chrysanthemum heads
6 sprigs with a small yellow flower such as Astilbe
8 large sprigs of rosemary (if you have rosemary in your garden, use this as it will stay fresher for longer than the supermarket variety. Pick it on the morning of the wedding, or the evening before and stand in water overnight)
26-gauge florists' wire
18-gauge florists' wire
Florists' tape
Wire cutters (although you may get away with a pair of very strong kitchen scissors)
1. Wire the flowers using the method described on page 57, remembering to completely cover the ends of the stems, to give the flowers a longer shelf life and prevent any sap seeping into the cake. The rosemary does not need to be wired.
2. Place the cake on your cake stand (if using one). Add the sprigs of rosemary around the base of the cake.
3. Put the flowers on the cake, starting from the top and working down. Add the larger flowers first and then hide any visible wires with the smaller elements. Create a large bunch of flowers on one side of the cake with a smaller bunch at the base of the cake on the opposite side for a balanced look.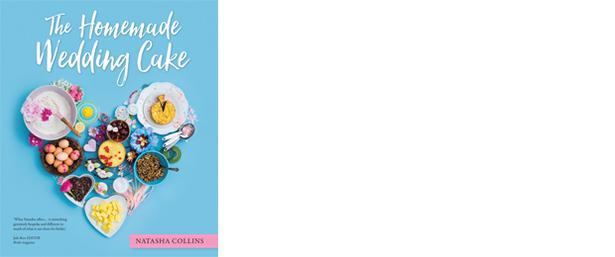 Share this: