Lake Rotoiti Wedding: Paris Mitchell Temple & Henry Temple
The couple share their magical wedding experience at a location of meaning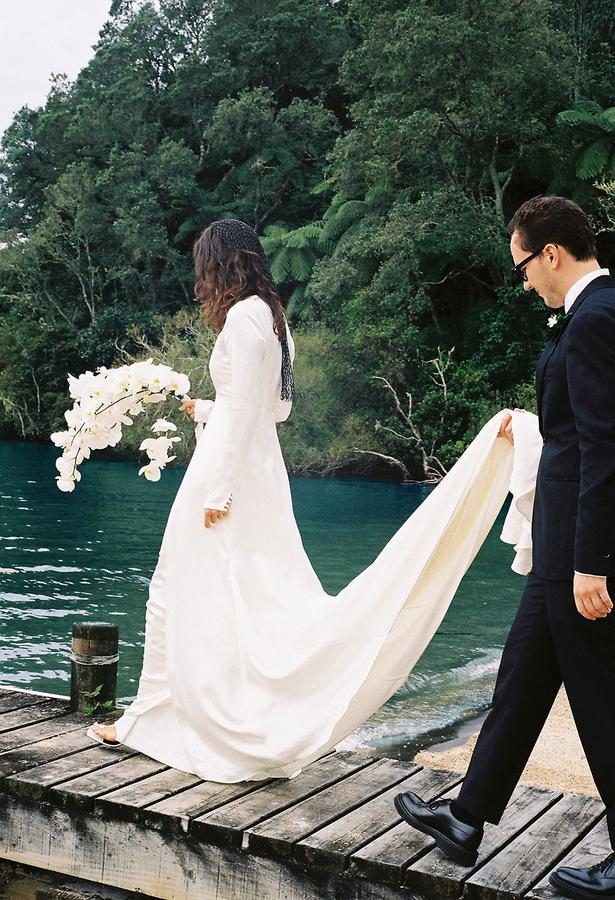 Wednesday April 4, 2018
The Proposal
Henry proposed to me last autumn in an imperial garden in the hills of Kyoto, Japan. We were there for my brother Dane's solo exhibition at The Mori Museum, Tokyo. The gardens were particularly impressive with seasonal colours. It was very romantic.
Approach
We wanted to be married under an open sky, with everyone we love and for the day to feel laid-back, elegant and intimate. Guests arrived to a harpist playing Joy Division's Love Will Tear Us Apart and Lou Reed's Perfect Day. Everyone had an Aperol spritz or a negroni in their hand on arrival. We basically brought Annabel's wine bar, which Henry co-owns, to Lake Rotoiti.
Location
The wedding was held at Henry's family lake house on Hauparu Bay, Lake Rotoiti, where they've spent almost every summer for the past 25 years. The house is filled with so many special memories, and feels like a reflection of Henry's late mother, Annabel, who created a beautiful warm home for the family.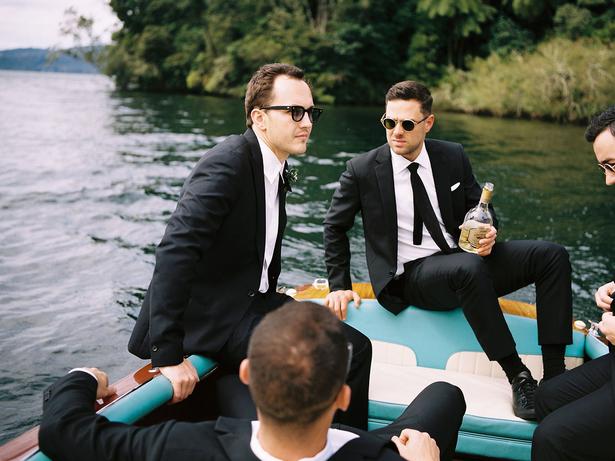 Ceremony
Ellis Tepania (Ngati Pikiao) held a spiritual service, paying homage to the lake and our surroundings — he also held the service for Henry's mother's funeral. The whole ceremony was perfect. Our flower girls ran in all different directions as they came down the aisle. It was a beautiful, organised mess, which I loved because it didn't feel too orchestrated.
The Dress
My dress was designed in-house by Paris Georgia, a womenswear label I founded with my best friend Georgia Cherrie. There were two parts to my dress, the coat for the ceremony and my reception dress which was worn underneath. I wanted it to be simple and classic with a 1920s-inspired silhouette. It had a deep V neckline and covered buttons down the back. My veil was the most incredible black beaded headpiece designed by my dear friend Glen Prentice, a New York-based designer. I wanted to look and feel as much like myself as possible on my wedding day.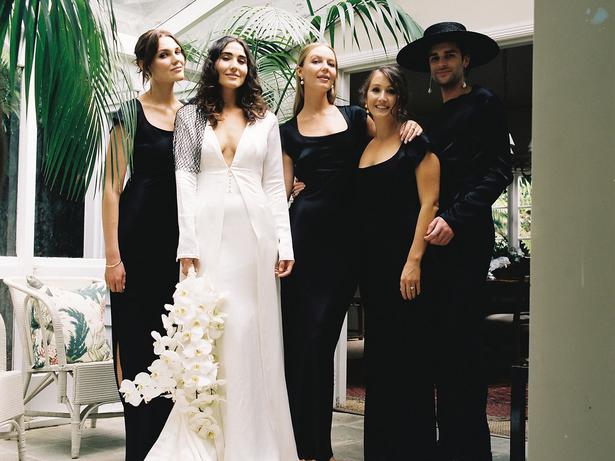 The Bridal Party
Bridesmaids Georgia Cherrie, Emma Champtaloup and Ahi McKenzie wore the Gracie evening dress in black from our SS18 collection and Maryam Nassir Zadeh footwear. Tommy Stayton wore our Alba top, Maison Margiela suit trousers, a straw hat by Miss Crabb and Prada Derby shoes. Everyone wore pearl earrings by Jasmine Sparrow. They all looked stunning. The flower girls wore dresses by Miss Crabb and the little girls wore classic white dresses from Bergdorf Goodman.
Entertainment
My eccentric family and friends were more than enough entertainment. Our friends Soraya LaPread and Sam Southwell were the DJs. The dance floor was on fire from 5pm until 5am the next day.
Flowers
My stepmum Nina from Nina For Flowers did an amazing job. Everything looked spectacular. The reception flowers were a mix of burnished maple leaves from Rotoiti, toi toi and white tweedia in copper troughs and statuesque white gladioli, entangled in perfumed stephanotis vine, which symbolises marital bliss. My bouquet was made up of white orchids tied together with a long, white silk ribbon.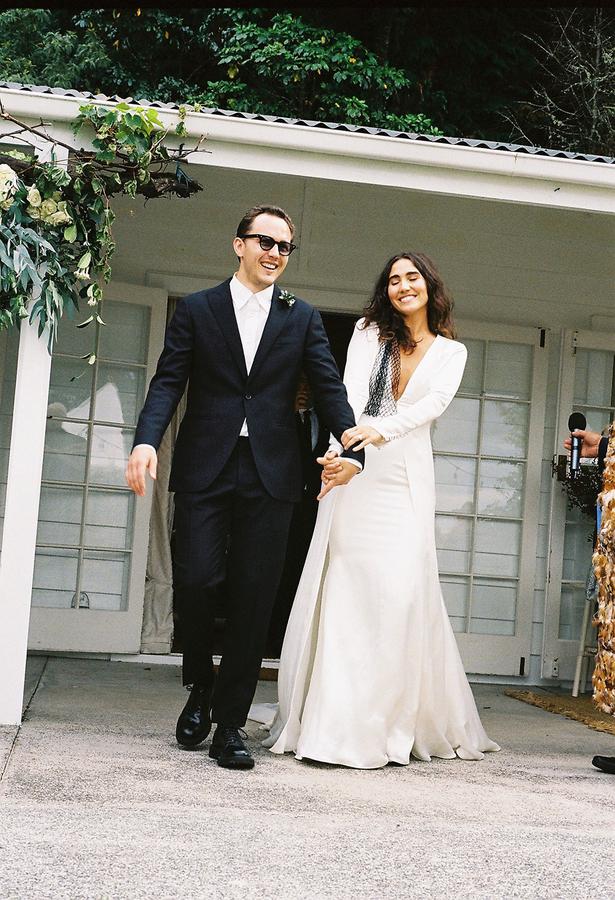 Photos
My dear friend Harry Were took our photos. She was a guest but we were lucky enough to have her capture the day for us. Veronica Crockford-Pound took videos on her Super 8 camera, her videos always have the most beautiful, old, nostalgic, vintage feel.
The Food
We had an oyster bar and plenty of canapes inspired by our favourite restaurants Azabu and Depot with an Ottolenghi-inspired grazing table for dinner, orchestrated by the talented Amy Bourke of Blank Canvas Catering.
The Experience
On the day I felt so calm and excited. As people cheered us walking down the aisle and I walked closer to Henry I knew it was going to be the best day ever. It was just the most magical weekend.
Share this: