Need to Know: Wedding Trends for the Year Ahead
Wedding planners from around New Zealand predict trends for 2017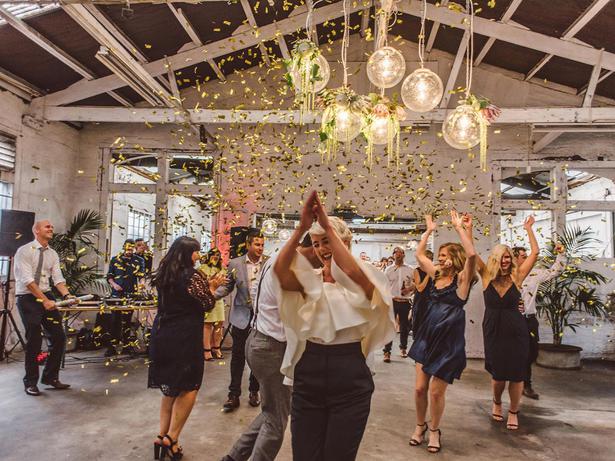 Wednesday March 22, 2017
Claire Donaldson from One Lovely Day (Auckland)
Brides will start moving away from the rustic look and, although weddings in wild outdoor spaces or old buildings will still be embraced, there will be more of a nod towards bringing back some of the beautiful elements that create a wedding: long linen table cloths and napkins, golds, ceramics and pillar candles.
Black hues are popping through and a more modern feel will emerge. A laid-back style will still feature — brides preferring a party feel, with lounging areas, grazing and dessert tables, and good music — but with a touch of glam and clean lines added to the mix.
• Visit Onelovelyday.co.nz
Stacey Tulloch of Colour Me Happy (Queenstown)
It's such an exciting time to be in the wedding industry, with couples expressing their style more than ever through their wedding day. Hanging installations are going to be bigger and wilder than ever, from foliage, flowers, lighting and materials . . . everyone will be looking up in awe.
Foliage has been such a focal point but I do think that we will be seeing lots more flowers and materials starting to play a major role in these installations. I think we will be seeing a lot more restraint in other areas to make sure these amazing features pack a punch.
Pre- and post-wedding events will become increasingly popular, especially with destination weddings. The day-before event is a great way to bring everyone together for a few hours for the initial meet and greets.
Acting as a bit of a warm-up, this will give guests a little taster of what's to come on the big day and will include cocktail parties, mini festivals, al fresco lunches . . . the list goes on. The day-after event will be about winding down. Think coffee truck, barbecue brunch and chilled music — the perfect way to end the celebrations.
And let's not forget about elopements. Runaway lovers will soon be adding wow elements to their wedding day, whether that's a killer ceremony feature or a romantic dancefloor under the stars.
• Visit Colourmehappy.co.nz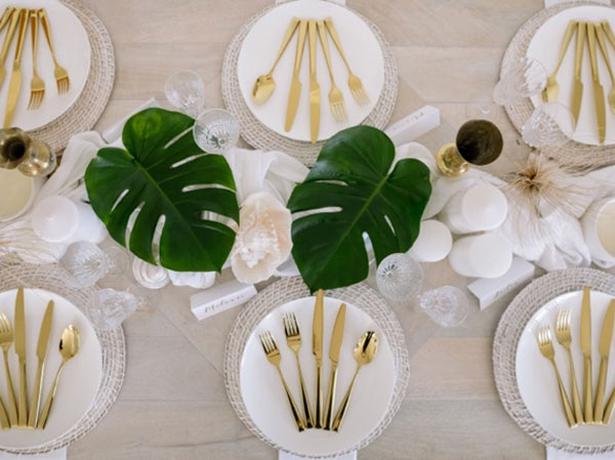 The White Wedding Club. Picture / The Official Photographers
Bridget of The White Wedding Club (Raglan)
We predict a new kind of bohemia reimagined for the modern bride. Lush botanicals are at the top of our list — bright tropical greenery and large unique hanging installations will definitely make a statement.
We love the art and beauty that comes from luxury items too, such as our gold and rose gold cutlery. Location wedding venues are on our hit list for 2017. Decorating pop-up wedding venues with lounge and cocktail furniture makes for a super fun and relaxed ambience.
• Visit Thewhiteweddingclub.com
Sophia Hoadley of My Waiheke (Waiheke)
Florals are moving off the tables and on to the walls, ceilings and beyond. We've witnessed a growth in the love of large-scale floral installations, hanging greenery, blooms, floral walls and backdrops. There is less focus on table florals, making more room for shared platter-style dining and wine to fill the space. Floral budgets are being spent on high impact and volume, and a continued love of greenery.
A delightful resurgence of artisan-made dinnerware, vases and hand-dyed linens all contribute to the quality and beauty of a wedding tablescape. Black ceramic flatware matched with matt brass cutlery, an indigo shibori-dyed napkin topped off with a simple spring of gum … now we're talking!
Couples are being inspired to think outside the norm when scouting for their wedding venue and locations. Combinations of unique outdoor ceremonies followed by dinner at a favourite restaurant, or dinner party events under a marquee in a field are becoming popular as couples look for creative options where they have a blank canvas.
That way they can bring in their own beverages, catering, decor and furniture of choice. Gelato carts, oyster bars and dessert stations get to hang out alongside an outdoor dancefloor under the stars.
Getting creative with the floor plans, removal of the "top" table, and opting for all-inclusive long-table dining, wedding lounges and informal dining seating arrangements — couples are getting more confident about ditching some of the more traditional aspects of a prescribed wedding "layout" and "schedule" and adopting elements that are more meaningful to them.
• Visit Mywaiheke.co.nz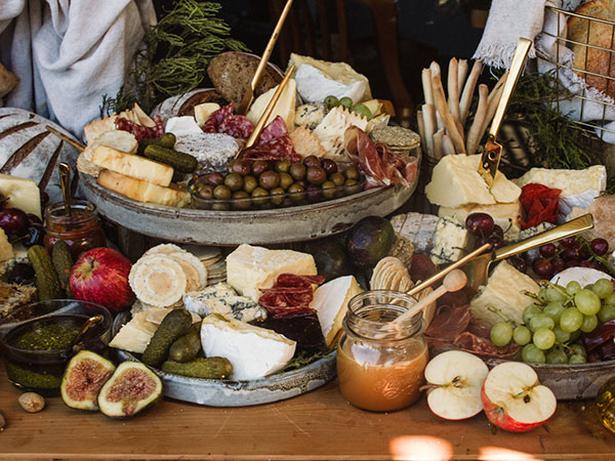 Picture / Fossick and Forage
Carly van Winkel of Fossick and Forage (Auckland)
Gone are the days of white chair covers and purple bows, hundreds of guests and giant cakes no one eats. With the majority of people having friends and family all over the world, getting these important people together and celebrating their love has become the heart of the day. There is a new focus on smaller, more intimate weddings, where the couple can invest in creating their personal vision and gathering their most treasured people together.
This is the one day where all of their family and friends from both sides come together, and couples are wanting to spend more time enjoying this aspect. Long, shared seating arrangements in beautiful locations, grazing tables where guests can gather and talk, and a focus on evening events is definitely what I am finding more and more.
Styling their wedding day by expressing their individuality, who they are as a couple and how much they treasure the people that surround them has become important, and it is the reason I love my job.
• Visit Fossickandforage.com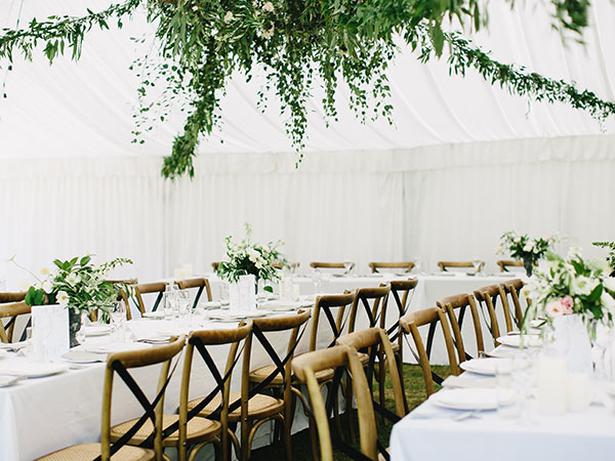 Two Foxes. Picture / Benjamin and Elise wedding photography
Jess and Jared Watt of Two Foxes (Auckland)
1. A huge wave of green and white is approaching in the upcoming wedding season with a move towards slightly sleeker and contemporary lines to make the space feel fresh and bright.
2. A focus on beautiful staples to create the perfect base layer in table settings is emerging, with much more demand for natural linens, hand-crafted ceramics and cutlery choices in matte and white looks.
3. The post dinner/dancing portion of the night is getting much more emphasis with lounge spaces, custom neon signage, and grazing tables. People are realising that this portion of the night is just as important as the first hours, and are putting in the time to make it as epic and considered as the rest of the day.
• Visit Twofoxes.co.nz
Be inspired by the good things in life. Sign up now to receive emails from Viva, and twice a week you will be sent the latest news, profiles, videos, fashion shoots, competitions and more.
Share this: