J.Crew and the Rise of the Casual Wedding
The J. Crew bridal dress is dead, but the casual wedding it inspired lives on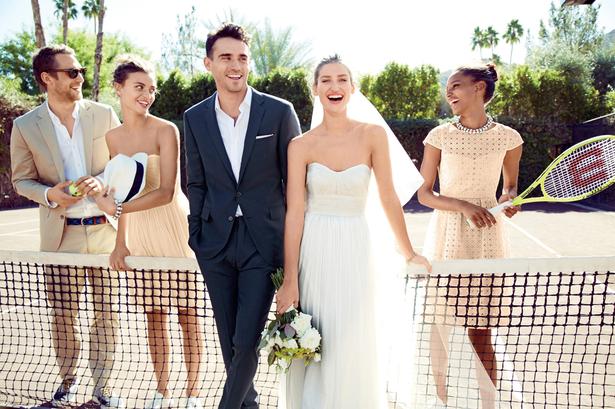 Tuesday Nov. 15, 2016
Twelve years ago, when J. Crew first started selling bridal gowns, it was an unusual gamble: Would women be willing to buy their wedding dresses - arguably the most glamorous frock they'd ever wear - from a store that was known for sensible cable-knit sweaters and cubicle-ready blazers?
The answer, the chain soon found out, was an emphatic "yes." Women began flocking to the line, which, like J. Crew's everyday clothes, was more about classic elegance than va-va-voom shine and shimmer. These were minimalist silk column gowns and floaty, A-line pieces, maybe with a small dash of sparkle around the waist. They were not froufrou. They didn't convey a lot of effort.
Now, J.Crew is ditching this bride and bridesmaid line, a move that is not necessarily much of a sartorial loss, given that other designers make similarly simple dresses at comparable price points. But J. Crew's disappearance from the bridal market marks the end of the road for a line that shook the culture of shopping for wedding dresses: It made it more casual and, in certain circles, made it deeply uncool to be too studied about what you wore on the biggest day of your life.
And that emphasis on being a laid-back bride would soon creep into all aspects of wedding-day style - the venue, the decor, the food, the party favors.
When J. Crew first stormed the market, the de facto way of buying wedding gowns and bridesmaid attire was at some appointment-only store that billed itself as a "salon" and called its shopkeepers "consultants." It was stuffy. It was unfamiliar.
READ: Host a Wedding Flower Potluck
J. Crew's model let women buy dresses online and try them on in the comfort of their bedrooms - something that was still rare in this earlier chapter of e-commerce. And the bridesmaid dresses could be mixed and matched, so you didn't have a uniformed brigade of taffeta following you down the aisle. This is commonplace now, but J. Crew was essential in making it that way.
And the label brought fresh styling ideas to the masses: The rise of vintage-looking fascinators - those clip-in hairpieces with a bit of netting near the face - instead of cathedral-worthy veils? That came straight off the bridal pages of the J. Crew catalogue.
But it wasn't just about the product and the shopping experience: Women also became enamored with the oh-so-casual vibe a J. Crew wedding or bridesmaid dress allowed them to telegraph. "Oh, it's just J. Crew," you could say, nonchalantly, when someone asked you where your lovely dress was from.
The subtext was clear: "I'm so chill and so unstuffy that I just picked this thing up at the same place I buy my jeans and T-shirts."
Also: "I paid only three or low four figures for my dress on a day when other women give into a 'princess for a day' mentality."
Same goes for bridesmaid dresses: With a mix of strapless, halter and one-strap necklines, you announced, "I'm such an anti-Bridezilla that I gave my girl squad the chance to get dresses they actually like."
RECIPE: DIY Wedding Carrot Cake
It's hard to know just how much of a moneymaker the J. Crew bridal business has been: The company does not break out sales figures for this department. But there are signs that suggest it built a solid following: The retailer had expanded it from a web- and catalogue-only business to add bridal suites to some of its tonier bricks-and-mortar stores. It opened a wedding boutique on Madison Avenue.
Don't get me wrong: This idea of being more relaxed about wedding attire hasn't become a ritual for everyone. The show Say Yes to the Dress has brought us an almost decade-long parade of ultra-formal, finicky brides in search of bling-encrusted poofs.
But the rise of the J. Crew Bride dovetailed with a broader aesthetic shift in what's cool for weddings. These days, fancy equals fusty. DIY decor like Mason jars and paper lanterns and chalkboards are preferable to old-school opulence.
Chandeliered ballrooms and filet mignon are out. Instagram-ready details are in, such as dessert tables filled with doughnuts and photo booths where you're supposed to pose in silly hats.
I don't know about you, but four of the nine weddings I've attended in the past three years have been in barns or on farms, all of them from urban or suburban couples going for a rustic atmosphere. One of those brides declared to me before her big day, "It's going to look like Pinterest threw up on my wedding." She was not incorrect.
Maybe the rise of the unfussy J. Crew Bride was a catalyst of this change. Or maybe J. Crew just skillfully rode the wave. Either way, the J. Crew Bride and the Pinterest Bride are closely linked phenomena.
READ: Adorable Real-Life Proposal Stories
So why is J. Crew's walk down the aisle coming to an end? The brand hasn't offered specifics, but there are several likely causes. For one, the bridal market has continued to experience significant disruption, and the category is getting more crowded.
It's also possible that J. Crew's bridal business wasn't actually that troubled, but that executives believed it was a distraction from solving a bigger problem: the long streak of weak sales in its core clothing line.
And maybe this look has been going too strong for too long. Many of us have been to weddings that starred a J. Crew Bride. We've had our local craft beer during cocktail hour; we've sat at a picnic table during the dinnertime toasts. The Pinterest look is starting to feel just as contrived and theatrical as glitzier weddings - and maybe J. Crew saw that writing on the wall.
So, farewell, J. Crew bridal line. While the dresses may be gone, the ethos of the J. Crew Bride is still very much with us - at least for now.
- The Washington Post
Shop the Look: The Casual Wedding


Share this: