Real Weddings: Jacquie and Ji Fraser of Six60
Jacquie and Ji Fraser, of the band Six60, share the details of their unique approach to their wedding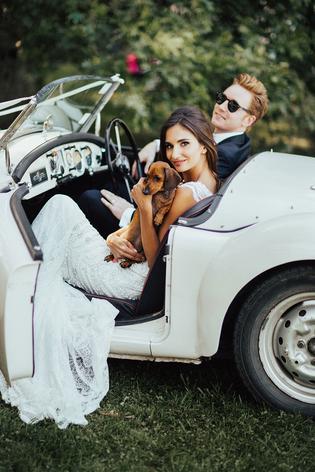 THE PROPOSAL: I was living in London at the time and Ji (Six60's lead guitarist) was flying back over after playing a few shows in New Zealand. He Skyped me the morning before he flew out and told me he had organised a surprise for the Friday night he arrived, and asked me to bring an overnight bag. He would give me the postcode of where to meet him when he got into London.
I turned up at the postcode that Friday night, to a beautiful French restaurant in Kensington. Ji was all dressed up in a suit, which was very different because he doesn't work in a job where he gets to wear suits very often. We had dinner and he seemed really calm, so I thought maybe he just wanted a special night together as we hadn't seen each other in a while.
After dinner he said he'd booked a hotel and we should go and check it out, I said we should just go to a bar or something as it was still early but he was quite persistent. We went to the most beautiful old hotel in Kensington called The Milestone and when we entered the room, the hotel staff had decorated it with candles and rose petals and put some champagne on ice — and that's when he got down on one knee. Super romantic and extremely unexpected.
RINGS: Ji originally gave me a place holder. The original diamond we got in Hatton Garden in London just after we got engaged, and then I had it put into a halo setting by Walker & Hall. Both of our wedding bands are also from Walker & Hall.
APPROACH: Our main priority was fun. We wanted to enjoy ourselves and also thought it was really important for our guests to enjoy themselves. People had travelled from all over and we wanted them to know we were grateful and that they were important to us.
We wanted it to have a glam/chic theme but with a relaxed and slightly informal feel to it. We tried to bring this out through how we dressed up the space and how we structured the day.
LOCATION: At my parent's home, Te Rama in Waikanae, Kapiti Coast. My parents have owned the place since I was 10 years old. It is truly the most magical place with so many memories. My older sister got married there four years ago, which made it even more meaningful.
We had a seated garden ceremony, followed by a marquee reception, all on the property. Mum spent hours in the garden in the lead-up and it looked absolutely stunning on the day. We were so lucky that the weather played nice and we got to enjoy it, as it was wet the whole two weeks leading up to the wedding.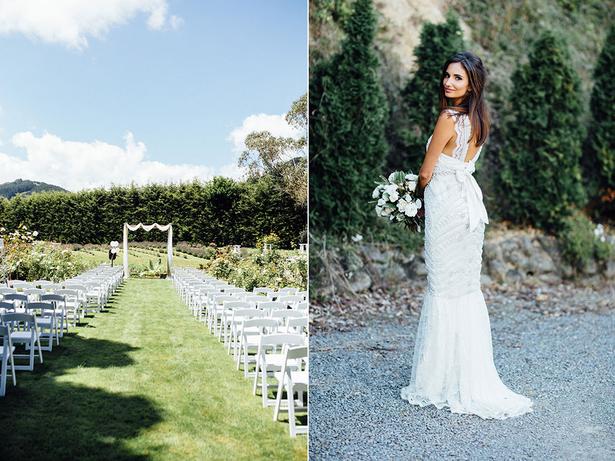 GUESTS: 140 guests for both the ceremony and reception.
THE DRESS AND SUIT: I wore an Anna Campbell dress from the Spirit collection, the Coco (Fit and Flare) dress. I always knew I wanted something fitted with a train at the back and had an idea in my head of what my dream dress looked like. I was after something a bit different to what you usually see but still bridal.
When Paperswan Bridal (in Wellington) had the trunk show I went down and tried it on and knew it was the one. As it is quite a detailed dress I didn't want to overdo it with accessories so wore small diamond stud earrings and, as my something borrowed, my sister's veil for the ceremony.
My bridesmaids incorporated a blue ribbon on my garter, and I pinned my late grandmother's brooch on the ribbon of my bouquet (something old).
GALLERY: On-the-rack Bridesmaids Dresses You Will Wear Again
Ji wore a dark navy suit from Working Style with a black bow tie and a white shirt. He had some gold cuff-links made with his name on them, which was a nice touch. His groomsmen also wore suits from Working Style with white shirts and black bow ties.
BRIDAL PARTY: My bridesmaids wore champagne-coloured dresses made by The Stockroom. They were perfect. I bought my bridesmaids personalised Kristin Ash necklaces. Each one had a charm for the first letter of their name and their birthstone, which they all wore on the day. I gave it to them in gift boxes with body butter, gowns to wear on the morning and chocolates.
TABLE SETTINGS: We had three long tables for guests, with the bridal table facing them. Me, Mum, and Ji's mum raided second-hand shops for a year in advance to collect enough cut-glass vases (different shapes and sizes) and brass candlesticks.
We scattered the vases (with flower arrangements in them) and candlesticks along the tables, Mum bought some long white scented candles to go in these and it was exactly how I had envisaged it, so romantic and slightly undone. I bought chandeliers, which I got the electrician to install over the tables, with one large chandelier over the head table which tied it all together.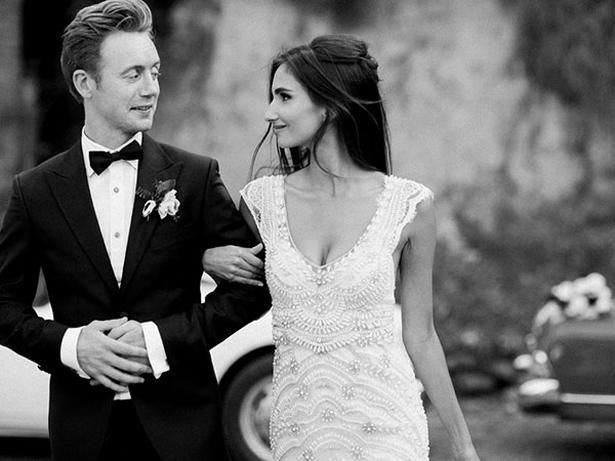 For name settings I ordered small gold animal figurines with personalised name tags for each guest — they were a hit.
ENTERTAINMENT: Sean Preston was the best, he brings his big white piano and microphone and really puts on a show, catering for the older and younger audiences. The dancefloor was going off 'til home time.
We also had a jazz saxophone player playing as the guests arrived for the ceremony and that really set the scene for the day.
I left the rest of the music and playlists up to Ji as that is his forte — we didn't go for your traditional old-school wedding songs. We walked down the aisle to Yellow by Coldplay, and our first dance was John Mayer's Slow Dancing in a Burning room.
READ: 19 Classic Kiwi Songs with Style
PHOTOGRAPHER: Anna Kidman. I have known Anna since I was a teenager as she is one of my sister's very good friends which made it so special.
I can't sing her praises enough, she is so talented and has such a good eye. The photos captured the wedding perfectly, which is super important to me as we decided against a videographer so this is how we will always remember the day.
SPECIAL MOMENT: Even though the wedding was all at the same venue, we had two of Dad's classic cars for the wedding party to drive off in after the ceremony with a "just married" sign on the back. When we drove away, Ji and I decided to drive out of the property for some peace and quiet for 10 minutes. It was nice to have a moment just for us and I remember that feeling extra special.
The speeches were spot on: meaningful, funny, and not too long. Frankie (our dog) even chimed in and tried to take the spotlight during Ji's speech.
During the ceremony we cut off four white balloons that represented family members who are no longer with us.
Be inspired by the good things in life. Sign up now to receive emails from Viva, and twice a week you will be sent the latest news, profiles, videos, fashion shoots, competitions and more.
Share this: