Real Weddings: Joshua and Sarah Potae
Joshua and Sarah Potae share their relaxed approach to their special day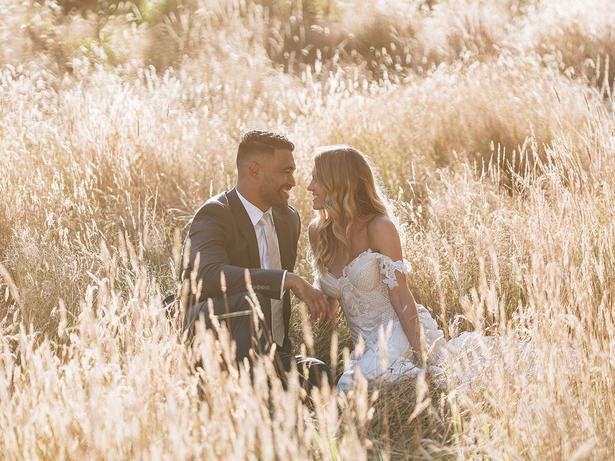 Wednesday March 22, 2017
THE PROPOSAL: It was a humble Thursday evening in early December. We decided to walk up the Mount after work. Josh is an avid photographer and I thought nothing of him bringing along his Canon camera gear to capture the sunset.
During our walk, Josh suggested we head out towards the grass fields overlooking Matakana Island so we could watch the sunset together. Little did I know, he had actually set his camera up to film the moment he proposed. Like the fine gentleman he is, Josh went personally to ask both of my parents for my hand in marriage beforehand, accompanied by a special bottle of red for Mum and an aged whiskey for Dad — their favourites.
THE APPROACH: We wanted to create a relaxed atmosphere with plenty of good food and drink, accompanied by a night of dancing under the stars. We both love family and friend gatherings so we wanted to create that but on a grander scale.
We wanted everyone to feel a whole lot of love and togetherness and we were fortunate enough to have those feelings in abundance on the day.
LOCATION: Our wedding was held at Old Forest School in Pongakawa. From the instant we pulled into the driveway for our first viewing, we knew it was the venue for us. It turned out to be quite emotional, walking around the property imagining our wedding day there. As we departed and drove back down the country roads that led us to that magical setting in the forest, we just couldn't stop smiling at each other.
There was only one Saturday left in January so we locked it in that same day and the planning began.
READ: Touring Mt Maunganui with Lower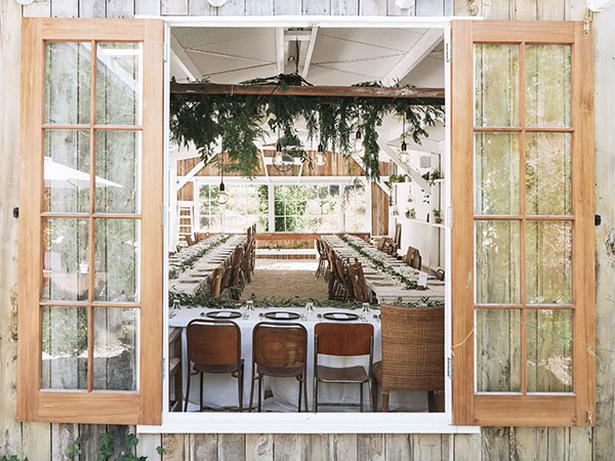 THE DRESS AND SUIT: I can be a little indecisive at the best of times but in all honesty finding my dress was surprisingly a breeze. Rue de Seine in Newmarket was the first store Mum and I visited together and I tried on most of the shop. Consultant Fleur recommended that I try on the Fox Gown towards the end of my appointment.
The moment I stepped out from behind the changing room curtain and caught a glimpse of myself in the mirror I was overcome with emotion. I remember telling Mum that the dress made me feel more beautiful and comfortable in my own skin than I had ever felt before.
We visited one more store but my heart was still on the Fox Gown — it was the one. I found my dress 10 months out from our wedding day so it made the whole process very smooth.
Josh was dressed in a dapper suit with custom buttons from Bond & Co here in Tauranga. We were so impressed with Jason and Damien and would recommend them in a heartbeat. They really took their time to understand the look Josh was going for, offering ideas about how they could alter his suit to give him subtle points of difference from his groomsmen. They also tailor everything on site so that made everything super easy for us too.
BRIDAL PARTY: The groomsmen were wearing beautiful suits also by Bond & Co with footwear by Shoe Connection and the bridesmaids were in Evolution dresses paired with Wittner heels.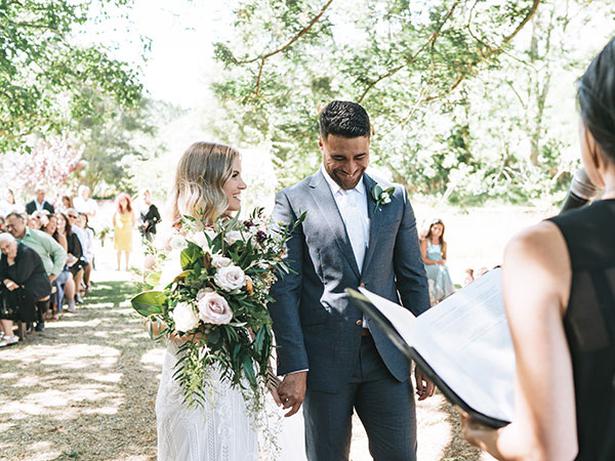 FLOWERS: We had the divine Shaye from On My Hand to manage our styling and bouquets. She created breathtaking bouquets, which were a combination of muted roses, greenery and ferns to meet the "Tuscan elegance" brief, mixed with New Zealand foliage to honour Josh's family heritage.
I also opted against a bouquet toss, instead gifting my bouquet to my grandad to place at the headstone of my dad's beautiful mother, who died before my parents met.
TABLE SETTINGS: We wanted a family-style dinner, where the food is served down the middle of the table, so that it felt like one big dinner party. We had a vision that it would get people mixing and mingling as they were passing the food between one another. On My Hand placed olive branches down the centre of the white wooden trestle tables to accommodate the family style service and to create a simple yet elegant feel. We also opted for the head table to have black plates in contrast to the white organic shaped plates we used for our guests.
THE CAKE: Our salted caramel wedding cake was created by the gorgeous Dani from Spongedrop in the Mount village. We have had so many guests say it was the best wedding cake they've ever had, and we'd have to agree.
ENTERTAINMENT: Josh Pow is a super cool local musician here at the Mount. We first heard him playing at the markets in the summer and he literally gave us goosebumps. He creates a duo called Pow Wow with his equally talented drummer buddy Nick and together they filled the little barn with the best music, all night long. They started out with some real classics and then came the covers of the likes of Drake, The Weeknd and Bruno Mars.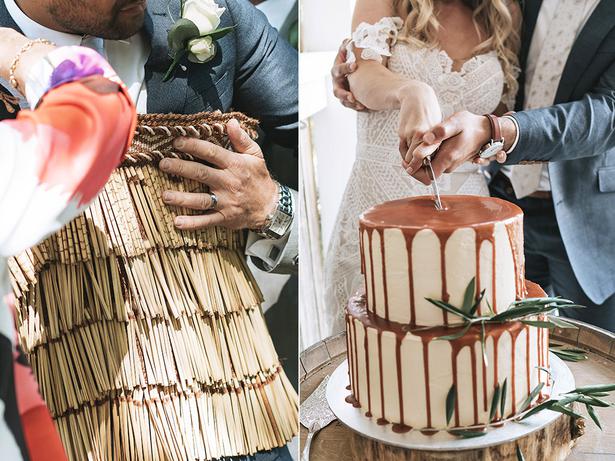 PHOTOGRAPHER: Our photographer was the talented Rambo Estrada. He hails from landscape and surfing photography but boy does he nail wedding imagery. We wanted raw emotion from our images and preferred intimate interactions over posed photos, and Rambo delivered.
GALLERY: Wedding Dress Inspiration From the Runway
There is a blend of family, friends, culture and a whole lot of love that oozes out of every image. We were blessed with a scorcher of a day with not a cloud in sight from sunrise to sunset and Rambo was literally dripping in sweat running around trying to capture everything – he just didn't stop. He also showed up an hour early because he was so keen to get started.
ANYTHING ELSE? I wanted to ensure that Josh's family heritage was honoured throughout our wedding day. I thought for a long time about what I could gift him that wasn't the standard watch or bottle of whiskey (two of his favourite things). One day it came to me that I would commission Josh his very own kakahu (Maori cloak).
I was very fortunate that my grandfather's dear partner Pauline put me in touch with one of New Zealand's finest practitioners of Maori weaving – Karl Rangikawhiti Leonard. It was very emotional for me to present it to Josh and the magnitude of Karl's talent means that we now have a family heirloom for generations to come.
Be inspired by the good things in life. Sign up now to receive emails from Viva, and twice a week you will be sent the latest news, profiles, videos, fashion shoots, competitions and more.
Share this: