Real Weddings: Kelsey Genna and David Palfreyman
Kelsey Genna and David Palfreyman share their special day of elopement on the Amalfi Coast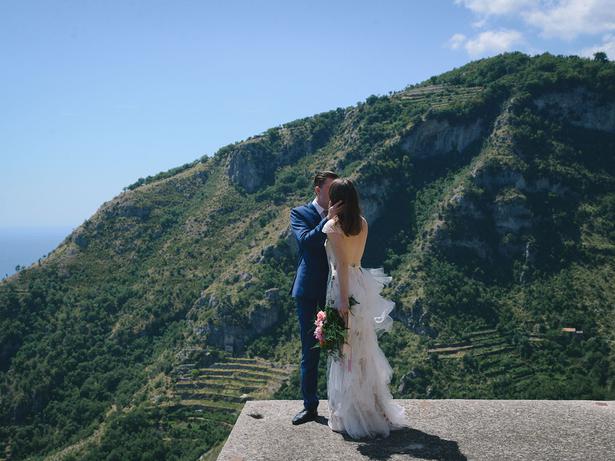 Wednesday March 22, 2017
THE PROPOSAL: [Kelsey:] Unplanned, on the couch one night after dinner. It certainly wasn't extravagant but it was extremely sweet and very much "in the moment".
RINGS: I had styled a bridal shoot in Wellington a few months before we got engaged. I had used a gorgeous custom ring from Tory & Ko, which I subsequently fell in love with on our photoshoot. At the time getting married was not on my radar at all, but when David proposed I knew it was the ring I wanted. David's ring was created from a casting of a friend's grandfather's signet ring. We had it engraved while we were in Italy.
PRE-WEDDING: We had a fabulous engagement party at Puriri Valley on Waiheke. The private villa sleeps 25 people. We had our family spend the weekend with us and close friends came over for the Saturday evening to celebrate. It was July (the weekend before we left to elope) so it was the middle of winter, but Puriri Valley has many gorgeous fireplaces, which kept it cosy and intimate. We drank lots of champagne and had the most gorgeous weekend.
APPROACH: We wanted something adventurous, extremely romantic and low maintenance. As a designer, I'm working with brides planning their wedding on a daily basis and a big part of me wanted to escape all the pressures and expectations [Kelsey is an a Auckland-based designer, who specialises in bespoke bridal and evening wear: kelseygenna.com]. We didn't tell a soul beforehand and made absolutely no plans other than filing for a non-impediment in New Zealand.
LOCATION: We chose Ravello in Amalfi. We love Italian style and there is no debating Amalfi is a stunning part of the world. Legally, tying the knot in Italy isn't an easy task — we spent two weeks travelling up and down the country jumping all the legal hoops required to make it official. Even arriving at the ceremony we weren't sure what to expect. It's customary that the mayor of the town marries you and the ceremony is all in Italian.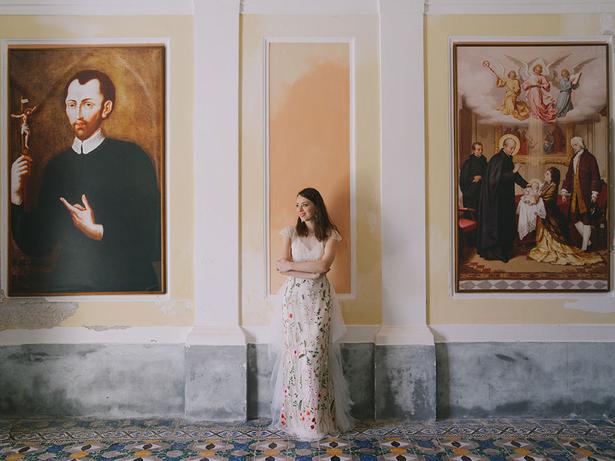 GUESTS: The law requires two Italian citizens to witness your wedding. We ended up paying two locals €50 [about $80] each to be our witnesses. It sounds ridiculous but is all part of the fun of eloping in a foreign country.
THE DRESS AND SUIT: I designed my dress myself and wanted it to be relaxed, fun and something that complemented the Amalfi setting. I splurged on a gorgeous pair of Italian earrings by Percossi Papi, which I picked up in Rome from the incredible designer, Maria Teresa Percossi. David wore a bright blue suit we had made in Italy.
FLOWERS: I picked flowers from the garden of Sant'Alfonso, where we stayed. I was lucky enough to be able to FaceTime my local florist in New Zealand for some advice.
DINNER: We finished our evening with a gorgeous meal at the relaxed but delicious Marina Grande. It's a Michelin-star seafood restaurant sitting on the most impressive piece of real estate in Amalfi town.
PHOTOGRAPHER: Sarah Burton was our photographer, she is a Kiwi who spends the European summer based out of London. I've worked with her before and always thought her candid approach to photography would be perfect for an elopement. Sarah and her partner Ryan spent the weekend with us in Amalfi and he created a gorgeous video for us. They were fun people to celebrate with.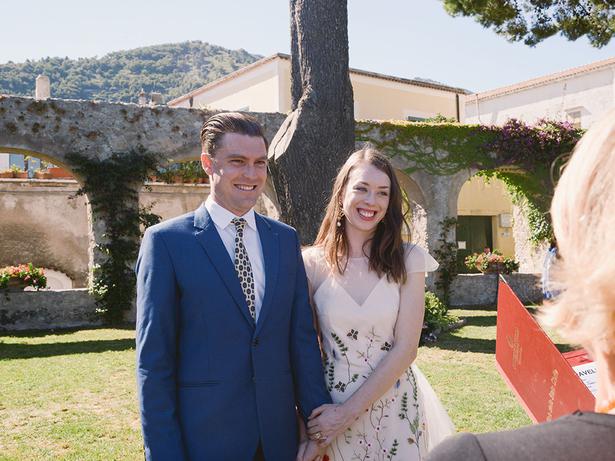 FUNNY MOMENT: We got a flat tyre on the way to the ceremony. David had to strip down to his underwear to change the wheel.
HONEYMOON: We spent a romantic week in Tuscany staying at Castello Banfi il Borgo, one of the most heavenly spots. We spent the week wine tasting, relaxing by the pool and exploring nearby villages. Following that we spent another three weeks in Europe.
TOP TIP: If you are feeling all the pressures of planning a wedding, choosing to elope could be a good thing for you. All you really need is a fabulous dress and a marriage licence. But remember if your loved ones aren't going to be there to celebrate, ensure you have a talented videographer at your side so they can experience the moments and feel as if they were there.
Be inspired by the good things in life. Sign up now to receive emails from Viva, and twice a week you will be sent the latest news, profiles, videos, fashion shoots, competitions and more.
Share this: