Why I Love Wellington: Musician Gussie Larkin
The singer, guitarist and songwriter shares the best of Wellington's live music and vintage shopping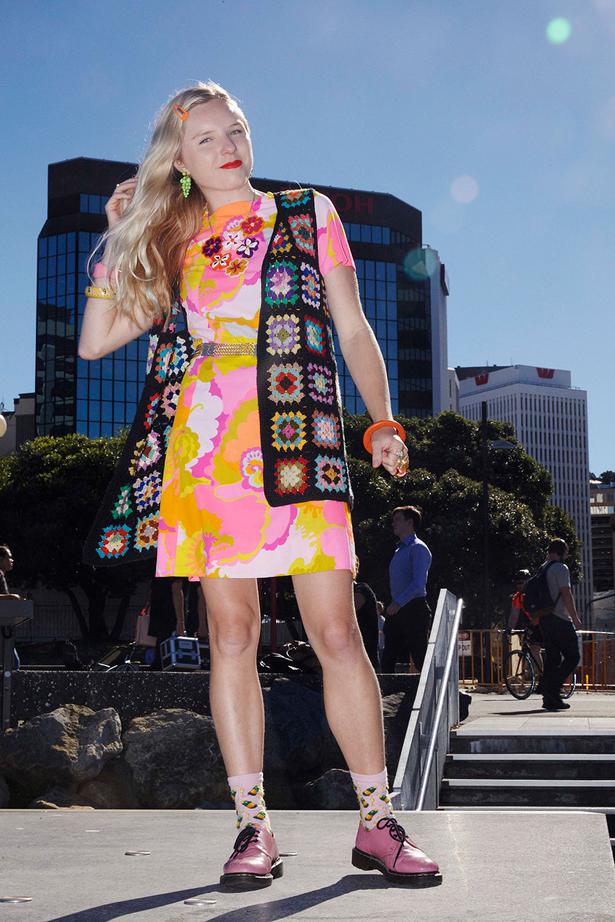 Wednesday March 28, 2018
"A psychedelic teenage daydream straight out of a 1969 Women's Weekly," is how musician Gussie Larkin describes her style, a showcase of the best of Wellington vintage.
The singer, guitarist and songwriter formed the band Mermaidens with high school friends Lily West and Abe Hollingsworth in 2013, and the trio have become known in the local scene for their gigs and atmospheric, sprawling sound.
Their album, Perfect Body, released by Flying Nun Records in August, is a finalist for the Taite Music Prize to be announced in April. As for the band name: "It doesn't take itself too seriously and we liked the mythological element".
Based in Newtown — a neighbourhood she appreciates for its vintage stores and proximity to the South coast — Gussie credits her style and love of thrifting to her "very stylish and thrifty mum, who has always op-shopped".
READ: Eleanor Ozich's Guide to Vintage Shopping
Right now, Gussie rates fellow local bands The All Seeing Hand, dreamy three-piece Womb, and Hans Pucket, and recommends San Fran on Cuba St for live music. "It's got great sound, a legendary green room and one of the best balconies in Welly. It always has a great mix of local and international acts come through too.
"But if you want a truly divey experience Valhalla is the place to go. It's mainly a rock and metal bar but has been known to host some big raves and hip-hop gigs too. The sound there is awesome and you're bound to see something you weren't expecting. Plus it's Viking-themed!
The music scene in Wellington is very diverse. Being a pretty small place, there isn't room for bland "filler" bands that you tend to get in big cities. This means you get to play with acts from completely different genres — on one lineup you can have a punk band, a synth-pop band and a techno DJ. There are some fantastic female-led bands in Wellington and we've got to keep encouraging these acts so the scene is more diverse and welcoming to women.
I feel very lucky to have been brought up in a city that has so much art and music going on. I'm also grateful that my parents took me along to whatever parties, gigs and art openings they were going to when I was a kid. That upbringing has definitely shaped my approach to engaging with arts and culture in this city. Maybe I wouldn't do that as much if I'd lived in a more sprawling place.
On a typical Wellington weekend, I head to the Saturday vege market at Newtown School, which is both a practical and social exercise as I always see people I know. Then I'll slowly meander home via the op-shops, Death Ray Records and Peoples Coffee if I have some spare change from the market. My ideal afternoon is spent working on songs, although if I'm honest it's usually spent on chores/life admin. In the evening if I'm not playing a gig I'm probably going to one.
READ: Where to Eat, Drink & be Merry in Wellington
GUSSIE'S WELLINGTON HOT SPOTS
1. Good Boy is an amazing new hole in the wall sandwich shop in Newtown. Makers of the finest vegan sandwiches I have ever sunk my teeth into!
2. Death Ray Records is a very special store that has a really good selection of new, rare and weird records. Apart from being an awesome record store it's a real hub for the Wellington music scene as well. When Mermaidens released Perfect Body last year we had a listening party in the store. It was pretty special to see all our friends and Newtown locals crammed into the tiny shop, drinking beers, eating pizza and flicking through records.
3. Everything at Baker Gramercy is delicious, just go there. It's dangerously close to my house and whenever I get one of their baguettes it's gone within a matter of hours.
4. I don't usually share my op-shopping secrets but for those in the know, Newtown Vinnies is one of the best around. My favourite kinds of op-shops are the ones you have to rummage through, that way only the diehard thrifters are willing to go in deep! Vinnies is one of those places.
5. Weta Guitars is a magical place where my guitars and pedals go when they're a bit sick. Every time I go to Weta I leave having learnt some new or obscure fact about my gear and how it works.
Share this:
More Culture & Travel / Going Places