What made your wedding special?
Three brides, three grooms, three weddings. We find out what made them all special.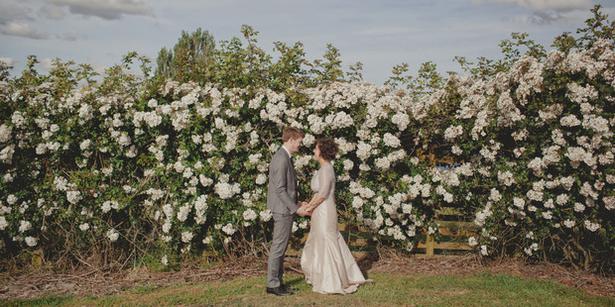 Wednesday March 13, 2013
SERA LILlY 
Fashion designer
Who did you marry?
Amani Lao and I had been friends for more than three years. We met as he was heading back to play league in Australia, so I didn't think we would ever be more than friends. We stayed in touch via Facebook and through texting and phone calls. At the start of 2011 he told me how he felt about me and I was shocked, but felt the same, so we decided to give it a go, long-distance at first. Eventually he left league and Australia to come back and be with me and the kids. He proposed casually at home, just before we were going away for the weekend.
Describe your wedding?
It was at our family home in St Heliers. We wanted a gorgeous, relaxed wedding we could mostly do ourselves. Also, having our four kids there was super-important. The kids were flower girls and page boy. We also involved them in the ceremony, with Amani giving them all promise necklaces just after he gave me my ring.
I walked down the aisle to a Leona Lewis song. We had DJ Soultre play after the dinner, around the pool. I styled the reception area with white Chivari chairs from Insphire, pink floral tablecloths I had made, and gorgeous glitter jars with flowers by Sienna Rose Flowers that were just perfect.
Tell us about what you wore?
I wore a custom-made Sera Lilly couture gown. It had French chantilly lace with silk chiffon, with a gorgeous detachable cape. I wanted something soft and elegant and timeless. I had a second dress in a black and white floral fabric for the reception. I felt amazing in both dresses. My hair was gorgeous and big, Kaleb at Blaze Hair did it; Chay Roberts did my amazing makeup and Leah Light did the most gorgeous nails with a red heart on my ring finger. Amani wore a grey Barkers suit, a Working Style white shirt and tie, and a pink floral pocket square by Sera Lilly.
What will you never forget?
Everything, but maybe when my husband gave necklaces to my kids and promised to be there for them. Also, my daughter Stella's speech that she wrote herself. It was a tear-jerker. We also wrote a letter to each other that we opened at the same time, back to back and read, then turned around to see each other for the first time - first look - because we did photos before the wedding.

AMELIE GOLDBERG 
Fashion designer
Who did you marry?
Karl Wakelin and I have known each other for six-odd years. It's a bit complicated, but we got married for Paris (our previous home), San Francisco (our future home), and well, love, of course!
Describe your wedding?
Country chic, with many contributions from our friends and family that made it the special event that it was. We crashed our friends' grass-roofed strawbale retreat in the Mikimiki valley at the foot of the Tararuas. My crafty family made 120 Liberty print serviettes, tissue-paper flowers, countless metres of bunting and picked thousands of garden flowers.
What did you wear?
My dear friends Anjali and Rachel from Wellington label Twenty-seven Names designed it for me. I didn't have a vision and wasn't quite sure what to expect, but I love their dresses, plus they know my style.
There was a lot going on - laces, georgette, trims, panelling, viscose - but it was also quite simple. I felt like an otherworldly celebrity.
We got most of Karl's outfit in Paris while we were still living there - a slim-cut suit (Sandro) and Portuguese-made brogue boots. Somehow I got it in my head that a polka-dot shirt would cut the mustard, so we (unsuccessfully) trawled the boutiques in the Marais looking for one. Feeling defeated, we were delighted to find one on our return in little old Wellington (Weathered), paired with a black silk knitted tie (Workshop).
What was the wedding dance?
We took private rock 'n' roll lessons, but I don't think there was enough space in our small Parisian apartment to learn the moves properly. Luckily, we chose an upbeat Beatles classic, so everyone joined in quickly, disguising our awkward steps.
What will you never forget?
When our friend rolled out a tandem bike (surprise organised by my darling mother) at the end of the ceremony and we had to ride through the orchard and up the hill to the reception. Everyone (except me, of course) was petrified that I'd get bike grease all over the dress.

KELLY TIDDY
Hair colourist
Tell us about yourselves?
I am a colourist at Ryder Salon in Britomart and married Nathan Tiddy. Every time I say that or think about the fact that I've married the coolest guy in town, I get the hugest silly grin.
We only started dating in January 2012 and we were married by the end of November.
It seems so quick, but we have been great friends for four years now. We first met at Eden Christian Hostel in 2009 and we hit it off right away. By the following year we were flatmates.
Long story short, we decided to get married quickly, because it's just so lucky to fall in love with your best friend. In August 2012 we went to Melbourne. One night he took me for a long walk to South Bank, where he proposed. We were surrounded by fairy lights. It was really beautiful.
What did you wear?
I'm not exactly an off-the-shelf size and I didn't want the big fluffy white strapless dress. My mum, aunty and I went to Vinka Bridal on Queen St and found the exact silver-grey lace that I wanted and a really pretty soft blush silk to go underneath - and it was perfect. Then a family friend, Christine, made the dress for me.
Nathan wore a grey suit from Top Man. He looked very handsome.
Talk us through your hair and makeup?
I work at Ryder Salon, so I had the best in the business giving me ideas and, as a result, countless hair trials. My colleague and friend, Lydia Mahon, came to our wedding and she did a beautiful job of keeping my hair looking soft and not too done, with a sort of 50s feel about it. I kept my makeup quite soft too, and just did it myself.
Tell us about your wedding?
We had an afternoon wedding at Lake Karapiro, right on the water's edge, with a reception in the Don Rowlands Centre. Thankfully, the weather was perfect.
Best memory?
Walking down the aisle (to no music - I'd missed the cue) and looking up and seeing all our friends and family sitting in the grandstand, and thinking how lucky we were to have so many awesome people in our lives.
Share this: