SPONSORED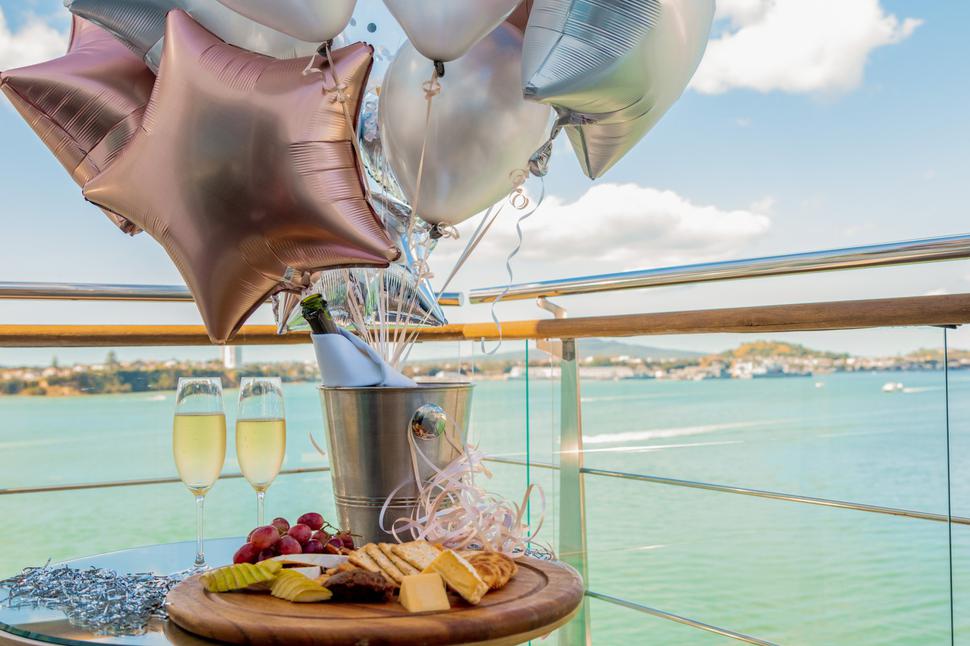 Celebrating In Style: Viva Spends An Indulgent 24 Hours At The Hilton
We check out (and in at) the Hilton Auckland to experience its deluxe Celebrations Package, a stay that's full of surprise and delight
Friday Jan. 15, 2021
The Hilton Auckland is that rare breed of hotel whose building echoes its brand's celebrity. The architecture, like the luxury hospitality brand it houses, is an icon: a crisp white beacon, tall and angular, holding court on the water's edge.
It's this elusive position that makes walking up to its doors, at the furthermost end of Princes Wharf, so singular — there's a sense of familiarity coupled with eager anticipation for the unknown.
We're there to experience the Hilton Auckland's 'Celebration Package'. Our room is upgraded to a King Deluxe Harbour View as part of the offering, which also boasts free Wi-Fi, valet parking and early check-in and check-out, as well as a complimentary cheese platter and sparkling wine at Bellini (the hotel's recently revamped bar), and breakfast for two.
The building's entryway glows with a soft, honey-like warmth, thanks in part to a sea of suspended lights and in part to the palette of light wood that characterises the interior design, and the concierge (as well as every other member of staff during your stay) greets you in a way that seems almost personal, as if they've known you well beyond a passing moment.
And yet this familiarity is punctuated with the kind of grandeur that can only be found at an establishment like the Hilton: gilded finishes, designer furnishings, an acute attentiveness to life's finer details.
Our room is a distillation of the hotel's signature style, and we are welcomed by both balloons and cupcakes (surprise!) upon entering.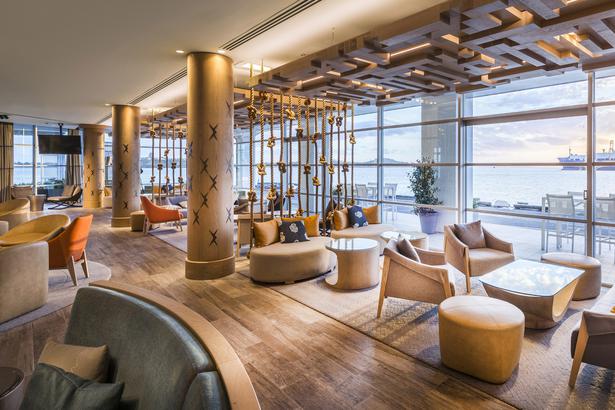 A crisp combination of blues, neutrals and larger-than-life orange accents meld with nautical-themed flourishes that wend their way through the rest of the hotel (you'll find room dividers made of knotted rope in the ground-floor lounge and a maritime mural opposite the lobby).
There's a plush bed, bookended with modern hanging lamps and golden side tables, and a private deck with 180-degree views of the Waitemata Harbour — a perk of being perched on the eighth (and the highest) floor, and a serious eyrie from watch the America's Cup unfold.
Combined with a bathroom dressed in floor-to-ceiling marble, it is a luxurious experience made all the more decadent by the hotel's 'With Love' option. An aptly named package that adds an extra special touch to your stay, it includes roses from Blush florist, a box of Bennetts of Mangawhai chocolates and a bottle of G.H.Mumm Champagne on ice — all perfect for showering your other half in wordless affection, and dotted around our room like a romantic treasure hunt.
For a global hotel brand, these small touches mark a departure from their worldwide narrative and speak of something that is at once of and beyond this city. It's the Hilton Auckland's not-so-secret recipe, and one that has been a magnet for locals and travellers alike wanting a stay (or staycation) that taps into a certain authenticity.
Look closely and you'll find this approach in the hotel's bar Bellini, where we went next to indulge in our package's sparkling wine and cheese platter and soak up the sea views.
The bar features a recently refurbished outdoor lounge, which offers uninterrupted boat-watching and the ability to see ferries gliding in and out at what feels like arm's length — making it the perfect spot to follow the yacht racing of the 36th America's Cup.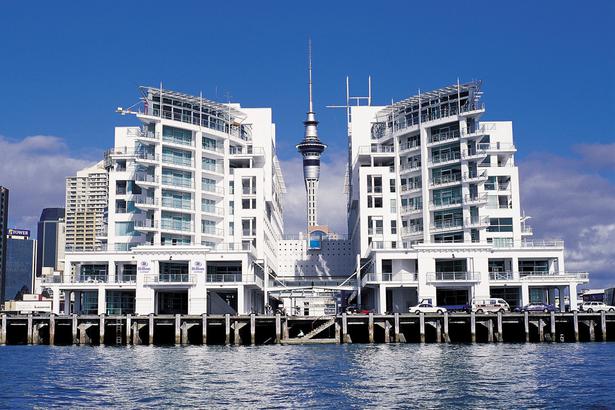 Bellini is designed to fit seamlessly into the surrounds — all the while you sit back and sip on wildly impressive-sounding drinks (think Pink Truffles, Chilli Shock Martinis, Chanel 42's and Hemingway Daiquiris), share one of the bar's new summer wine cocktail pictures, or enjoy one of the delicious platters on offer.
But where Bellini Bar propels you into Auckland's landscape, the hotel's sustainable seafood restaurant, FISH, inverts this experience and serves it to you. Having cut his teeth in Paris and Marseille, executive chef Wallace Mua delivers a short but potent menu. We have the market fish with saffron and clam risotto, the lamb rump with broccolini, cauliflower and cranberry, and share a side of sweet potato and coconut mash — what my partner, who gets some form of potato side just about everywhere, now calls the best mashed potato he's ever had. To end on a poach rhubarb dessert with banana custard, shortbread and raspberry is practically gluttonous but highly recommended.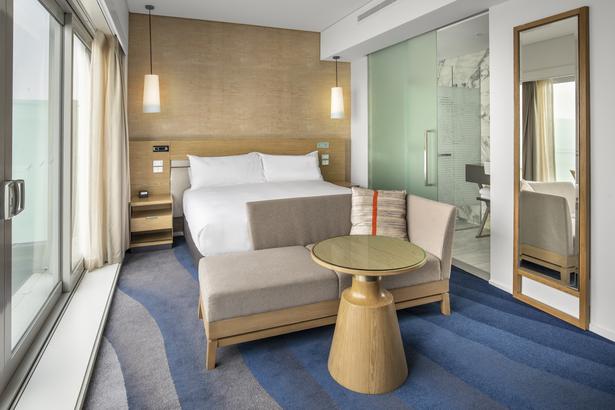 With as large an undertaking as a buffet, breakfast (complimentary with the 'Celebration Package') is similarly fine-tuned at this destination. After our mandatory sleep-in, we stroll down to find a veritable banquet of traditional early-morning fare — the waffles, scrambled eggs and hash browns are a treat — and have our tea and coffee made on-order, lending the spot a cafe-like atmosphere.
Caught by a firmly metropolitan want for city exploring, we later prise ourselves from the food and make use of the hotel's enviable proximity to Commercial Bay and Britomart, smart, voguish developments that have recently come to shape the face of Auckland's downtown. The fashion cognoscenti swan through these shops to be sure (Maggie Marilyn, Yu Mei, Wynn Hamlyn and COS comprise just a handful of the offerings) and gourmands with a taste for coffee frequent the much-loved outposts nearby (Amano, et al).
The wander back to the Hilton Auckland is like our first excursion there, but with a palpable difference: gazing towards the white property jutting 300 metres out to sea, anticipation is replaced with a sense of calm. A return to splendour, and to comfort, and to idyll pleasures a walk away.
Visit Hilton.com/Auckland to book your own experience of the Celebrations Package.
Viva is giving one lucky reader the chance to win a night at Hilton Auckland, where the winner and their partner will get to experience the hotel's 'Celebration Package' first hand. Enter now.
Share this:
More Culture & Travel / > Local