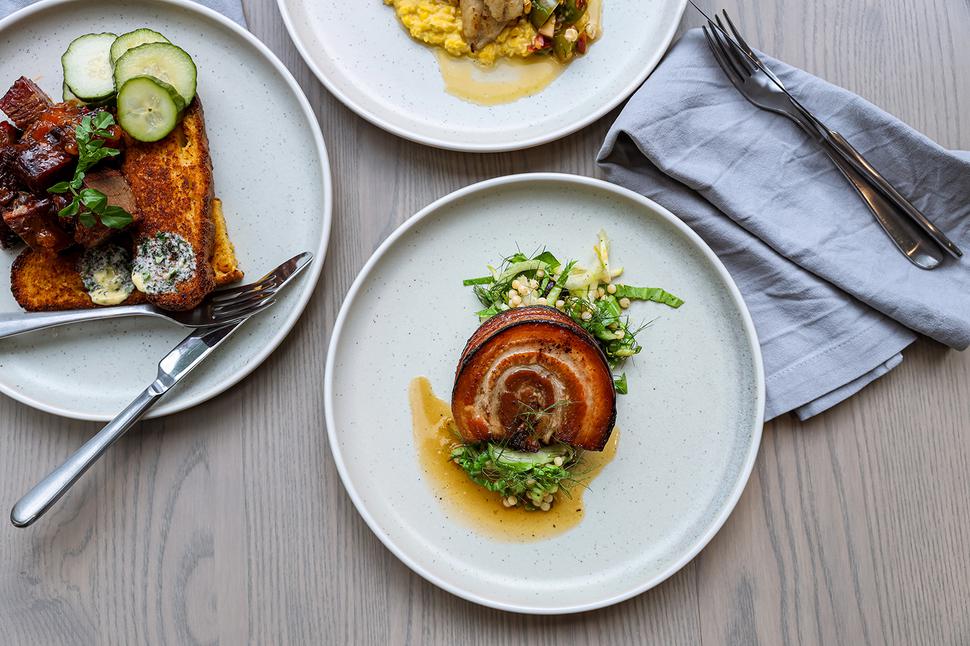 Where To Eat, Drink & Stay In Arrowtown
The Central Otago town has become a go-to for top-notch food, drinks and much more
Monday July 12, 2021
Despite living 30 minutes away, Arrowtown has become, over five years living in Central Otago, my local — the place where I eat, drink and have fun. But I find myself defending my oasis when people brush it off as a pretty, historical village that you wander through every now and then.
I was outraged when a colleague recently wrote that it was "twee and geared only for the vulgar business of parting middle-class tourists from their money". I assume that he, like others, hasn't taken a good look. They didn't find Good Day, for a well-made cup of roasted-in-Arrowtown Wolf Coffee. Didn't take their repose in the garden at Provisions.
They glanced at the shop windows of pounamu, gold and outdoor adventure wear and didn't discover the gems within. Didn't have a gin made just the way you like it on the balcony at Dorothy Browns cinema. Didn't climb stairs to view the work of emerging artists at the Astor Bristed Gallery, or the well established at Nadene Milne Gallery. I could go on, but it's the town's food and beverage scene that I am here to commend.
Anyone wanting a decent coffee, drink or meal served well, will find it in Arrowtown and we can thank a handful of experienced owner-operators for that — they know their stuff, they are locals, and they know their market.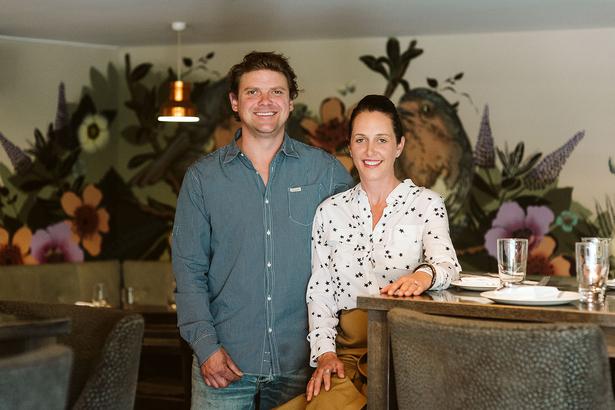 Penelope Johnson and Sam Gruar have an impressive combined list of hospitality credentials. Photo / Supplied

When Penelope (PJ) Johnson and Sam Gruar were opening La Rumbla in 2012 the bank manager asked who their target market was and they said, 'people who don't go out in Arrowtown'.

"She didn't quite get that," PJ laughs. "Everyone was getting taxis to Queenstown for a night out and we were like 'why don't people go out in their own town? That taxi money can be spent on cocktails'."

There wasn't much to go out to back then. Saffron — Pete Gawron and Melanie Hill's restaurant that set the Arrowtown scene — was going strong, The Fork and Tap and New Orleans were wetting whistles and The Blue Door was entertaining night owls.

READ: Where To Eat, Drink & Visit In Marlborough

"The Blue Door was the first thing that was kind of cool in Arrowtown," say Provisions' Jane and Hal Shaw. "Pete and Melanie opened it across the lane from Saffron and both establishments were successful. It showed that you could do something here."

Today's owners (a group of shareholders that include Arrowtown residents Michael Hill and caterer to the stars Dave Arnold) have transformed Saffron into Aosta, a top-notch modern Italian spot, but The Blue Door is still The Blue Door. Locals would revolt if this charming bar was messed with.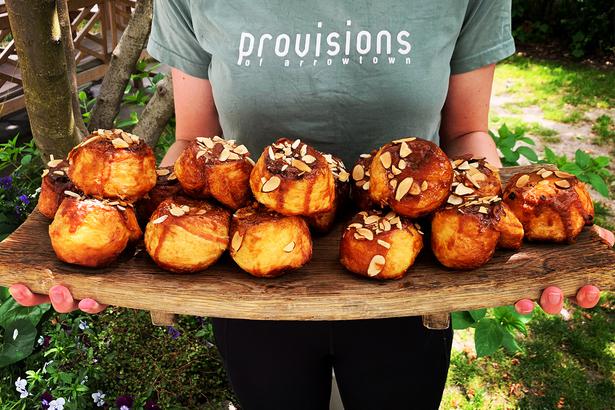 Find delicious bites at Provisions. Photo / Supplied

Provisions has been leading Arrowtown's cafe culture for over a decade. The jam and chutney business was originally in Old Cromwell Town but when Jane wanted to expand, she couldn't get a licence because the town already had a cafe. Things weren't so restrictive through the Gorge. And, when the Arrowtown Historical Trust were looking for tenants for their restored cottages (they were perilously close to being knocked down under previous ownership), Jane found her "happy place".

Cromwell's loss was Arrowtown's gain. Jane is one of Central's food pioneers, setting up the region's first farmers' market in Cromwell in 2003 to service locals and says she did the same with the cafe.

READ: Where To Eat, Shop & Stay Next Time You're In Queenstown

"Arrowtown wasn't created for tourists; many of us geared our businesses around the locals — and by locals we also mean holiday homeowners."

That is why Arrowtown's food and beverage businesses are doing well. Hal says, "Arrowtown has become a food and beverage precinct for adults and I think that has happened because Queenstown got very young — it's the party town. At the same time Arrowtown started some lovely food and beverage offerings and the Millbrook and Dalefield divisions brought in more people who had no desire to go to Queenstown. Product stepped up because the demand was there, and the demand came because there was good product."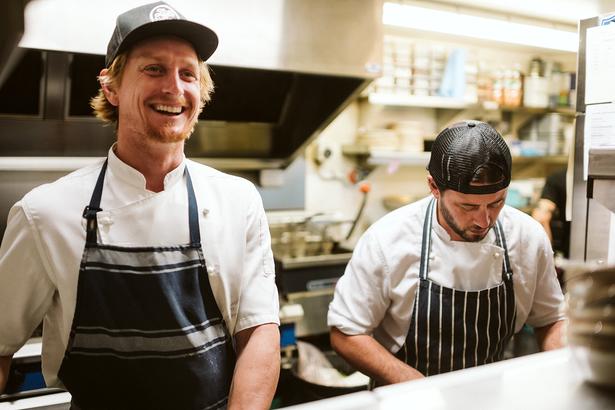 Jay Sherwood, executive chef of La Rumbla and owner of Lake & Wood Brew. Photo / Supplied

"People are looking for something authentic," says Jane.

"The buildings are mostly original, and the town is building on what was already there. The community is already there looking after itself, so it's very real, it's not contrived; not big high rises to get big rents. People have a strong sense of what's good for the community."

The community welcomed The Dishery in November 2020 and it fits perfectly. Scott Stevens is another local owner-operator and hospitality veteran who knows the market. He's created The Dishery for himself and his stage of life, as he did his first bar in Queenstown in his mid-20s. A late-night party bar was where it was at for him, now it's lunch over a glass of wine in a gorgeous spot where he can also take his young children.

He points to the fenced lawn in front of the restaurant where they set a little table and umbrella for children. It was through his children's Mainly Music group that he found executive chef Ainsley Rose Thompson. Having left the Sherwood in Queenstown to be a mum, Ainsley Rose wasn't actively looking to get back into cheffing, but what Scott was offering was a dream job — the opportunity to be involved in creating not just the menu but the whole vibe of the restaurant.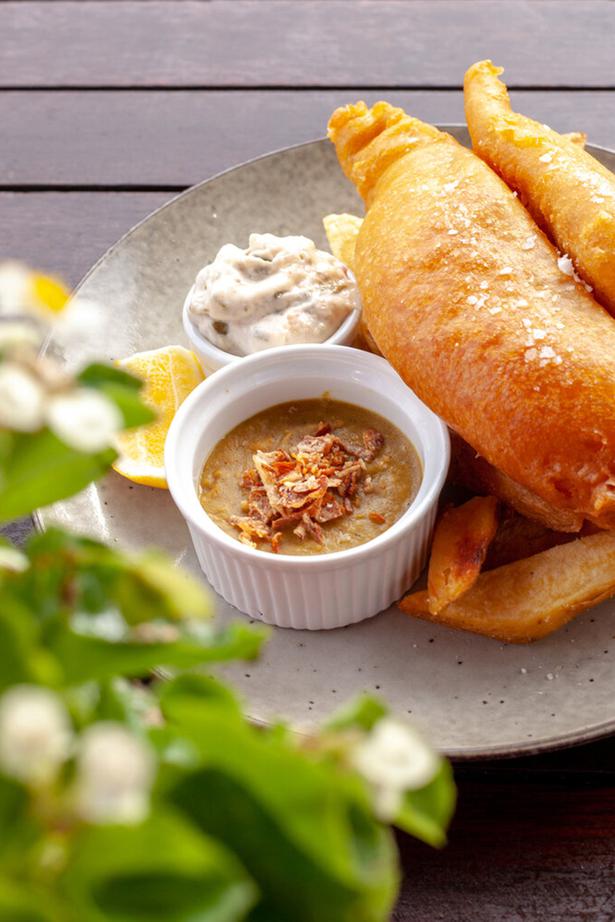 "Along with my wife Emily, Ainsley is another voice and set of eyes on the whole design of the place," says Scott. "I felt that Arrowtown could do with a daytime bistro. If you want to go somewhere for a bistro-style lunch you need to head out of town to Akarua or Amisfield.
"La Rumbla and Aosta have evenings covered, so 8am until 8pm is where we saw the gap that The Dishery could fill. We designed a breakfast, lunch and early-supper menu based around what others were doing and what we could do to complement it. There are not two hospitality businesses in Arrowtown that are the same, they've all got something different to offer and there are enough foodies in this little corner of the Whakatipu that will keep coming if the offering is new and varied."
READ: Where To Eat, Drink and Visit In Christchurch
PJ and Sam are certainly doing their bit. La Rumbla, their flagship restaurant with a really good bar that pumps late into the evening, was community-focused from day one and it took off. "Everyone was curious and fascinated," says PJ. "A few dubious Southerners had to get their heads around sharing plates in 2012, but it was cool, we put on some ceviche and introduced them to chilli and away we went. We weren't targeting tourists and we didn't build a space so big that we couldn't fill it with locals."
Things haven't changed much — they still serve dishes with a Latin American/Spanish twist that you would like to eat at home but don't want to cook, and a wine list that changes every day.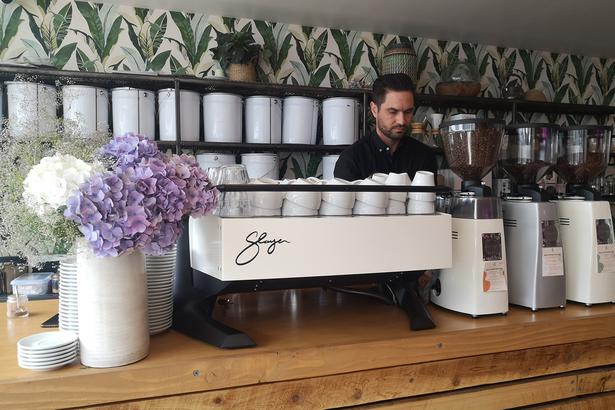 Local support led to the creation of Slow Cuts in 2015, giving residents a decent takeaway option.
"We wanted to pick up on the burger trend and rotisserie chickens seemed to be on the up. There was a market here, and a lot of people work from Arrowtown, so we wanted to give them a good, healthy lunch that's not restaurant-based. I also wanted to do a takeaway shop where you could get a glass of Champagne," PJ shrugs as if to say, "why wouldn't you?"
READ: How To Live Like A Queenstown Local
Slow Cuts followed the same trajectory as La Rumbla and the space became too small. In 2018 they moved it to a bigger site where it has gone from 80 per cent takeaway to 75 per cent dine-in. They put Good Day into the vacated space to fill the breakfast gap. This collab with Alex and Devan from Wolf Coffee also went down a treat and has recently transitioned into Goldie Cafe as Alex and Devan have taken full ownership.
WHERE TO EAT, DRINK AND STAY
Where to find something tasty (and healthy)
Jane Shaw's love of baking had her making sticky buns 17 years ago and she still has people coming into Provisions looking for them. "It's something I could never take off the menu," she says, "but there have been plenty of changes."
Provisions' historical cottage and garden setting belies the contemporary interior and menu of seasonal and plant-based dishes. "We have many health-conscious regulars who appreciate the fresh, light meals we make using local ingredients."
Where to drink
In what's possibly the friendliest local pub in New Zealand, The Fork and Tap, you'll find a deliciously classic food menu and blackboard of seasonal dishes accompanying an ever-changing line-up of tap beer and more. Everyone's welcome at 'The Tap'.
Where to find good coffee
Wolf Coffee's Alexander Tong and Devan Tyler say they feel "blessed to be in Arrowtown where the community and the cafes look after each other. If someone runs out of oat milk, we share." Alexander says coffee can be quite competitive in bigger cities such as Auckland, where he trained as a barista and coffee roaster and worked hard to save for the 1950s German-built coffee roaster that now, after refurbishment, roasts Wolf Coffee beans. 
The couple named their company Wolf because of the way wolf packs move around and support each other, and that's how they approach relationships with their wholesale and retail customers.
They hope that soon they can apply this philosophy to the coffee farmers, cutting out the middlemen and being able to work closely with farmers to help support them and their communities.
Alexander would also like to share more of what he knows with coffee drinkers, educating people on the origins of coffee beans and the different flavour nuances by holding tastings, as we do with wine. There is also hope for a new roasting site where he doesn't freeze in winter and overheat in summer, and the pride-and-joy roaster can be on display. 
Wolf coffee can be enjoyed and purchased at Goldie Cafe or buy it online at Wolfcoffee.co.nz.
Where to find wine and cheese
The Gibbston Valley Cheesery and its neighbour The Winery are a delight for cheese and wine lovers. The Cheesery serves darn good scones, toasted sandwiches and macaroni cheese alongside tailor-made cheese platters and picnic hampers.
The Winery is an opportunity to taste an extensive range of wines and spirits. Settle in over a glass or bottle of your favourite and take advantage of the weekly specials to stock up the wine rack at home.
Where to stay
On the accommodation front, Arrowtown is more motel than hotel and the Airbnb scene is healthy. You'll find a clean room for a good price in the heart of town at The New Orleans Hotel.
For something more boutique, Paul Stephenson (yet another hospo-industry veteran) will look after you at Arrowtown Lodge — the creme de la creme of many good bed and breakfasts. The Arrow Hotel has five luxury apartments and Millbrook Resort is a quick shuttle ride down the hill.
– Originally published in Viva Magazine – Volume Three
Share this: