Where to eat in Palm Springs
Old-school sophistication or new and hip? Zoe Walker gets a taste of the evolving restaurant and bar scene in wider Palm Springs.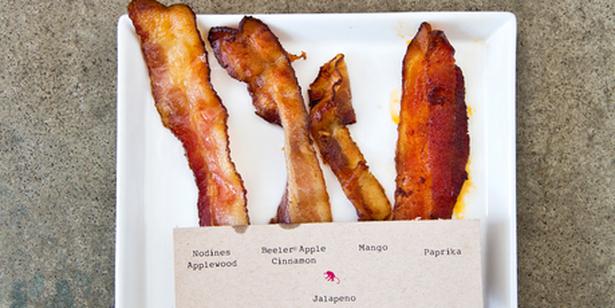 Sunday Aug. 31, 2014
NORMA'S
4200 E Palm Canyon Dr, Palm Springs.
Worth a visit even just to take a peek inside the Parker, the wildly popular hotel it's located inside. The more casual restaurant of the hotel (there's also Mr Parker's next door, a fine dining bistro with low-ceiling and cheeky artwork), Norma's furthers its fun vibe, with a funky fit-out by Jonathan Adler, complimentary smoothie "shot", and an "Eggs Cellent" breakfast menu that includes the "Zillion Dollar Lobster Frittata" complete with 10oz of sevruga caviar. That will set you back US$1000 ($1182).
Menu Pick Thankfully there are cheaper options: for something light and fresh, get the rock lobster and mango salad, with a cocktail on the side.
PAPPY & HARRIET'S
53688 Pioneertown Rd, Pioneertown.
An icon of the desert since 1982, this is the place to go if you're visiting Joshua Tree or the surrounding high desert.
Housed in a former cantina set for Western films (Pioneertown is a surreal faux frontier town created as a movie set in the 40s), Pappy & Harriet's is a classic roadhouse with an old fashioned menu of Tex-Mex and classic sandwiches and burgers, with meat and fish cooked on an outdoor grill.Rock acts pass through all the time too, with shows and a casual Sunday gig for local musicians - where the likes of Robert Plant, M Ward and Lucinda Williams have shown up in the past.
Menu Pick Anything from the outdoor grill, for some tasty smoky barbecue goodness.
CHEEKY'S
622 N Palm Canyon Dr, Palm Springs.
Opened in 2008 Cheeky's is still the place for brunch, with lines down the footpath waiting for a table. The focus is on fresh, locally sourced dishes in a casual atmosphere, from their famous "custard-style" eggs to a delicious hearty local grass-fed beef burger and pesto fries for lunch. We visited in the dead heat of lunchtime, sitting with a cocktail outside under the mist machines: bliss. Owner Tara Lazar also runs nearby restaurants Birba (Italian) and Jiao (Asian fusion), both popular spots also worth a visit in the evening.
Menu Pick Embrace the weirdness of the Bacon Flight, five strips of flavoured bacon: Nodines applewood, jalapeno, Beeler apple cinnamon, mango and paprika.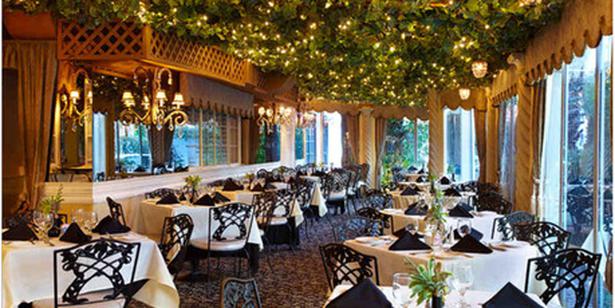 HADLEY'S FRUIT ORCHARD
48980 Seminole Dr, Cabazon
A must-stop spot whether you're on your way from Palm Springs to Los Angeles or visiting the nearby Desert Hills Premium Outlets (which we highly recommend you do). Alongside a supermarket selling dates, dried fruit, nuts, grains and more, there is a sweet little lunch bar offering sandwiches and burgers - with a side of pickle and crisps - and their famous date shakes, made from deglet noor dates blended with vanilla icecream and milk.
Menu Pick The sandwiches are great, but it has to be the sweet, caramel taste of the date shake - classic, or with banana and cinnamon.
MELVYN'S
200 W Ramon Rd, Palm Springs.
Salad or soup before your main, waiters in crisp shirts and dinner jackets, a maitre d' who has been at the restaurant for more than 30 years: Melvyn's is a Palm Springs institution with a charming vibe all of its own. Located next to the Ingleside Inn, the fine dining restaurant has a storied celebrity following - photos of owner Mel Haber with everyone from Bob Hope to Cher adorn the walls; the property was a favourite of Frank Sinatra, who held a pre-wedding party there.
The menu is old school and hasn't changed in years, although apparently a younger crowd is visiting - drawn to the kitschy glamour, and mahogany bar and mirrored walls of the piano bar lounge, where they entertain with live music and dancing.
Menu Pick The most popular dish was also reportedly Frank Sinatra's favourite - the Steak Diane, prepared tableside by your waiter.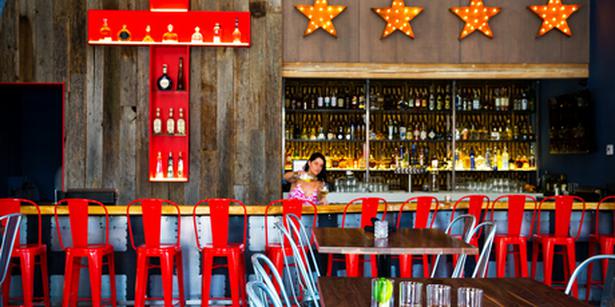 BAR
340 N Palm Canyon Dr, Palm Springs
Hip young locals will all point you in the direction of Bar, the nightspot with the no-nonsense name. The food menu is simple - three-cheese grilled cheese, tacos, Chicago-style and flatbread pizza, seared ahi with beer/wasabi soy sauce - with an extensive cocktail list. On the first Monday of each month they host Art Bar, a popular night where the young creative community comes together.
Menu Pick Cool down with one of the beer cocktails: raspberries, tequila, grapefruit, lime with beer; or gin, lemon, honey and pale ale.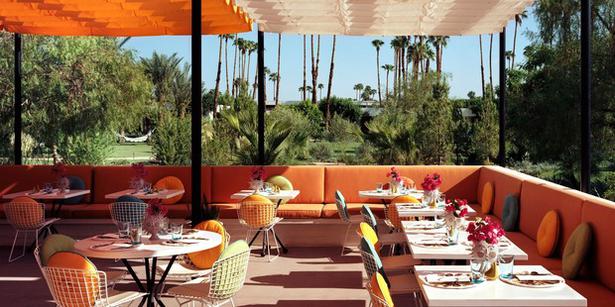 HACIENDA CANTINA & BEACH CLUB
1555 S Palm Canyon Drive, Palm Springs. Re-opening September 26.
They take tequila seriously at Hacienda Cantina & Beach Club, with a menu of more than 70 of the very best tequilas on offer. With spaces dedicated to dining, drinking, dancing and lounging, the sprawling hot spot opened this year as a "day club" complex, reminiscent of the historic Racquet Club where Elizabeth Taylor and Natalie Wood socialised and lounged poolside in the 1950s. A former restaurant, the venue's 730sq m fit-out by architect and developer Chris Pardo (read more about his influence on Palm Springs on page 31) features dramatic steel chandeliers, neon lights around the bar and Day of the Dead-inspired artwork by artist Angelina Christina.
Outside by the pool, with a bar and private cabanas, the San Jacinto Mountains tower under clear blue skies; inside the Cantina (pictured) offers cocktails and drinks alongside a Mexican-inspired menu from executive chef Robert Wepplo - sea bass veracruzana with onion, garlic, jalapenos, olives, adobo grilled shrimp or carne asada tacos and more.
Menu Pick Has to be tequila: everything from Patron to Casa Dragones, all available as part of a tasting flight - perfect for cooling down by the pool.
WORKSHOP KITCHEN + BAR
800 N Palm Canyon Dr, Palm Springs.
Part of the "new" Palm Springs, Workshop Kitchen + Bar sits away from the street inside a courtyard off Palm Springs' main drag, a modern breath of fresh air with its industrial fit-out and seasonal menu sourced locally. The beautiful space - concrete booths, high ceiling and a communal centre table - was designed by top architecture firm Soma, with the fresh, minimal feel reflecting the dishes of chef and owner Michael Beckman.
Menu Pick A tie between the flavoursome shaved brussels sprout salad with toasted hazelnuts, cherries, aged balsamico, olive oil and pecorino romano, and the smooth Southside Treatment cocktail: Beefeater gin, fresh local avocado, mint and lemon with a splash of tonic water.
To find out more about Palm Springs visit DiscoverAmerica.com and try its Trip Tuner for bespoke travel ideas.
Share this:
More Culture & Travel / > International