Where to Visit: Crested Butte Ski Resort
This creative ski town is full of character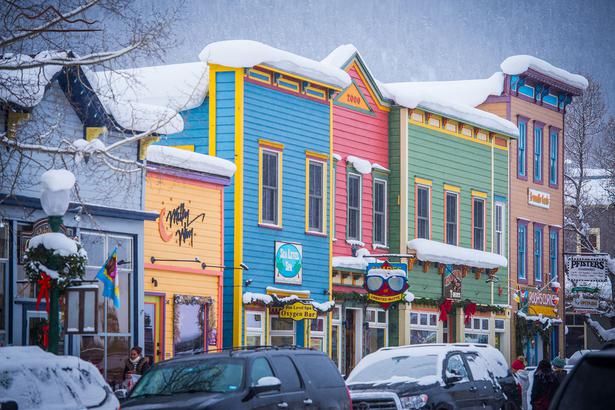 Thursday June 9, 2016
WHY SO HOT?
A three-hour drive from Telluride, Crested Butte is a tiny, creative town with allure that could sidetrack you from the slopes.
Crayola-coloured Victorian clapboard buildings line the main street, in character with its Old West, coal and silver-mining days. Like Telluride, fast-food chains and high-end designer stores are notably non-existent. Crested Butte is undoubtedly a novel change from Colorado's big-name resorts — which draw big crowds, but also huge lift queues, sometimes with waits of up to an hour in chairlift lines at the likes of Vail.
Crested Butte's ski fields are nestled in the heart of Colorado's Rocky Mountains and the town is committed to preserving the pristine landscape and mountain lifestyle. Laurel Runcie moved here with her husband, a competitive extreme skier, five years ago. They planned to stay for just one year, but fell in love with the place. "The secret about Crested Butte is that the summer is even better than the winter — you move here for the skiing and then you get hooked because the summer is so spectacular and we fell in love with the community."
Laurel says she loves the laid-back lifestyle of Crested Butte. "Aspen is where you go to party all night and then ski the next day, whereas we're a little more relaxed." She admits Crested Butte is a bit rough aroundthe edges but says that's what makes it special.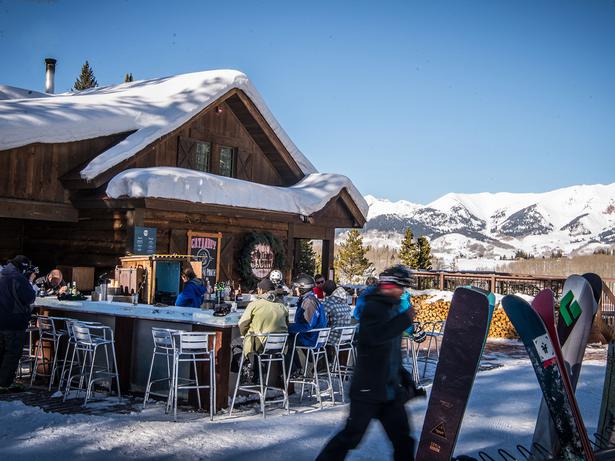 "We pride ourselves on being an independent, counter-culture. It's a relaxed vibe. Having said that, it's the toughest skiing terrain in Colorado."
And how does it compare to Telluride? "We love Telluride; we almost moved there, I'd say the difference is that Telluride is a little more movie star."
ON THE MOUNTAIN
Skiing at Crested Butte is like having your own private ski field. You can go for runs and not see a single person. It is home to some of the steepest slopes in Colorado and is thought to be the birthplace of free skiing.
Look out for runs with the names Body Bag, Sock-It-To-Me-Ridge and Pinball, all with compulsory cliff-drops. Rambo is the steepest cut run in North America. Just standing near the edge of it will turn you legs to jelly. There are, however, plenty of beautifully groomed runs for all levels.
Stop for a lunchtime drink at: The outdoor Ice Bar at Uley's Cabin Restaurant.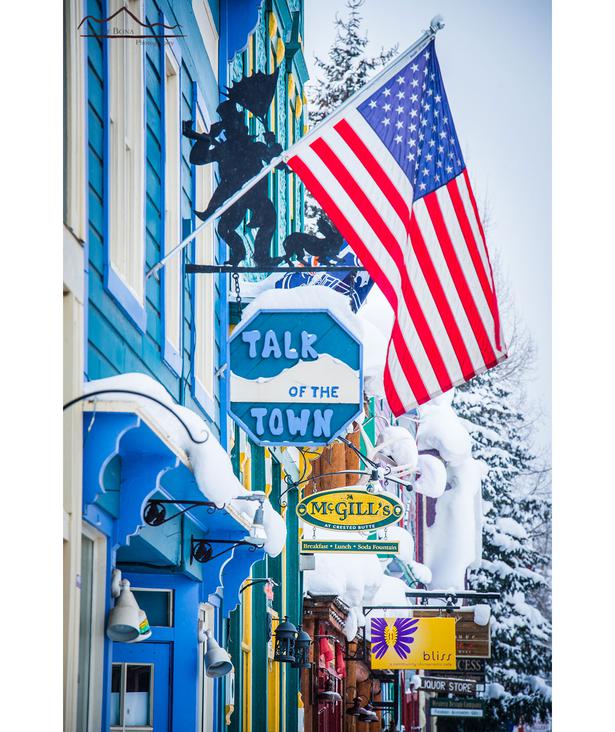 APRES-SKI SCENE
Less fancy than the ritzy Telluride, you can get away wearing anything you like.
Must eat: The Secret Stash Pizzeria, a local favourite for good reason — they serve unique pizzas like the Mac Daddy, which imitates a Big Mac, McDonald's Burger on Pizza and the Notorious F.I.G. features mozzarella, blue and asiago cheeses, thinly sliced prosciutto, dried black mission figs and a drizzle of truffle oil. They also have "crack fries" tossed in parmesan, white truffle oil and cracked black pepper.
Must drink: A Bee Sting cocktail from The Dogwood Cocktail Cabin — the habanero in it really warms you up after a chilly day skiing.
Altitude sickness? No problem, visit the Sea Level Spa and get hooked up to a tank of oxygen or even better, hop inside a hyperbaric chamber for a 30-minute treatment. Apparently you come out feeling super-human.
Must try: An icecream from Third Bowl. All the unusual flavours from cranberry crumble to eggnog are homemade, as are the cones.
A glass of rum from Montanya Distillers. They make award-winning rum and have a terrific cocktail list.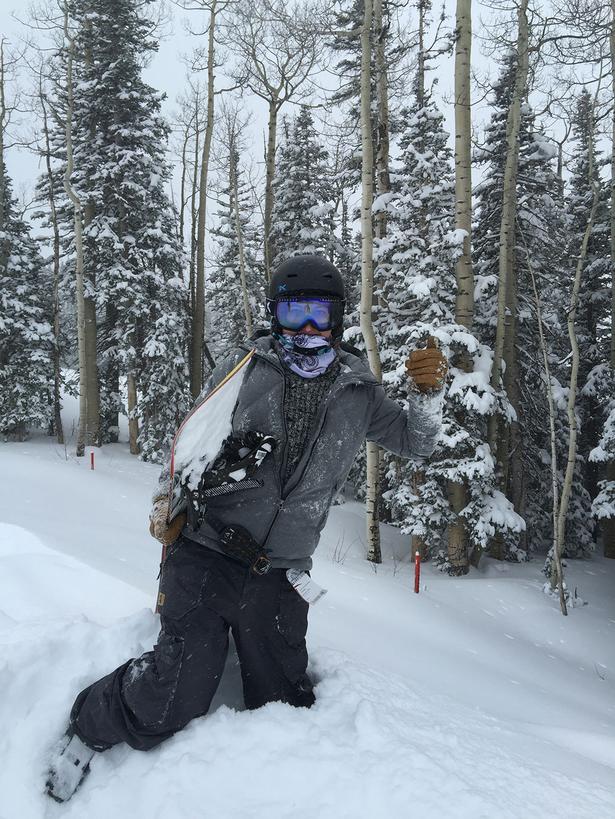 Picture / Supplied.
NEED TO KNOW
Getting there: From Denver, fly to Gunnison (one hour). From the Gunnison Airport it is about 45-minute drive to Crested Butte.
Staying there: Mountaineer Square, at the base of the Crested Butte Mountain Resort is just steps away from the ski lifts. Alternatively, try The Grand Lodge. A free bus travels every 15 minutes and takes passengers from the base of the mountain to the Crested Butte township.
Claims to fame:
1. James Cameron's blockbuster film Avatar is believed to have many parallels to Crested Butte. Cameron spent a lot of time at his wife's cabin there and Pandora, the planet in Avatar, is also the name of a mining ghost-town near Telluride.
2. For those who love reality television, Crested Butte is the birthplace and hometown of Heidi Montag of MTV's The Hills.
3. Kochevars is the town's original saloon. with a truly authentic "Wild West" vibe. It is also the bar where cowboys as far back as Butch Cassidy drank and where he was allegedly shot at — there's even a bullet hole in the bar.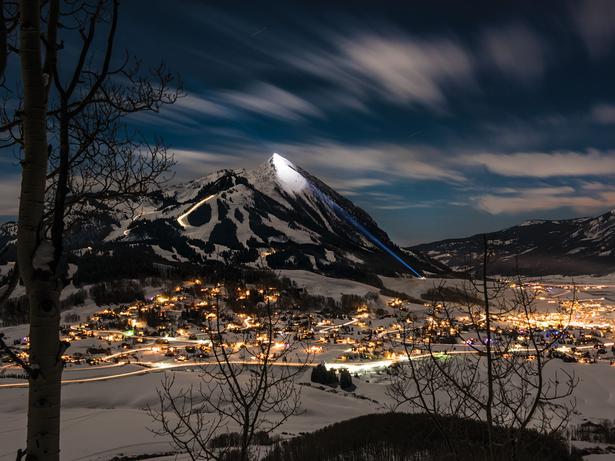 Picture / Supplied.
• Telluride and Crested Butte's winter seasons run from late November to early April visit tellurideskiresort.com and skicb.com
• Rosie Kelway was a guest of Travelplan (travelplanski.com) and Colorado Ski Country USA. For more information go to coloradoski.com or visittheusa.com
Share this:
More Culture & Travel / Going Places