Where to Visit: Telluride Ski Resort
This historic Colorado town is renowned for its world-class ski field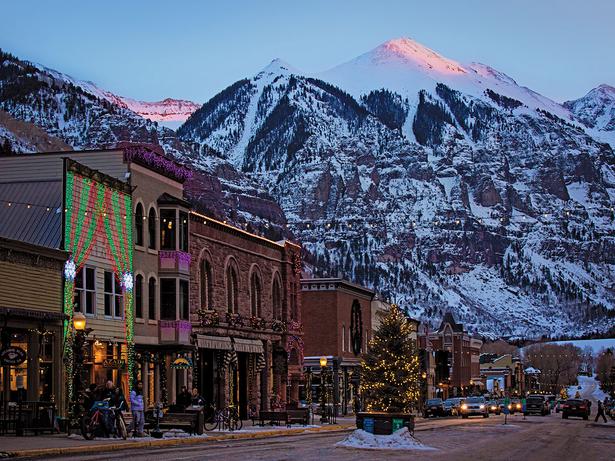 Wednesday June 8, 2016
WHY SO HOT?
Telluride is one of the prettiest mountain towns in Colorado, ranked time and time again at the top for scenery, with its dramatic landscape views. Located at the end of a box canyon in the San Juan Mountains, the place is so cinematic that Quentin Tarantino was there last winter filming his latest western film The Hateful Eight. Ralph Lauren has a 6900ha private ranch just outside of Telluride, known for its "designer fence", explains our driver, Garry Miller, en route from the airport. It is called this because Ralph purposefully chose to have his 48km fenceposts put on backwards — a design feature to make it look more rustic.
This artsy, historic Colorado gold mining town, which has colourful turn of the century buildings lining the streets is way more than just a world-class ski field. Telluride Film Festival precedes Sundance with the most film world premieres outside New York and Los Angeles. It held the world premiere for Room and got a special mention in Brie Larson's Oscar-winning speech this year. And any local will mention — nonchalantly, of course — that they've bumped into Oprah, Tom Cruise or Jerry Seinfeld along the main street, these are just some of the stars who own mega mountain pads here. It's also the town where the notorious cowboy Butch Cassidy robbed his first bank back in 1889.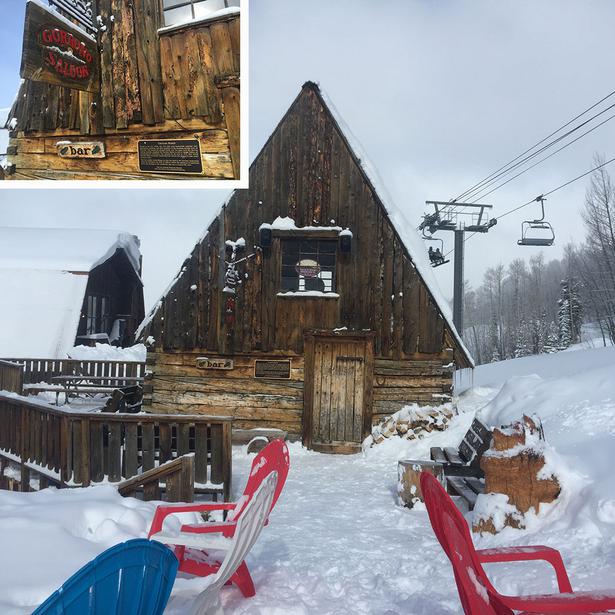 The Gorrono Saloon. Picture / Supplied.
Eat a Ralph Lauren steak: Rustico Ristorante is the only spot in town where you can order a steak straight off Ralph Lauren's ranch.
Watch: Butch Cassidy and the Sundance Kid starring Paul Newman and Robert Redford.

ON THE MOUNTAIN
Imagine waking up in a shaken-up snow globe, with light, fluffy white snowflakes that just keep falling. That's what it's like waking up in Colorado's Telluride Ski Resort, amid one of the biggest snowstorms of the season.
"Sorry, closed" signs are placed in shop windows. "It's a snow day [meaning schools are closed] — this never happens!" Charity Banker says on the chairlift. The last time she recalls this happening was more than 10 years ago. Others are saying it is some of the best snow conditions they've experienced in the past six or seven years.
Even still, with conditions like this, lift queues are non-existent, there are times when you can believe you have the mountain to yourself. Telluride is a destination ski resort, a seven-hour drive from Denver, the nearest large city, so you don't get the weekend warriors driving in for a day trip, unlike other mountains closer to Denver. Runs go for kilometres — Galloping Goose is the longest at 7.4km — and though Telluride is well known for its advanced terrain, the resort also boasts plenty of beginner and intermediate runs.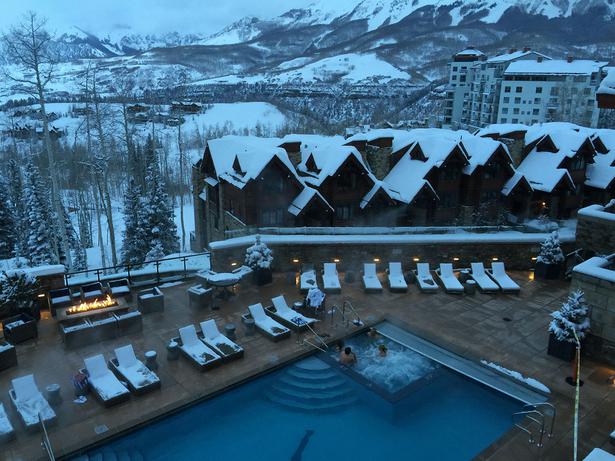 Eat lunch at: Alpino Vino, a quaint European hutte, which claims to be the highest fine-dining restaurant in North America, sitting at just under 3600m. Warm yourself up with a bowl of their signature grilled cheese and tomato soup and a glass of wine — they have one of the finest wine lists in Telluride.
Stop for a drink at: Gorrono Saloon. Built in the 1800s, this little bar is the only original building still standing on the mountain from that time, and was once used to supply essential agriculture and dairy products to the mining town.
Drink bubbles at: Bon Vivant, an outdoor bar and restaurant perfect on a bluebird day. With breath-taking views of Palmyra and the Wilson Ranges, it has a giant umbrella with built-in heaters for cold days.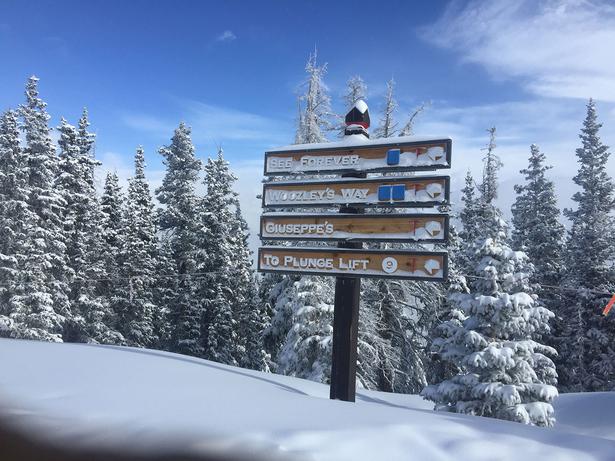 Picture / Supplied
APRES-SKI SCENE
If there is one garment you should be wearing it's a babushka hat, teamed with your ski jacket (ideally with a little fluff around the hood) and snow boots. Jeans are also appropriate everywhere.
Drink a Moscow Mule: This is the apres-ski drink du jour and must be served in a copper mug. A favourite spot for an apres-ski tipple is the Black Iron, a bar at Hotel Madeline.

NEED TO KNOW
Summer or winter? Locals frequently claim they prefer summer. Eric Resser, a ski instructor who has lived in Telluride for 20 years, says this is because there is such a vast variation of activities to enjoy. "For one, it's warmer, the sun is usually out every day there is a lot to do — biking, hiking, horseback riding, climbing, fishing, rafting, kayaking. All sorts of things."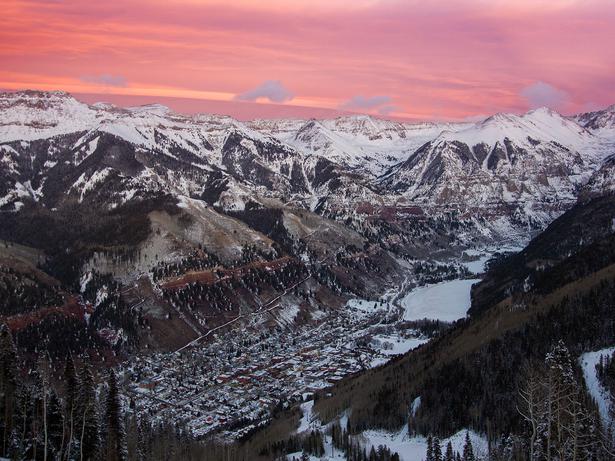 Getting there: Fly to Los Angeles (13 hours) and then to Montrose (just under 2 hours).
Montrose Airport is about 100km from Telluride. Several companies offer airport/town transfers, including Telluride Express (tellurideexpress.com).
Staying there: You can stay in Telluride township at the base of the ski area or at Mountain Village, a purpose-built on-mountain cluster of modern accommodation, restaurants, cafes and bars.When movie stars Brad Pitt or Kate Winslet are in town they stay at Hotel Madeline in the Mountain Village, which has plush rustic rooms and suites.
Fun fact: When every room in Telluride is full the town can hold about 8000 people, yet the chairlift capacity for skiers is 22,000, meaning there is always an empty chairlift somewhere on the mountain.

• Telluride and Crested Butte's winter seasons run from late November to early April visit tellurideskiresort.com and skicb.com
Rosie Kelway was a guest of Travelplan (travelplanski.com) and Colorado Ski Country USA. For more information go to coloradoski.com or visittheusa.com
Share this:
More Culture & Travel / Going Places