Why Artists Deserve More Credit
Art Ache founder Aimee Ralfini says it's about time we gave artists the attention they deserve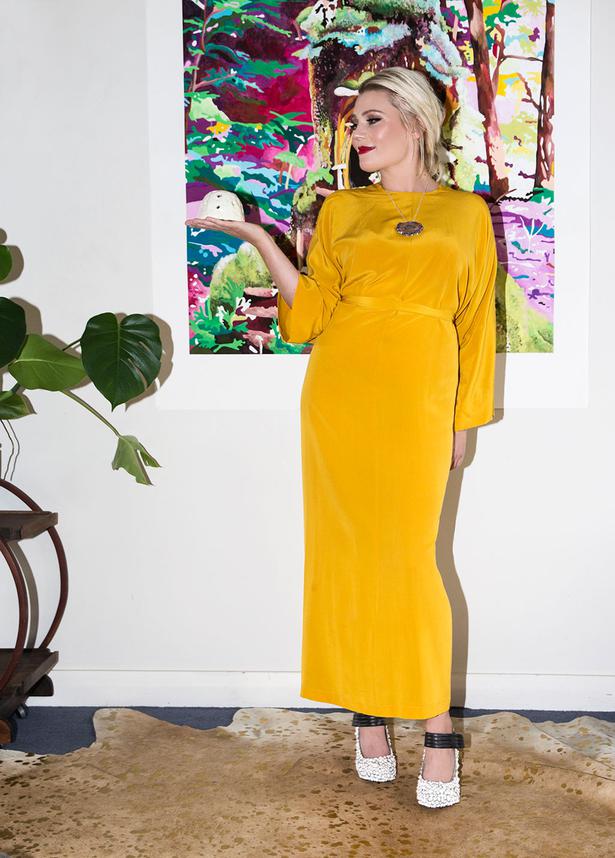 Tuesday May 3, 2016
If Aimee Ralfini had it her way, artists would be as widely celebrated as fashion designers or musicians. "Artists are so often overlooked," says the curator and radio host. "They are the creative core and everything filters down from them. Fashion comes from the creative arts. Music is inspired by it. Also art gives people that sense of connectedness and identity. I wholeheartedly believe artists need to be worshipped."
It's for this reason that, for the past few years, she's curated the biannual Art Ache (previously known as the Artists Dinner), with upcoming events on May 5, and later in September. The idea is to encourage average punters to collect art by offering original artworks at affordable prices, and putting the artists and the public face-to-face (curtsies optional).
Held at the Golden Dawn, with music and drinks flowing, it's designed to be relaxed and convivial. Artworks will be available to purchase at entry level prices, a limited number for $50, so you can snag yourself an original minus the dealer's fee. This year's participants include photographer Rebecca Zephyr Thomas, jewellery designer Zora Bell Boyd, intermedia and performance artist Mary MacGregor-Reid and landscape photographer Angus McNaughton.
An anonymous high-tier artist whose works sell for no less than $10,000 will also offer pieces at $50, inevitably sparking a discussion around the real price of art. Aimee says it's not about cheapening the work but nurturing artists through an alternative platform, so people connect with it, and them, more readily. It's also a great way to sell "work in progress" pieces, or those galleries might not have selected for display.
"It's just not inviting to go into a bright gallery," she adds. "It's not like going to a gig or a bar, somewhere more cosy. I'm quite romantic and I want to reignite some romance around that."
An Elam graduate who majored in intermedia art, Aimee says running Art Ache is an artwork in itself. Still it's clear from spending just a few minutes in her company that ego doesn't come into her desire to put artists on a pedestal. Her love affair with the craft, the ideas, the visual component, cuts so deep, it seems to permeate everything in her life.
Today she's wearing a kimono gifted to her by photographer Fiona Pardington, paired with a black silk dress and sparkly gold shoes she loves so much, she doesn't even mind that they're one size too big. "I've always preferred boutique homemade stuff."
As for the art that inspires her, she's drawn to the bold, the brave and the bright, such as works by Kiwi artists Greg Page and Greta Anderson. "I love flat planes of colour, 100 per cent pure magenta — a lot."
She also has a penchant for darker, whimsical artists such as Edward Gorey (her toy poodle griffon cross is named after him) and Gertrude Abercrombie (her cat is named after her).
Many of her friends are artists or musicians — when she moved to the UK for her OE she played keys in a band called Dim Citizen, lived with Connan Mockasin, and hung out with the likes of Liam Finn, the Checks and Deja Voodoo.
Through her art school and gallery connections she has acquired a sizeable collection herself, some works gifted, others bought through Art Ache. Among her favourites is an Andy Warhol print and an Andrew McLeod, plus works by Fiona Pardington, Richard Orjis (orb pictured), Paris Kirby, (painting pictured) and Amy Pottinger. The pleasure she gets from them is the reason for the event — even if you don't have those arty contacts, here's an opportunity to make them.
"I do this primarily because it makes me happy. The feeling I get when I see good art and good creative intelligence being used well is completely re-energising. It gives me faith in humanity. It reminds me there are really good things going on in the world. Naturally I want to share that experience with people."
During the next two days she'll build a website for Art Ache, a workload she laughs is "normal", host her weekly radio show Who Arted? on 95bFM, and continue her freelance work as a graphic designer; for the past 15 years she's contracted for print advertising both here and in the UK. She's also recently returned from iD Dunedin Fashion Week, where she was treated to a personal art tour of the city, her goal to set up the next Art Ache event there.
Working in the commercial realm has fostered a love for works with a highly crafted slickness, much like you'd see in advertising. It's also drawn on her creative and organisational nature. Even at university she was as much a social organiser as an artist. As president of the Elam Students Association, she'd often rally to have regular Elam drinks. "So it's quite cute in a way that what I'm doing now is exactly what I was doing then. I've come full circle."

• Art Ache, Thursday May 5, 5-8pm, Golden Dawn, Ponsonby.
Share this: