Why Marilyn Monroe Is Still Fascinating
Marilyn Monroe's belongings are set to break records at auction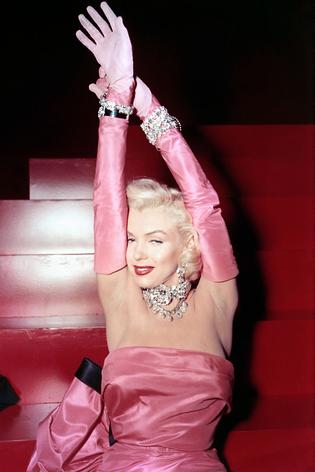 There are many ways of measuring a star's staying power. But one of the best barometers must surely belong to Marilyn Monroe - whose used lipstick is expected to fetch up to $28,000 when it goes up for auction in November, 54 years after her death.
The 1947 Revlon lipstick in pink "Bachelor's Carnation", complete with smudges around the rim, was discovered in a secret compartment of one of the actress's evening bags by auctioneers who had spent years hunting down Monroe's possessions for a "once-in-a-lifetime" auction.
"Such is the Marilyn factor that we estimate the lipstick will sell for $22,000-$28,000, or probably much more. It's so personal," explains Martin Nolan, executive director at Los Angeles auction house Julien's. It's one of 500 of Monroe's personal effects that are set to smash records when they are auctioned in Los Angeles.
But before then - and in honour of what would have been the actress's 90th birthday today - the sale items are being exhibited at London's Chelsea Harbour Design Centre. They include everything from her Gucci address book (containing a who's who of celebrity telephone numbers) to beloved clothes, personal correspondence and artworks.
Meanwhile, an exhibition of rare shots of the star, ranging from her days as Norma Jean Baker to the famous "Last Sitting" images by Bert Stern, taken six weeks before her death, opens at The Showroom Presents in London this week.
Why is Monroe still so fascinating 54 years after her untimely death? "She's this blonde bombshell who has been frozen in time," Nolan says of the actress, who overdosed at her LA home in 1962. "We still think of her as that elegant 36-year-old who everyone feels they know and love."
READ: Why Princess Diana Is Still Making Headlines
Nolan has been orchestrating the auction for a few years now, and will bring together two private collections. The first is from the estate of Marilyn's acting teacher Lee Strasberg, who along with his wife Paula, was Monroe's closest confidante and was left all of her personal effects in her will. The second collection comes from David Gainsborough-Roberts, a British man who became enthralled by Marilyn in 1988 and began investing in items owned and worn by the star. Now he's decided, says Nolan, "that Marilyn is bigger than him and that his collection should go to good homes".
Nolan believes the auction will be record-breaking because it includes some of Monroe's most personal items. "My favourite piece is a miniaudiere evening bag, which is gold and bejewelled in amber with a black velvet lining," says Nolan. He describes how the bag is still filled with all the accoutrements of "a night out on the town": there's a gold tray containing loose powder, eight Phillip Morris cigarettes "in perfect condition", and even two dimes, "which is what you'd need to call a taxi home - it's a true picture". Another handbag contains a matching set of comb, compact and cigarette lighter - all exactly as you imagine Marilyn left them when she flung them aside after an evening out.
Despite the fact that Monroe's films grossed $200 million by the time of her death, Nolan says she owned surprisingly few lavish items. "She actually had very few fine jewellery pieces of her own. For her it was all about the costume jewellery, but obviously when she wore it, it had that wow factor." Among the paste necklaces and bracelets by costume jewellery specialist Albert Weiss is only one piece that does include real diamonds: an elegantly dainty cocktail watch from Swiss watchmakers Blancpain. Its face value is $80,000 to $100,000 but Nolan says the sky's the limit when you know that it graced the wrist of Monroe.
READ: Audrey Hepburn's Lasting Appeal
"No other celebrity has achieved the collectability of Marilyn. She has fans all over the world and she transcends age groups, with fans from five years old to 95 years old," says Nolan. "It's very rare to find items from her life or career, and this is the last auction of its kind."
Some of the most touching items in the auction are actually the ones that emphasise the mundane. There are receipts for bacon and lard, an insurance document scrawled over with a recipe for stuffing - and a journal in which she'd written that she was "Alone!!!!! All alone".
"Marilyn created this public image around herself as the humorous blonde bombshell. It made her famous, but she couldn't escape it," says Nolan, of the woman who spent most of her childhood in foster homes after her mother was hospitalised for schizophrenia. "She had a hard life, getting married three weeks after her 16th birthday. There was no one who loved her unconditionally, but she was always searching for that. It was very sad."
Marilyn: The Legacy of a Legend is at the Design Centre, Chelsea Harbour until June 20. Details: juliensauctions.com
— The Daily Telegraph
Share this: