Why Princess Diana is Still Making Headlines
The continuing fascination with Diana, Princess of Wales, has led Tatler to devote an issue to her ground-breaking legacy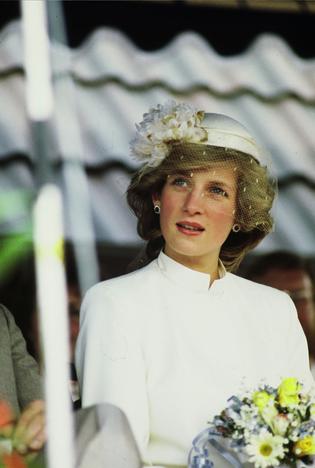 Can you remember the last time a magazine cover made you do a double-take? Was it a naked, pregnant Demi Moore? Liz Hurley in a piano clinch with Elton John? This week, however, the chances are you will have had your head turned by the cover of Tatler's latest issue. It isn't anyone naked or dripped in honey. Nothing outlandish or gimmicky at all. It's a simple black and white portrait of Diana, Princess of Wales taken in 1994, when she was 33 years old.
By today's bold and brash standards, it isn't even a particularly striking photograph: she's wearing bold monochrome tailoring, liquid black eyeliner, a frost-'n'-tip executive hairdo, and that inscrutable, faintly lopsided smile. If you didn't know better, she could be a receptionist in the Virgin Upper Class Lounge. But we do know better, how could we forget? And this picture reminds us of who she was and what we have been missing for almost 20 years.
There's something astonishingly unstyled about her (no surprise to discover from the photographer's account of the shoot that Diana was not shy, and "when she came into the studio, she just got undressed. Not like Joan Collins, who scurried away to change in private"). Yet, at the same time, any image of Diana during this period - after the Prince of Wales had admitted his affair with Camilla Parker Bowles, but a year before her own Martin Bashir coup - is freighted with sadness, intrigue and the knowledge that she would be dead by 36.
Anecdotal evidence says that this issue of Tatler is already a collectable - one newsagent told how he has had to reorder copies twice. And the timing of the issue somehow feels right. This week, the Duchess of Cambridge wore Diana's favourite tiara to a Buckingham Palace reception. In recent months, both William and Harry have spoken about their mother and her legacy. Most poignantly, William, speaking at an event to mark the 21st anniversary of Child Bereavement UK, reminded us of what he went through at the age of 15. "What I understand now is that grief is the most painful experience that any child or parent can endure," he said. "As a father of two young children, I now appreciate it all the more."
If anything, it is as if we all appreciate her more now than we did when she was alive. With the distance of two decades, her story seems ever more extraordinary and her contribution as a moderniser more significant and courageous. This is precisely what Tatler's acting editor, Gavanndra Hodge, was banking on when she decided to put her on the magazine's cover: the Di Effect, fermented for years, unleashed on a public who weren't even aware how much they'd missed it.
"Diana is electrifying - all the emotion in her face, you still just can't help looking at her," says Hodge, who was searching for a cover image to compete with a previous archive bestseller, Audrey Hepburn. "These are women with powerful personal narratives, not ones created by studios or PR systems. Ones whose lives you can see in their faces."
In the magazine's portraits - many of them previously unseen - Diana is the same age as the Duchess of Cambridge now, which inevitably invites those comparisons. Diana at 33 seems more grown-up than Kate, more relaxed in her skin - not so much the flawlessly styled princess as the face of a modern woman. "She's almost passed into the realm of being a historic figure," says Hodge, "yet nothing about Diana feels dated because of the way she approached her life. She was a disrupter who loved mischief." Those options aren't open to Kate. She's the wife of the future King of England, whereas at the same age Diana had been separated from Charles for nearly two years. She was free to be different.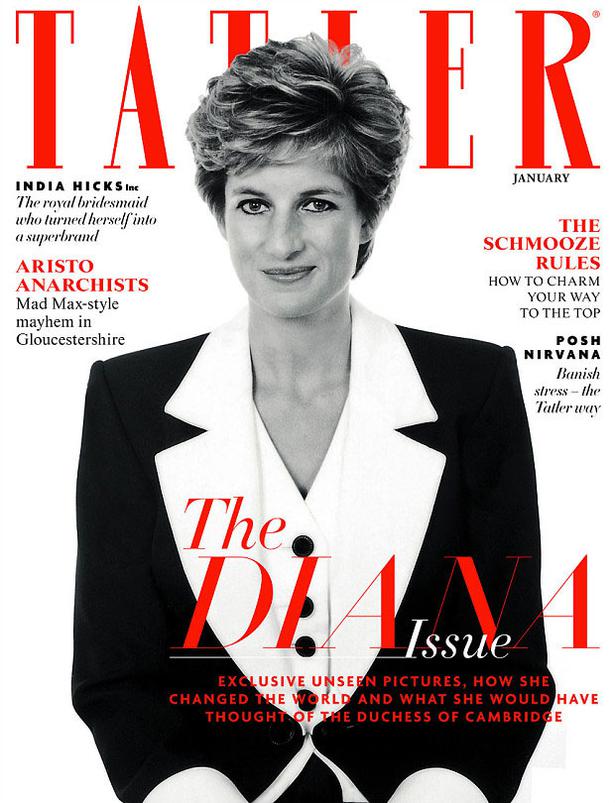 Princess Diana on the cover of Tatler. Picture / Supplied.

To say that Diana was ahead of her time may be overdoing it, but she was certainly of her time, in spite of circumstances that made it pretty hard to embrace modernity. With hindsight, we can see how extraordinary her journey was from the shy daughter of an earl into an independent force for change on the world stage. "Diana was one of the first to have 'a journey'," says Hodge, and that made her empathetic as well as relevant to normal people's lives.

Especially in her thirties, as she and Prince Charles drifted apart, she became a symbol of female strength to everyone from disappointed divorcees to HIV-positive children. She'd started out wanting what Kate has - a cosy, quiet family life, some distance from the demands of protocol - and ended up being a fire-breathing harbinger of social change. She challenged the expectations of the Establishment and harnessed the power of celebrity to devastating impact.

And ultimately all that was down to her style - not her choice of Bruce Oldfield or Catherine Walker, but the asset we now call emotional intelligence. It's easy to forget how differently things were done BD (Before Diana). Never in a million years would a public figure, let alone a princess, have announced to 22 million television viewers that she had suffered from bulimia and depression.

"Diana changed the way we think about the Royal family, but also how we feel generally, about being vulnerable and acknowledging that vulnerability can be a strength," says Hodge. She also cites the example of Cara Delevingne, the model turned actress who has used her celebrity to air her mental health problems. "Those girls are open about their lives and telling their stories," says Hodge. "If she were alive today, Diana would be a fairy godmother to those girls."

You can't help asking the question - as Tatler has done - what if she had lived? Diana would be 54 now and a grandmother twice over. That's all we know for sure, but the rest is somehow easy to imagine. The house in Knightsbridge (though Richmond seems more likely). The year-round glowing tan and supermodel body, honed by the best personal trainers and yoga teachers.

Tatler has her wearing structured, cool British designers like Erdem and Roksanda. I'm also picturing Russell & Bromley thigh boots over black jeans; a white Mini (the car, not the skirt) and a Canada Goose parka for weekends. Of course she would be godmother to Elton and David's eldest, and Romeo Beckham; a friend of Barack Obama's (maybe Michelle's, too) and Jamie Oliver's, and thick as thieves with Sam Cam, Claudia Winkleman and Graham Norton, in no particular order. I like to think will.i.am would be her go-to walker, or Damian Lewis, if Helen McCrory let him off for the night.

Tatler is very clear on a couple of points: the inevitable prickly rivalry with Carole Middleton (a particular source of irritation would be Carole's way of knowing just what William needs - Lindt chocolate with sea salt, perhaps - even before he does), and her enthusiastic embracing of modern technology. "We think she would have been early on Twitter, and then come off it and got into Instagram," says Hodge. "She would be completely in control of her image." As for her relationship with Charles and Camilla, "with divorce and remarriage, everyone knows the score now; we're just much better at it. I think they would have reached an accommodation."Notice we're not wondering if she remarried or who she might be with now. That's another Diana legacy, perhaps: don't assume the goal is finding a man, even if that man is a prince, or you'll never know how extraordinary you could have been in your own right.

— The Daily Telegraph

Share this: