Wild At Heart
How did a music-obsessed drop-out become a hit in Hollywood? Karyn Rachtman talks Takapuna, Tarantino and taking things too far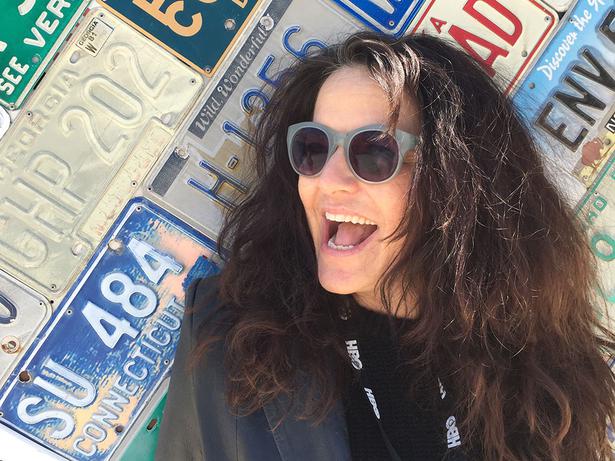 Thursday May 21, 2015
It's partly thanks to Karyn Rachtman that we know the words to Stuck in the Middle with You and Girl, You'll be a Woman Soon, hits in their own right, but songs that went stratospheric after she secured them for Quentin Tarantino's Reservoir Dogs and Pulp Fiction soundtracks respectively. But before she became a successful music supervisor, she was a wayward teenager living on Auckland's North Shore. At 15 her mother sent her to live with her dad in Devonport, a sabbatical that didn't exactly straighten her out. Popular and rebellious, she'd wear her swimsuit beneath her Takapuna Grammar uniform so she could slip out to the beach.
"I was a bad kid," laughs Rachtman, who's back in town for the Documentary Edge Festival to promote Sweet Micky for President, a film she has produced. "I dropped out in New Zealand."
Even so, she's excited to show former Fugee Pras Michel, the film's star, and director Ben Patterson around her old hood this week. In the film, Michel travels to to his homeland of Haiti after the devastating 2010 earthquake, and spearheads a campaign for controversial pop star Michel Martelly (or Sweet Micky as he's better known) to run against the corrupt government. Rachtman befriended Michel when they worked together on Ghetto Superstar for Warren Beatty's 1998 film Bulworth; she came on board the Sweet Micky film towards the end to help him and Patterson make sense of the unbelievable footage they'd shot. (No one predicted Michel's cousin and former bandmate Wyclef Jean would also throw his hat into the political ring.)
Rachtman's career has been almost as unpredictable.
"I feel like every time I go to New Zealand my life is in transition," she says, of fulfilling her dream to make music documentaries.
It's a natural sidestep from her role as music supervisor. She's worked on a raft of iconic soundtracks: Reality Bites, Clueless, Boogie Nights and Baz Lurhmann's Moulin Rouge and Romeo and Juliet. It was Rachtman who fought to include The Cardigans' Lovefool on the latter, who assembled the likes of No Doubt, Busta Rhymes, Beck, Patti Smith and Iggy Pop to sing on the soundtrack for The Rugrats Movie and who secured the rights to the songs on Niki Caro's North Country. She later produced Hip Kid Hop, a series of children's books and albums featuring artists such as LL Cool J, Shaggy and Doug E Fresh.
So how does a former wild child succeed in one of the most cut-throat industries in the world? Rachtman says it took a brief stint at beauty school in New York, and another in New Zealand at age 20, when she moved to Onetangi beach on Waiheke to be a writer, before she found her calling. A friend had told her about a woman whose job was to place songs in movies. This was music to her ears.
"I was obsessed with music. When I was little my Dad used to manage bands. He wasn't the most available dad, so I'd go to his house on the weekends and listen to his incredible record collection by myself. I had a knack for figuring out where music goes in film, and in life. I was always making mix tapes. I had a song for every situation."
She started as an assistant, learning to work with music editors, composers, directors, musicians, and tackling the "tedious" side of the job, clearing and negotiating for rights to use songs.
One day she heard through a friend that a guy called Quentin Tarantino had written a film, and he desperately wanted Stuck in the Middle by Stealers Wheel. He had no budget and Tarantino's assistant had already told him he couldn't have any songs from the 70s because they were too expensive. "I said 'okay'," says Rachtman, "and I did everything I could to get that song."
Impressed, Tarantino fired his music supervisor and hired her. Although Tarantino had his heart set on certain songs, it was Rachtman who suggested he use Harry Nilsson's (Lime in the) Coconut in Reservoir Dogs. Roles at labels including Capitol Records and Interscope followed. So did a dark period, when she got "f***ed up" on alcohol, cocaine and prescription medications.
"I think I always had it in me," she explains. "I managed to raise two amazing children and when I was pregnant I'd be fine, then I'd nurse, fine, then I'd go through these phases, and come out of them. I'd party too much. I was sober less and less, until I was dependent on drugs."
After a stint in rehab three years ago, she took a year off to figure out what to do next. She now works as a consultant on films and for media companies such as CNN, helping them rebrand and revamp their music. She's constantly open to opportunity, musing that she'd be great at connecting Kiwi artists with American producers, or possibly making a movie here. "I'm not scared to fail. I consider myself to be lucky and extremely grateful," she says. "Pras and I talk about this all the time.
"The people I see struggling with where they're going have closed off something deep inside. You have to have this natural sense of knowing. Whether it's creative or business, you have to be open to things all the time."
• The Documentary Edge Festival runs until June 1 in Auckland, before heading to Wellington. For more information see here.
Share this: