Live Like a Local: Winemaker Gordon Russell
Winemaker Gordon Russell share's his lifestyle secrets and favourite spots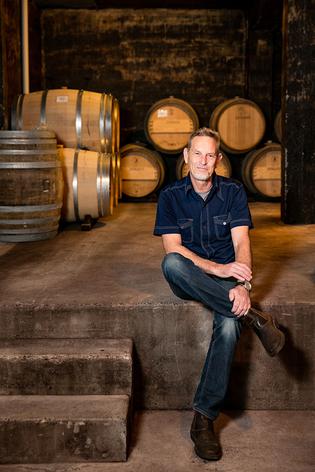 If you're fortunate enough to bump into this local legend of the wine industry, you may not want to shake his hand.
"Over harvest from March to May, I've got black hands and I'm covered in vat juice," says Esk Valley's senior winemaker, Gordon Russell.
He's also at his fittest, the by-product of the manual labour involved in producing one of the country's most recognised wines. Their range of whites and reds are hand-plunged in old concrete vats, a physically demanding technique that forces the skins back into the wine. Elsewhere in the process it's very much a "hands-off" approach, says Gordon, with barely any machinery used.
"Wine tastes best less you do to it, and more of where it came from," he says. "We use a lot of wild yeast. It's the difference between sourdough bread and manufactured white bread, and we're at the sourdough end of it. It's a much more natural, authentic product. That gives the wine more intrigue and complexity, and layers of flavour."
The Hawke's Bay soils, free draining gravels, dry heat and long sunshine hours are synonymous with the region's high output of quality wines, not to mention the Bay's abundance of established vines and the collective experience of its winemakers. Many are members of the Gimblett Gravels Winemakers Association, (its wineries earning clout both here and overseas), of which Gordon is chairman.
It's not just the grapevines, however, that keep him occupied. Since moving from Auckland to Hawke's Bay in 1990 to work at Esk Valley, he's fallen for the temperate climate and outdoorsy lifestyle. Home is a quarter-acre property in beachfront Bayview, where, if he's not hosting dinner parties and lunches with his wife, you'll find him messing around in the garden.
I love spending the summer evenings at the Esk River mouth with my friend Anthony in the forlorn hope of catching fish. We take beer and sit on the beach and occasionally catch one, which makes us very excited. It wouldn't be the same if we caught them all the time. I also enjoy catching trout in the Mohaka, one of the great unpolluted rivers of New Zealand. The Mohaka I'll often do on my own. I like the solitude. There's no cellphone coverage; it's absolute tranquillity. It's my zen space, a long way removed from every other part of my life.
I'm an avid golfer, and at 8.05 every Saturday morning you can find me at the 10th tee of Napier Golf Club with my two golfing buddies. It's one of the country's famous pioneering golf clubs, a very respectable one that has been around for 120 years.
Entertaining our friends and visitors is our form of entertainment. My wife is a legend in the kitchen and we make a good wine-and-food tag team. That said, there are so many great restaurants in Hawke's Bay. If I had to call out one it would be Pacifica in Napier, it's just extraordinary. I also love the farmers' market in Hastings on Sunday mornings. It's a very cool place to get your produce for the week.
Many of New Zealand's great musicians have played in our friend Jamie [MacPhail's] shed. It's an intimate 'Sitting Room Session', where we make a donation to hear them perform in his garage. He's had Delaney Davidson, Marlon Williams, Steve Abel, Reb Fountain — some really great musicians —playing this tiny soundproofed room with chairs and sofas that seat a maximum of 50. It's a dream come true to be able to live in provincial, rural part of New Zealand and go to great concerts a kilometre down the road.
Since I've moved to Hawke's Bay I've had so many of my friends come from Auckland, Australia and Wellington to live and enjoy the lifestyle. They bring their values from their cities, incorporating that into provincial life. So it's a complex mix. That's why I love it."
Share this: