Inside the World of WearableArt Awards 2015
Wellington's World of WearableArt Awards Show isn't just about the outlandish creations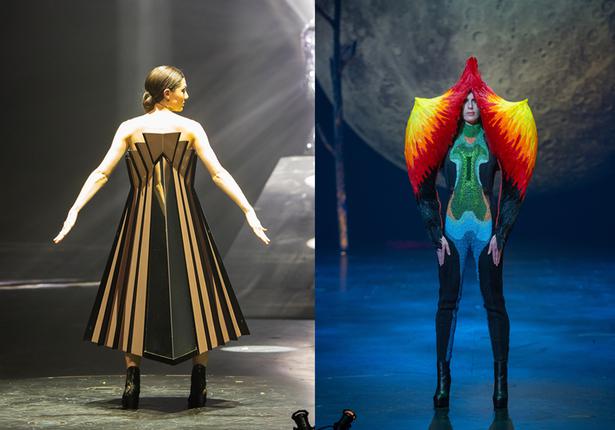 Tuesday Sept. 29, 2015
"It's amaaaazing."
"Omigod it's insane."
"You haven't been?!"
Why is it, that whenever people rave, the more sceptical you become? Yet the minute the show started and gravity-defying humans and objects appeared from above and below the stage, it was clear that the World of WearableArt Awards Show was way more than its out-there outfits.
This was my first experience of the annual Wellington event, which seemed a necessary discretion given the number of people who said, "You just have to be there," among a series of exclamations.  I see what they meant. This year the show's directors were Mike Mizrahi and Marie Adams, the duo known for their large-scale, theatrical works: the giant inflatable rugby ball in Paris for the 2011 Rugby World Cup, a 100m silver fern carved into the sand at a Californian beach. Their WOW production turned the crowd into awestruck kids, as dancing brides, a transcendental laser light show and a big squishy red thing transformed the TSB Bank Arena. Perhaps it was not surprising there were also fantastical Cirque du Soleil-style elements, in the form of impressive aerial acts and comical tall man/short man skits. One of the 35 awards dished out on Friday night was part of a Performance Art Costume Award judged by Benoit Mathieu, vice-president of Costumes and Creative Spaces for the French-Canadian circus.
Architecture was this year's theme, in tribute to the January passing of Wellington architect Sir Ian Athfield, known for his strikingly original buildings. Many of the 127 creations, entered by 123 designers from here and around the world, were structured, angular pieces, inspired by (among others), the Sydney Opera House, the Lotus Temple in Delhi and the Louis Vuitton building in Paris. Other fantastical visions were triggered by dreams, the ocean — even intergalactic royals.
One futuristic dress caused the room to erupt in whispers; white circles protruding from the garment opened and closed like cocktail umbrellas, seemingly of their own accord. A duo of regal creatures covered entirely in red and white fabric preened on stage, as though visiting from a Guillermo del Toro film. A slim dark silhouette transformed under the spotlight, revealing blue skin erupting in red spikes — I thought my eyes were deceiving me, but the light appeared to make the figure double in size.
GALLERY: World of WearableArt 2015
This is barely scratching the surface of the mind-boggling creativity on display at the 27th WOW. Quite how the judges — sculptor Greer Twiss, fashion designer Denise L'Estrange-Corbet and WOW founder Dame Suzie Moncrieff — narrowed down the winners without self-imploding is anyone's guess. But the deserving supreme winner was Nelson designer Peter Wakeman, whose stainless steel, wood and fibreglass creation "Diva's Dreamscape" (entered in the Creative Excellence: Architecture category) featured the distinctive tiered metallics of Art Deco buildings. It was the third time Peter had entered WOW and the second time he'd won a prize, after being named Runner-Up to the Supreme Award Winner in 2013.
This year's runner-up couldn't have been more different: Xi Zhang, a student from Donghua University in Shanghai, whose striking garment "Deadly Beauty" (Avant Garde Section) was a vivid costume made from feathers, beads and mesh cloth.
Other successful finalists included New Zealand Design Award winner "Tinker" by Aucklander Jeff Thomson, a neon sculpture inspired by the tools he used to cart around on his back; Man Section: Uniform winners "Piper of the Lights", a lit-up bagpipe player by Chris Wilson and Gary Wilson of Upper Hutt, and Wellington International and Weta Workshop Costume & Film winners "Stitch Witch" by Sarah Seahorse and Lucy Luna Aquatica of Melbourne, who used all the leftover scraps, threads and junk collected from their studio floor.
As each of the outfits was performed, (you can't merely model a kaleidoscope, or a metal sheath designed to look like an ornate gate), across a range of categories ranging from kids, to Aotearoa, technology and sustainability, it was impossible not to marvel over the hours of workmanship required to create each of them, not to mention to think them up in the first place.
The World of Wearable Art Awards are at the TSB Bank Arena, Wellington, on Thursdays, Fridays and weekends until October 11. Tickets from worldofwearableart.com

Rebecca Barry Hill flew to Wellington on Air New Zealand and stayed at the Intercontinental Hotel as a guest of WellingtonNZ
Share this:
More Culture & Travel / Going Places