10 Up-And-Coming New Zealanders To Follow On Instagram
Refresh your feed with these young fashion, music and culture influencers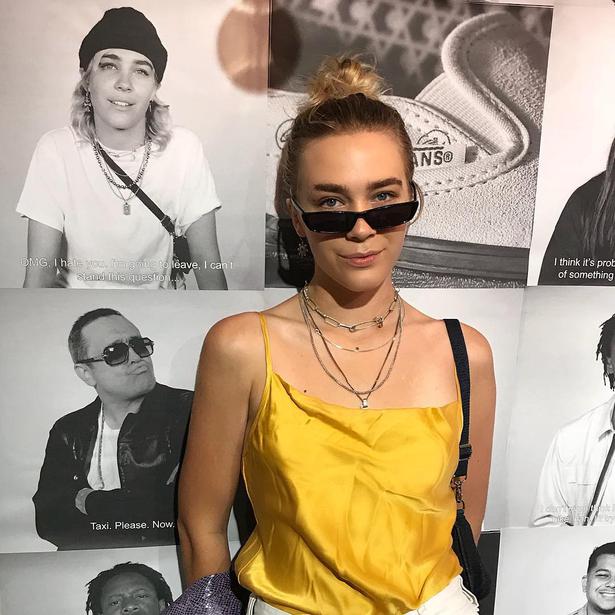 Sunday July 15, 2018
Nina Demont
We predict 16-year-old Nina is going to be a global star. Boasting over 120,000 followers on Instagram, the uncoventional makeup artist shows no signs of slowing down, with that number growing by the day. Using her face as her canvas, she draws anything from fruit, to Care Bears and star signs, keeping her audience in daily awe. Learn more in our Q&A.
For inspo on your next makeup look follow @ninademont
China & Rain Katayanagi
The Katayanagi twins are having a whirlwind year. When they're not being photographed by the likes of Huffer, Checks or Lonely you might catch the model/DJ duo playing an event in the city.
For side bags and trap music follow @chinakatayanagi @lordsaiko @katayanagitwins
Harry Barclay
Runway struttin', Prada modelling one-in-a-million Harry Barclay refuses to play by the rules. The Sydney-based 20-year-old model has been appearing for Huffer, DOUBLE RAINBOUU and Thing Thing... all in the last year alone.
For an insider's look at the day-to-day life of a Sydney cool kid follow — @harryxbarclay
Patrick Paredes
As the winner of last year's Mercedes-Benz #MBStarStyle competition, it's no stretch of the imagination to say that Patrick Pardes is at the forefront of the independent New Zealand fashion industry. Styling female editorial, his own menswear street style and everything in between, Patrick's approach to clothing is getting him global recognition. Learn more in our Q&A.
For Vetements and Vetememes follow — @patrickjparedes
Annabel Liddell
A frontwoman of the New Zealand DIY basement band scene, Annabel and her band Miss June have seen critical and commercial success, with their 2015 project Matriarchy (featuring the punk feminist anthem of the same name). Their latest single Twitch has clocked up over 100,000 plays. Fresh off an Australian tour, this rock chick is currently enjoying the London lifestyle.
For skate tricks and good music follow — @annabelliddell @ihatemissjune
Lincoln Van Vught
Auckland-based Lincoln doesn't need you to like him. Preferring to talk less and allow his work to speak for itself, the eccentric model's style is atypical and non-conforming. He dons the freshest local and international streetwear, and shows a little skin too.
For street style and selfies follow — @lincolnvanvught
Josephine Oloito'a
Josephine is one of the most beautiful personalities on the internet, period. At the time of writing, you can find her on Instagram but she's also been known to share her thoughts and humour on platforms such as Tumblr and YouTube. Learn more in our Q&A.
For life tips and a laugh follow — @josie.edan
Esther Ng
Esther is killing it right now. Over 50k followers flock to her Instagram page as she demonstrates how to pair some of streetwear's hottest sneakers with her own label, Prix Workshop. Since starting the brand earlier this year Esther has seen dozens of Insta-famous celebrities don her gear. Learn more in our Q&A.
For a look into the styling process of a young creative follow — @_estherng @prixworkshop
Robert Tennent
Rob has recently published his first book, Come Back to Bed. The 19-year-old has created an intimate and confronting photo journal, which delves into topics many might consider taboo.
For a deeper look into the creative process behind his book follow — @rob.tennent
Share this:
More Culture & Travel / Features & Profiles