Get Ready for Grown-Up Glamour at NZ Fashion Week
Full-on feminine makeup is making a dramatic return to the runway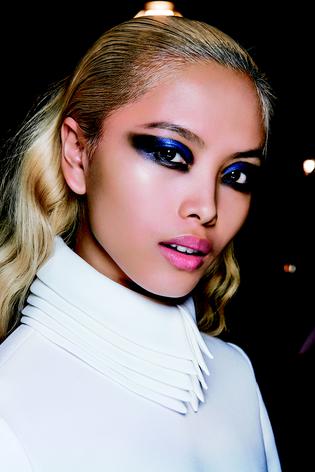 "I'm really excited about colour," says Kiekie Stanners, the makeup artist responsible for the beauty looks at some of New Zealand Fashion Week's biggest shows. Throw in metallics for good measure and we're bound to be dazzled by some high-voltage beauty looks.
"We've seen so many seasons of "no makeup" makeup, perfected grooming, or delicate touches," says Kiekie, M.A.C's senior national artist. But the less minimalist, more ornamental direction in everything from fashion, fabrics and accessories to home decor is emerging in makeup also.
This season expect a more constructed approach, with makeup visibly applied across the features. The old adage of "lips or eyes" is being swept aside as artists adorn both and add in colour flushes or defined sheen on cheeks too.
"More elements of the face are done in the same perfectly structured makeup," is how Kiekie, explains it. "You don't see the makeup before the woman." That's because colour choices, while bold, are most often complementary or monochromatic. Makeup is not plopped on with contrasting red and blue 1980s-style abandon, but is calibrated to suit individual complexions. "The makeup sits beautifully on the face," she says.
That nod to the individualisation of beauty was beautifully illustrated at the Brandon Maxwell show at New York Fashion Week this year, where Tom Pecheux asked the models which of a number of metallic eye shades they felt most comfortable wearing. Deep blue was a standout.
Locally, where designers and makeup directors have spent the last few weeks planning their own approaches, Kiekie says: "I celebrate that they do have very strong ideas themselves".
This means our winter show season looking towards 2018 — and coming seven months before Europe's equivalent round of shows — sees us in a chicken and egg situation.
Kiekie believes New Zealand Fashion Week beauty looks can and do surprise, by not following, but by being fashion-forward and independent.
Share this: