Lunch with Maggie Marilyn at NZ Fashion Week
Designer Maggie Hewitt, of label Maggie Marilyn, shares her fresh approach to Fashion Week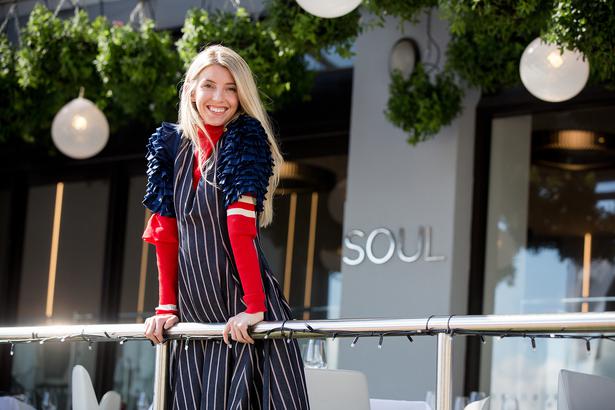 Wednesday Aug. 30, 2017
The lines of the traditional fashion show format have become blurred over the past few years. Presentations, installations and dining experiences are becoming increasingly favoured both locally and abroad — upping the intimacy in which designers can present their clothes.
With New Zealand Fashion Week now in full swing, designer Maggie Hewitt, of the label Maggie Marilyn, is doing just this, holding an exclusive lunch tomorrow overlooking the Viaduct Harbour at popular spot Soul Bar & Bistro. The event is to celebrate her rise since launching her label last year (it's now stocked everywhere from Net-a-Porter.com to Saks). VIP guests can expect optimistic colours, bold stripes and, hopefully, some spring sunshine.
Why are you hosting a lunch at NZFW?
It is an intimate press lunch to celebrate our almost one year since we launched. New Zealand, of course, is such an important part of who I am, and the New Zealand press has been so supportive of Maggie Marilyn. I felt it was important for us to be part of NZFW in some way, so I am looking forward to having a beautiful lunch with great food, wine and many laughs.
Tell us about the menu - what can guests expect to be enjoying at your lunch?
We have a beautiful menu curated by Soul consisting of lovely fresh seafood. And, it's a special occasion so, of course, Champagne.
You also held a press lunch earlier this year at Australian Fashion Week, what is it that makes this format special to you?
I think there is something really nice about having a small intimate lunch. For me to have the time to chat with everyone and to create a warm and inviting atmosphere so everyone leaves feeling that they have had a really beautiful afternoon with great food and great company.
How do you envisage the set up, styling and atmosphere to look?
It is going to have an emphasis on colour, as for our season four collection (Resort and Spring/Summer 2018) the palette is bright and optimistic.
What do future presentations hold for Maggie Marilyn? Would a runway show ever be on the cards?
Never say never but, for the foreseeable future, we won't be doing runway shows.
How does it feel to have such monumental global success only one year into business?
It is quite unreal to be honest. I feel incredibly blessed to have such an amazing team here at Maggie Marilyn and to have an amazing support system at home. I wanted to make clothes that I would love to wear, that would empower me in my everyday life and so far it's awesome to know that people want to wear them too.
Tell us about your latest collection, how would you describe it?
Resort and Spring/Summer 2018 consists of a lot of custom stripes that are light, easy and vibrant. It is a real mix of sculptural pieces, big puff sleeves and wide cuffed pants. I was inspired by the last days of summer, when you are sun-kissed, you feel strong, refreshed and optimistic about the world. It is a collection to run, laugh, dance and be happy in.
Where do you like to wine and dine?
Anywhere with a great cheese board and rosè.
Share this: