Adrienne Whitewood's Solo Show Debut at NZ Fashion Week
Adrienne Whitewood is no stranger to Fashion Week but this year the award-winning Maori designer is stepping out with her first solo show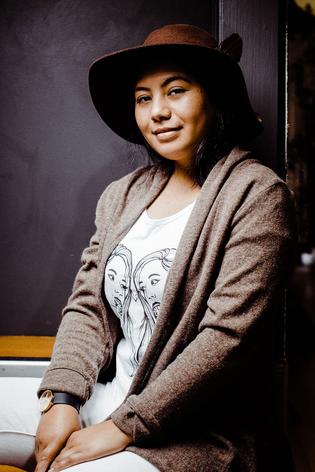 Adrienne Whitewood has been carving her uniquely cultural mark on New Zealand Fashion Week for the past three years in the Miromoda show, the Indigenous Maori Fashion Apparel Board which showcases local talent. But this year the award-winning designer is taking the stage all for herself in her first solo show. Her men and womenswear collection is inspired by Maori art disciplines and her hometown of Rotorua, where she owns high-end Maori clothing and jewellery store Ahu Boutique.
Where does your fashion influence come from?
My love for fashion comes from being brought up with my kuia in our family home. She taught me how to sew at the age of 8 and from then on my passion for clothing was ignited. When she went on trips she would always buy me special pieces of clothing and that's when I started to treasure what I wore.
What is the aim and vision of your designs?
To communicate ideas. I read something in a Maori art book once that when our ancestors came to Aotearoa their art form was a living explanation of the world they were living in and what was going on. I look at my work and realise the designs aren't purposefully Maori, that identity is already there in who I am and my pursuit to discover more about it, because of my ancestry.
How are Maori elements incorporated into your clothing?
Through motif, print and embellishment. These are important to me because it's who I am as a person. I strive to find my unique point of view in the world and my culture is a foundation of my design aesthetic.
Why is locally made clothing and design important?
It's important being a small business purely for the ease of communication and product delivery. I can call my suppliers, get urgent printing and get samples done on the spot. 
How does your hometown of Rotorua inspire you? 
It has been a big inspiration for me and my design. One of my first jobs was being a tour guide at a hangi and concert experience and I would hear from the tourists about how cool our town was. I developed a deep passion and interest to tell visual stories and share themes that celebrate our region and ancestral heritage.
Who do you have in mind when designing?
My customers. I have had the opportunity to dress some great personalities and I love to hear about where they are going and what they are doing. I feel like every garment I design needs to tell a story because my customers are going places and doing things where they want to wear clothing that represents the land and culture they live in amongst.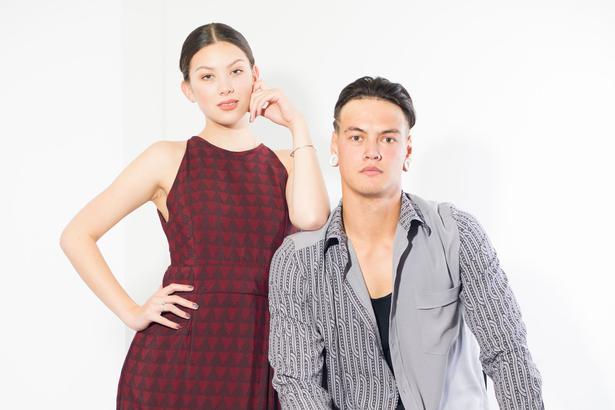 Pieces from Adrienne's latest collection, Ta. Picture / Supplied
What are you showing at New Zealand Fashion Week this year?
A collection called Ta (this means to print) and it is basically an acknowledgement to the Maori art disciplines of nga mahi whakairo, nga mahi raranga, tukutuku and taniko. The patterns themselves that I have taken reference from relate to the people of the Rotorua region Te Arawa, and the great respect I have for their accomplishments as an iwi.
What are the benefits to show at Fashion Week?
''Whatever you put in is what you get out''. I'm going in this year with my plan to lift my brand awareness right up there by leveraging off all the media, trade shows, pop-up weekends and public relations activity around the week. To use this platform you really need to know what you are doing, have a good team and know how to creatively engage your sponsors.
Do you think there is enough of a platform for Maori designers in New Zealand?
I think the question here would be are there enough Maori designers producing product in suitable volumes for the high-end demand. The demand is there, the high-end designers are there, but the issue they are facing is the ability to generate the cash flow to produce the quantities needed for the current market. It takes time and I believe we are making a great start!
Would you like to see Maori design reach an even wider audience? If, so why and how do you think this could be achieved?
In regards to fashion, again I feel like the audience is continually growing organically on its own. We as clothing designers need to better cater for this growth and this can be achieved through faster turnaround of our design and in larger volumes. This isn't a new market but I believe the types of products we can develop are still a scratch on the surface of our capability.
What is your personal style?
It's actually pretty boring. I like a comfy plain tee, jeans, cream chucks and my signature mako earings. I wear them every day and just can't take them off. They also match everything I wear which helps!
What are you listening/reading/watching at the moment?
I'm really trying hard to read the Bible from start to finish. I've been listening to a lot of Drax Project, I'm loving New Zealand music right now and I've been obsessed with cat videos lately. 
Do you have a personal philosophy?
It's cheesy but I grew up on Tony Robbins tapes. He always said if you never remember anything else I've said, just remember to "Live with passion". I never forgot what he said and that is always my outlook on life.
• Adrienne Whitewood's New Zealand Fashion Week show is on Wednesday August 30 at 11:30am. Visit Adriennewhitewood.com
Share this: