Zambesi's Top Honour for Fashion Week
The iconic New Zealand fashion brand has been recognised as a leader in its field by Mercedes-Benz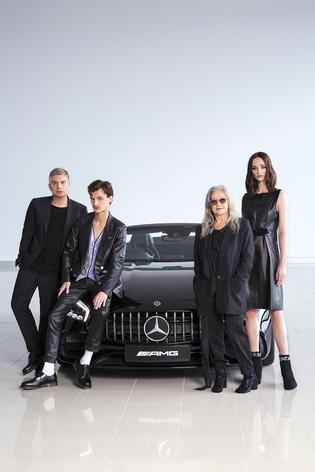 Fashion Week, with all its pomp and splendour, will this year be given a good dose of understated cool care of one of New Zealand's most established fashion labels, Zambesi. The brand, designed by Elisabeth Findlay and Dayne Johnston, is known for its moody palette and sophisticated fabrics. This year it will open New Zealand Fashion Week in August as the winner of the Mercedes-Benz Presents Designer Award.
The accolade is awarded for a fashion brand's innovation, style and craftsmanship, says Ben Giffin, the general manager of Mercedes-Benz Cars New Zealand.
Designers such as Monique Lhuillier, Derek Lam, Carla Zampatti, Kym Ellery, Dame Trelise Cooper, Kate Sylvester and Harman Grubisa have been selected as Mercedes-Benz Presents designers in the past. And for over two decades, Mercedes-Benz has been partnering the world's top fashion events from Sydney and Istanbul, to Beijing and Milan.
What do a car and fashion have in common you might ask? More than you'd think says Ben, who explains many ideas are scouted at Italian fashion shows and are then incorporated into the design and workmanship of Mercedes-Benz fabrics, leathers and wood. Apart from the thrill of driving the latest Mercedes-Benz, the award sees the brands work together for a full year.
What does this award mean to you?
Dayne (mens' designer): It's a proud moment to be associated with a brand like Mercedes-Benz. Innovation and quality design craftsmanship are at the core of our design, so we're delighted to be partnering with a brand that shares these values.
How have your methods of designing changed over the past decade?
Liz (founder and womens' designer): I still work very instinctively and my passion for fabric is my constant inspiration.
D: The method has always stayed the same and the focus remains on fabrication, the muse of every collection. We start with fabric selection and the design follows. We are proudly made in New Zealand and there is a strong focus on quality and design. We try not to compromise quality and stay on our own path of individuality.
In your many years of participating in NZFW, can you tell us about one of your most memorable runway disasters?
L: At our very first NZFW we were showing off-site at Auckland Museum and when I arrived at the venue we found we had no racks for the clothes, so we had to lay the outfits on the floor. Hilary Alexander, an expat journalist from the UK Daily Telegraph who was attending as an international guest, came out back and rounded up the catering trolleys to drape the garments over as a temporary measure. The show ran an hour late.
What did you dream of being when you were a child?
D: I always dreamed about clothes and dressing up, but I never thought I'd be a fashion designer.
L: Being different!
Can you describe your happiest day?
D: When I was 16 on a school exchange in Japan my host mother took me to Tokyo Disneyland — the happiest day of my life.
L: When those I love are happy, I am happy.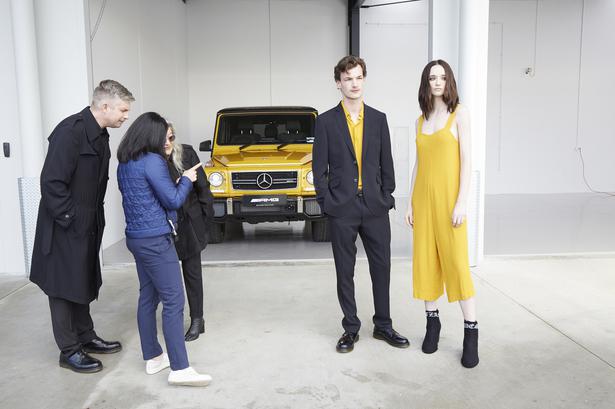 A behind the scenes look at the Mercedes-Benz Presents shoot. Picture / Supplied.

If you could dine with anyone in the world, who would you choose?
D: PJ Harvey or Patti Smith.
L: Leonard Cohen.

If you weren't a fashion designer, what would you be?
D: I'm not sure, it would have to be something involved in the fashion industry. Perhaps a stylist, window dresser or merchandiser.
L: I love choosing things and putting them together, so probably a stylist.

Your favourite book?
D: A Moveable Feast by Ernest Hemingway. This memoir of the American author's struggle in Paris in the 1920s has always inspired me.
L: I have so many favourites, one is Middlesex by Jeffrey Eugenides.

What are your most loved and loathed colours and fabrics?
L: I love black and I love to work with natural fibres, however, I am always open to new innovative fabrics.
D: I am not sure I hate any colour, but I detest fabrics that pill. We love black and our favourite fabrics are always natural ones including wool, silk and cottons.

What's been your most important life lesson?
D: My mother always had this saying when I was growing up in Wanaka: 'Give a man a fish and you feed him for a day. Teach a man to fish and you feed him for a lifetime'. I think this is a good life lesson.
L: My dad always used to say 'never give up' and 'don't be afraid' so I try to remember those phrases when I need to.

What riles you?
D: When we rack up a collection and there are mismatched hangers. I am a Virgo and a perfectionist.
L: Injustice.

WATCH: Zambesi Spring/Summer 2017/2018 at Mercedes-Benz Fashion Week Australia:

What makes you most proud to be a New Zealander?
L: Creating a brand that is made in New Zealand makes me proud.
D: Freedom.

What image appears on your laptop wallpaper?
D: A Martin Margiela photo of polystyrene cutouts of staff members from a retrospective exhibition I went to in Antwerp in 2009.
L: My grandson Bruno.

Who would you most like to dress?
D: Recently I watched the Nick Cave documentary One More Time with Feeling, it was beautiful. I would love to custom-make a Zambesi suit for Nick Cave.

What's your cocktail of choice?
D: Negroni.
L: Red vermouth on the rocks.

Where would you most like to live other than New Zealand?
D: Paris, London or Antwerp.
L: Anywhere my family are, I would be.

If Zambesi could design a New Zealand flag, what would it look like?
L & D: Minimal, simple and strong.

Share this: