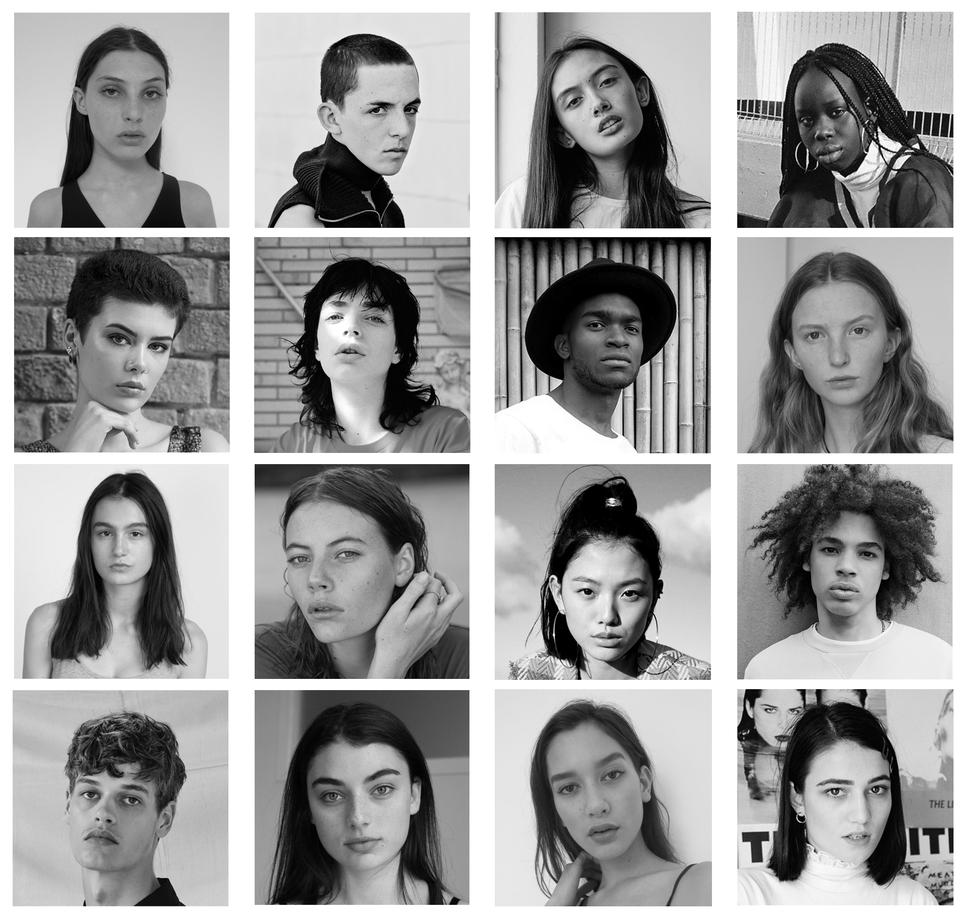 Models to Watch at NZFW 2017
Eyes peeled! We've got the scoop on the models to know — and follow online — ahead of NZFW 2017
Friday Aug. 25, 2017
As the anticipation of NZ Fashion Week 2017 builds — things officially kick off on Monday night — we've rounded up the freshest faces to keep an eye out for as they hit the runways.
Top row from left: 
1. Sophia (62) @sophiafrankish
Off the back of landing the David Jones Winter 2017 campaign earlier this year, we expect to see Sophia in some of the key shows of the week, including Kate Sylvester and Stolen Girlfriends Club.
2. Monty (The Others) @montycrane
Word has it that young gun Monty is walking for Salasai and Huffer — the new face already has an editorial with talented New Zealand photographer Derek Henderson under his belt. 
3. Natarsha (Red 11) @tarshaorsman
Signed to IMG Models Worldwide, this ethereal beauty is a regular on the Kate Sylvester runway, as well as appearing in the designer's latest Spring/Summer 2017 lookbook. 
4. Ayan (The Others) @yungmanyang
Confirmed for the Wynn Hamlyn, Salasai and Jimmy D shows, Ayan will be flying up from Wellington to walk for her very first time at NZFW.
Second row from left:
5. Hope (Unique) @hope_doesnt_wear_pants
Recently appearing in the Viva Winter Fashion Special, Hope has a busy week ahead — she's tipped to be walking for Zambesi, Lela jacobs, Miromoda, Ovna Ovich and more.
6. Honor (The Others) @dr.I091c
After making her Fashion Week debut last year, Honor and her signature jet-black mullet is now a firm favourite of designers such as Stolen Girlfriends Club and Jimmy D.
7. Felix (Unique) @felixthethyrd
Walking Zambesi and Federation, new face Felix is also a musician and DJ under the name Felix the Thyrd.
8. Becky (Clyne) @beckyskirrow
Now a firm favourite of Kate Sylvester, and signed internationally to Why Not models in Milan, big things are in the pipeline for Becky. 
Third row from left:
9. Coco (62) @pariscoco_
With busy brows and glowing skin, we can't wait to see Coco in the big shows of the week.
10. Georgia (62) @georgiafarley_
With editorial for Russh under her belt, Australian Georgia Farley was recently dubbed "the next Miranda Kerr" by the Daily Telegraph.
11. Crystal (The Others) @crysltiaml
Crystal will make her NZFW debut on the runway for Wynn Hamlyn, and recently shot for playful new online store Super Mizu.
12. Yohanis (N) @rothy.blu
A regular face on the Huffer Instagram feed and signed to IMG Australia, keep a lookout for Yohanis in the week's streetwear shows.
Fourth row from left:
13. Henry (N) @saruman_dooku 
At 6ft 2 Henry will be hard to miss. The fresh face recently landed the latest Deadly Ponies men's campaign.
14. Jamie (Clyne) @jamiestanton__
A natural behind the camera, Jamie has been shooting up a storm for brands like Ruby and Miss Crabb. We have a feeling she'll be a natural on the catwalk too.
15. Manahou (62) @manamackay
Manahou is making her Fashion Week debut with a bang, lining up a full schedule for the likes of Huffer, Zambesi, Kate Sylvester and Stolen Girlfriends Club.
16. October (The Others) @octob_r
Off the back of releasing her second single Pure, moody musician October will be multi-tasking as a model for brands like Jimmy D and Salasai.
Share this: