The A to Z of New Zealand Fashion Week
A helpful guide to the biggest week of New Zealand fashion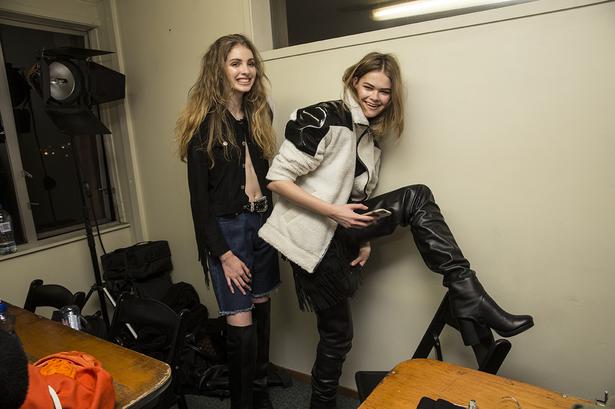 Monday Aug. 28, 2017
Augustine
Tickets to this New Zealand Fashion Weekend show on Saturday sold out in record time — before they went on sale to the public — so is the power and loyalty of the fans of designer Kelly Coe's brand. She promises "more than just a fashion show", with dancers, glitter and fun — plus the launch of two new labels, including sure-to-sell-out shoes under the name of Hey Monday.
READ: Designers Share Their Favourite Haunts
Ballet
Expect a beautiful show and performance at Andrea Moore on Tuesday, with dancers from the Royal New Zealand Ballet set to model. The designer will launch swimwear and fitnesswear ranges, which will be worn by the dancers alongside fitness and health influencers.
Dance will feature across the week, with young designer Jason Lingard planning a "conceptual presentation of interpretive movement" for his presentation on Thursday. The Auckland-based designer has worked with Wellington sound artist Emi Pogoni to create a soundscape which local dancers will perform to — rather than the traditional runway.
Carpets
In demand following his standout Fashion Week show last year, Wynn Crawshaw of the label Wynn Hamlyn returns on Wednesday night with one of the most anticipated shows of the week. He has worked with The Flooring Foundation to create custom carpets for his runway, which will feature vine motifs that tie in with his collection.
Diversity
It's already the buzzword in the lead-up to the week, following greater awareness internationally — although the focus still seems to be on diversity in ethnicity rather than size or age. New Zealand designers traditionally do a pretty good job in casting models from a variety of ethnicities — although in recent years, we've been disheartened by the lack of Asian and Pacific models, given Auckland's population.
READ: Where Are New Zealand's Pacific Island Models?
Earrings
"How Statement Earrings Became Generation Selfie's Favourite Trend" declared a headline in The Business of Fashion in June, with a story exploring how brands are utilising the accessory to reach new customers. Big, dangly, interesting earrings have been a slow burning trend over recent years at NZFW, but expect it to reach peak glam levels this year with vintage jewels.
Ex-Trelise Cooper designer Kayla Jurlina launched her new project last week, Homage, selling vintage earrings from her mother-in-law's collection — some of which were created for 80s TV show Gloss.
Fun
Fashion Week is all about business, but also fun — with footwear queen Kathryn Wilson promising plenty of that at her Wednesday afternoon show.
Giraffe
The reality is that most people working at Fashion Week survive on coffee, chocolate from the goodie bags, Frooze Balls, and pizza from nearby Sal's. But for those with more leisurely schedules this week, a lunchtime dash to Simon Gault's glamorous new Viaduct restaurant just across the Wynyard Crossing bridge will be in order. It's also where tomorrow's VIP international delegates welcome breakfast is being held.
READ: Why Jesse Mulligan Gave Giraffe 9.5/10
Heels
Let's be honest: they suck. At Fashion Week, you can usually spot the difference in those attending by what's on their feet: those working backstage are almost always in sneakers, and those having the luxury of attending shows, and who have a driver, in heels. On the runway this year, we expect to see more flats than heels too.
Influencers
It's a business that's taken off overseas, where the worlds of social media, personality and commerce collide. The influencer market here is much smaller but growing, and the level of influence they have on consumers is up for debate — some genuinely do shape buying patterns but a few are highly questionable.
Here, they're often called brand ambassadors, with large Instagram followings — Matilda Rice (123k followers) will walk in the Jockey show on Friday night, and Julia Matthews (20.4k followers), of Julia and Libby fame (64.4k followers) has been named as a NZFW Insider. This year's international guests include global influencers American Mary Seng (887k followers) and Australian Brooke Testoni (138k followers).
Watch: Insiders Share Their New Zealand Fashion Week Memories
Jewellery
It's not just about the clothes. Several designers are working with local jewellers to create special pieces to complement their garments — Natalia Peri will once again make pieces for the Ovna Ovich show on Wednesday, while Taranaki-based jeweller Jennifer Laracy is working with Salasai.
Kendrick Lamar
Who will be the first to play the rapper's track Humble this week? Other show soundtrack choices we expect to hear include Lana del Rey, Frank Ocean and anything by Lorde. Expect live performances from local bands too — including local singer Theia, who is set to play at the official opening party tonight.
Lunch
Local success story Maggie Hewitt of the label Maggie Marilyn will host a lunch for media and VIPs on Thursday at Soul Bar & Bistro in the Viaduct. The Auckland-based brand has grown quickly since launching last year, and is now stocked in high profile stores around the world including Net-a-Porter.com, Saks Fifth Avenue and Neiman Marcus.
"New Zealand, of course, is such an important part of who I am, and the New Zealand press has been so supportive of Maggie Marilyn," Maggie says. "I felt it was important for us to be a part of NZFW in some way, so I am looking forward to having a beautiful lunch with great food, wine and many laughs!"
Also celebrating this week is fellow global go-getter Georgia Currie of the label Georgia Alice, who will launch her new collection on Friday with a fun breakfast event — inviting friends for a catch up and a bloody mary.
Milestones
Designers are celebrating all over the place this year, with Fashion Week the perfect excuse for a party. Salasai marks 10 years with a show on Tuesday night, while designer Tanya Carlson's Wednesday night show will be an ode to her 20 years in fashion, showcasing one-off pieces. And, on Friday, to close the week, stalwarts Huffer continue their 20-year celebrations with an epic event — and after party — at Spark Arena for 2000 close friends.
Newbies
Last year was a memorable Fashion Week because of those younger designers who stepped up and made a splash. Designers making their debuts with solo shows this year include Rachel Mills on Tuesday morning, and Ovna Ovich and Adrienne Whitewood on Wednesday.
Opting out
It's a strong schedule with established names and emerging voices — but there are some designers we'll miss. Juliette Hogan is opening a new Wellington boutique the same week, and the designers behind Harman Grubisa chose to instead focus on their entry for the International Woolmark Prize — clearly a good move, as they were announced as the Australia/New Zealand regional winners earlier this month.
Politics
With the election coming just over 20 days after NZFW, our question is whether politics will make an appearance on the runway. At New York Fashion Week in February, days after Trump's inauguration, the runways were awash with political references, both obvious — feminist slogan T-shirts — and subtle (Raf Simons' ode to an America lost).
We've heard of some local designers working on collections that draw on broader inspirations and themes — environmentalism, immigration. But what about local policy and issues? Housing, poverty, the economy are likely a harder sell for designers — and certainly aren't as galvanising as Trump — but we don't doubt there will be some political action this week. Will Phil Goff attend, and enjoy, his first fashion week as Auckland's mayor? Will the cool young Greens be at any shows? And will the Jacinda effect result in a sea of red on the runway?
READ: Hailey Gates on the Politics of Fashion
Quaff
The stereotype is true: there's a lot of champagne at Fashion Week. This year's official partner is Beau Joie Champagne (easily recognisable thanks to its distinctive lattice copper bottle casing), so there'll be plenty for the VIPs to quaff between and at shows.
Retrograde
Astrology alert: Mercury is in retrograde until September 5. The celestial phenomenon — where the planet moves in the opposite direction to Earth — happens three or four times a year, and while there's no scientific evidence, it is often blamed for everything than can or will go wrong. Will things get crazy at Fashion Week?
READ: Your Fashion Week Horoscopes
Social media
The channel of choice this year will be Instagram Stories, offering those not at shows the chance for an up close and personal look at the event. Follow Viva on Instagram for the best access to shows, backstage, parties and more — featuring the Viva fashion team and hosted by our roving reporter Maddy Budd.
READ: Meet The Friends Behind Instagram's Every Outfit on SATC
Throwback
Fashion loves a hit of nostalgia, whether it's the internet's ongoing fascination with the costumes in Sex & the City or the fact that 90s fashion never seems to die. Watch memorable shows from the Fashion Week archives, including Zambesi and Kate Sylvester.
UberEats
The biggest trend we predict this year? The distinctive brown paper bags of UberEats being delivered to the Fashion Week venue.
Viva.co.nz
Bookmark our dedicated Fashion Week hub for the ultimate insider access to the week of shows, parties and style — from exclusive backstage access at all the key shows to live video from the front row, expert analysis from the Viva team to the best looks on and off the runway. Plus, follow Viva across all the key social channels for even more exclusive access.
Weekend
Kicking off with World's show extravaganza on Friday night, New Zealand Fashion Weekend is when the venue opens to the most important people in fashion — the consumer. As well as fashion shows from Augustine, Hailwood, Knuefermann, Russel Athletic and more, look out for beauty seminars and stalls and the hugely popular designer pop-up sale.
X-rated
You know those Instagram Stories and Snapchats we mentioned? Follow certain young stylists and fashion insiders this week, and you'll be guaranteed some naughty videos and shots from the after-parties — that conveniently disappear after 24 hours.
Yu Mei
A runway show is the traditional way to present at Fashion Week, but we're also fans of those who take a slightly different approach. This year, leather accessories designer Yu Mei will host an installation on Wednesday, working with a team of cool young creatives — including up-and-coming artist Alma Proenca and sisters Sarah and Ellyn Hui of multi-disciplinary design studio Meide.
Zambesi
One of the most anticipated shows of the week is also the first. Having sat out last year, Zambesi returns and will open Fashion Week tonight with a bang. This year's Mercedes-Benz Presents designer has also created custom garments inspired by the brand to mark the partnership.
Share this: