The Viva Verdict on New Zealand Fashion Week 2017
Associate editor Zoe Walker looks back on the week of shows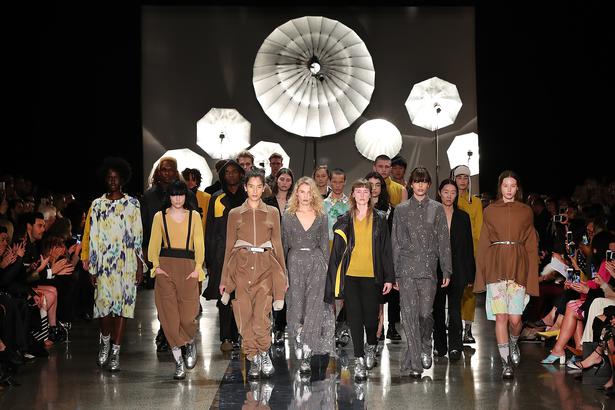 Monday Sept. 4, 2017
"Politics is in fashion," wrote political commentator Bryce Edwards on Twitter, sharing the record number of viewers for TVNZ's leaders debate.
That morning, much ado was made of Mike Hosking asking Jacinda Ardern what she would be wearing; the Labour leader asking if the same question would be put to Bill English.
But at New Zealand Fashion Week – one of the mellowest in recent history –  politics and the upcoming election barely registered.
Earlier in the week, the political buzz was there: the Labour leader, with her bearded bodyguard, and National's Nikki Kaye attending Fashion Week's opening event, chatting with fashion designers and guests.
WATCH: Behind-the-Scenes at Fashion Week's Opening Party
But on the runway, there was hardly any of the political awakening happening at fashion weeks around the world, which saw designers in New York, London and Milan react to Trump, Brexit, immigration issues, the Women's March and increasing global political tension.
Fashion is escapism, and not all fashion has to say something – sometimes, clothes are just great clothes (case in point: Tanya Carlson's fun and beautiful exploration of her fabric archive, and Jimmy D's art school cool) – but the shows that stood out the most at Fashion Week were those that acknowledged the world around them. Even if only in their own understated way.
Zambesi set the tone for the week with an uplifting opening show and collection of gorgeous fabrics and colours (expect to see those show-stopping yellow suits everywhere).
Featured throughout were items printed with positive phrases that were, explained menswear designer Dayne Johnston backstage after the show, mantras used in the Zambesi studio – some drawn from advice given to Zambesi founder Elisabeth Findlay by her dad.
"Never Give Up" and "Don't Be Afraid" may be borderline corny, but they also feel, right now, like slogans to live by.
They closed the show with a camel boiler suit, emblazoned on the back with a piece of guidance for all in the industry: "Keep up the quality".
That's a perfect segue to Rachel Mills, who showcased her collection with an atmospheric installation that combined music, film, lighting and fashion.
The Auckland-based designer, who also offers pattern-making workshops, explained before the show that she wanted to present something that had longevity and consideration. It was a fresh way to present a collection at NZFW, and made me want to see more.
READ: What Was NZ Fashion Week Like 10 Years Ago?
On Tuesday night – after a string of inexplicably delayed shows – Salasai celebrated 10 years of their brand with a strong show that drew on immigration, globalism and acceptance.
Called Human Kind, the collection featured one of the standout prints of the week made up of iconography from around the world, and the slogan prints that have proven popular overseas (Salasai's simply read, "Human" and "Kind").
The Wynn Hamlyn show was highly anticipated, and gorgeous – with small greenhouses, assembled by the designer's dad, placed on the runway. The collection, called Seasons, looked to explore the meaning of seasons in fashion today, with the impact of climate change: essentially translating to a well-made, seasonless collection.
Also exploring fashion's relationship with the environment was designer Marina Davis of the brand Ovna Ovich. Her charming debut show, titled Tread Softly, featured a dreamy performance by Purple Pilgrims, with models walking the paint-splattered runway barefoot – the takeaway being, think of your footprint when consuming fashion.
Diversity is another way in which the local industry could be considered to be vaguely political: deliberate choices to reflect society and fashion's inclusivity.
Many top brands booked New Zealand's first transgender model Manahou Mackay, and 57-year-old model Mercy Brewer walked in some shows, although diversity in size is still completely lacking.
Fortunately, in terms of ethnicity, NZFW does much better and is one of the more diverse. This year felt particularly strong, although there still feels like a small number of Polynesian and Asian faces, given New Zealand's cultural makeup.
It was a happy surprise when Medhika Priya Singhal walked down the runway at Tanya Carlson's show; a rare Indian model in a country where the Indian population is one of the fastest growing.
READ: Models to Watch at NZFW 2017
On Friday night, World opened the public-focused New Zealand Fashion Weekend with an exuberant show titled Protest the World – reminiscent of their 1995 show featuring the New Zealand flag adorned with the slogan 'Nuclear Free Fashion'.
National's deputy Paula Bennett sat front row; writing on Facebook, "Great to see leopard print coming back ... actually, was it ever out?!?"
The brand, which has worked with various charities in the past, partnered with Eat My Lunch to offer 600 guests a pre-show meal box, meaning 600 lunches also donated to children in need.
This year, models walked the runway holding placards, reminiscent of Chanel's faux feminist protest in 2014 (itself controversial, accused then of co-opting feminism; darkly hilarious now given the "feminism as fashion" trend following the Women's March).
Created by artist John Reynolds, the slogans ranged from silly to serious to sardonically observant of society's commercialisation.
"Live in the moment, except if it sucks."
"I'm married to an immigrant."
"We shop in the commercials."
The signs are now available for sale in store.
Share this: