Salasai Celebrates 10 Years of Fashion
Ahead of their NZFW show tonight, the Salasai team chat about the highlights of a decade in the fashion industry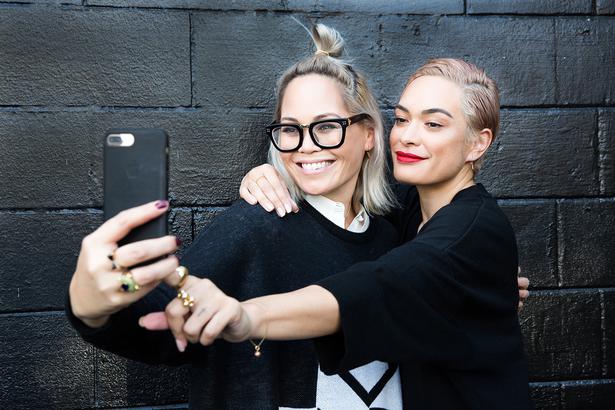 Tuesday Aug. 29, 2017
Ten years ago, when Kirsha Whitcher and Kelly Watson were on the verge of launching Salasai, they had big dreams. But a decade on, most of the highlights are ones they didn't see coming. "I could only think season-to-season back when we launched the brand," says Kirsha, laughing. "What I have learned is that the fashion industry is hard work and long hours. If you don't have a genuine passion for what you're doing, there is no way you'd last. Looking back, we are very blessed for the way things have evolved, and are still evolving."
Moving their production to China was a turning point, says Kelly, allowing them more freedom and choice, particularly for sourcing fabrics. The new world of possibilities "allowed creativity to be at the forefront of the collections" and led to them launching Salasai Home, which issues duvet covers reinterpreting each season's key print. The launch of their men's range was another move that wasn't planned, but turned out to give new depth to the label.
As well as taking their production off-shore, they've also overcome the difficulties of founding designer Kirsha's decision to move to Perth with her family. She says it has been a challenge, but "I find I work well in isolation, especially when it comes to designing the concept of each collection".
They make it work through "a lot of Skype sessions, thousands of text messages. We have every downloaded communication app possible," says Kelly.
Salasai returns to the Hilton Auckland hotel for their show tonight, styled by the brand's long-term stylist, and Viva fashion editor, Dan Ahwa. "We did our 2011 show at the Hilton, and I think that put us not just in the mix but raised the level of expectation," says Kelly.
This year, their collection has been inspired by turmoil and change: "So much segregation, immigration laws, refugees, war, terrorist activity and people looking for hope and acceptance wherever they can find it," Kirsha explains. "This collection is a representation of imagining more unity, more acceptance, love and kindness — people being as one rather than what we are experiencing today. Our new season prints are full of flags, representations of countries, and peoples worldwide."
They have also worked with photographer Adam Bryce on an anniversary campaign featuring friends of the brand, and are printing 10-year T-shirts for their key brand supporters. Keep an eye out for them around NZFW and at the show this week.
Share this: