What's 'On Fleek' These Days When it Comes to Eyebrows?
Beauty's eyebrow obsession isn't going away, but best shape to suit yourself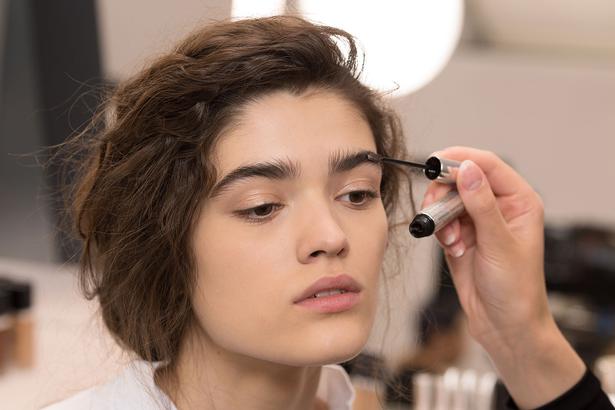 Saturday Sept. 2, 2017
The importance of brows as a face framer is universally acknowledged. Sales of brow products are on the rise as are bookings to get your brows "done". Thank the likes of Cara Delevingne and Kim Kardashian for creating brow envy and internet frenzy. Kim's Instagramming of her "on fleek" brows has helped promote a non-word into the lexicon.
But what exactly is on fleek in these days of more personalised beauty looks? The national brow artist for Benefit, an American company which has specialised in brows since the 1970s, admits she feels naked leaving the house if she isn't wearing a "show" brow. Sarah Taiapa-Bell favours a bold and angular defined shape. But she says since Benefit introduced a brow menu, the "natural" look is most popular, followed by her more dramatic approach.
At Dior's winter show, the model look explored a more feathered style, kept in place by its brow mascara. Even such relatively unshaped brows are now groomed into place.
"It's here to stay," says Sarah of brow styling, because it adds polish, even if makeup is not being worn. Men too are cottoning onto the benefits of a tidy brow.
READ: Why We're Over Try-Hard Hair
"The ability to change your brows can also take years off the look of your face in an instant," she says. Women with faded or sparse brows can fill them in and clever use of product can create the impression of a mini eye lift.
So, it's no wonder that tinting, waxing, shaping and more permanent methods of defining brows such as tattooing (also called microblading) are gaining in popularity. Brow powders, pencils and gels allow for everyday DIY. Some women want a single simple-to-use product, the beauty junkie type mixes them to achieve effects such as multi-dimensional brows with graduated colour.
But the biggest trend is away from a single stencilled shape. It's all about finding your best brow, or having some fun with varied looks.
Share this: