World Keeping it Positive for NZFW
World's opening show for NZ Fashion Weekend will include a collaboration with the Eat My Lunch charity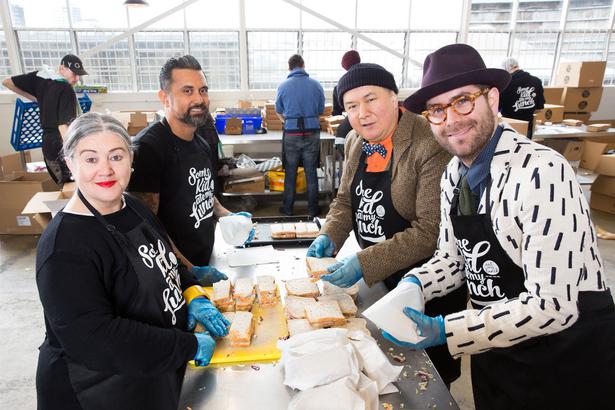 Friday Sept. 1, 2017
World doesn't always put on a show at Fashion Week, but when they do, they really put on a show. Last year, it was a gender-bending couture extravaganza in collaboration with Ryder salon at the Exhibit NZ creative hair show that closed the week. The time before that, in 2011, it was the centrepiece of the finale episode of New Zealand's Next Top Model, live-streamed to a million and a half people.
"I guess that was the most-watched New Zealand fashion show ever," says Benny Castles, World menswear designer, reflectively. "But it was a frighteningly big event and the intenseness made us take a step back, and think about how to make sure that the audience experiencing and enjoying our shows are the "right" people — that they really want to be there, that they're excited. It makes for an atmosphere that's fun.
"The Fashion Weekend is a great vehicle for that because anyone can come along. We have a lot of our customers, family friends and the community around our brand coming to support and they have a great time."
There's no doubt fun was back on the agenda last year after World's five-year break, with Benny, Francis Hooper and Denise L'Estrange-Corbet sending out pieces that ranged from a giant multicoloured fun-fur ball to graphic turquoise and Kermit-green double-breasted trouser suits on mustachioed women.
WATCH: Insiders Share Their NZ Fashion Week Memories
"[The show] was a real throwback in terms of being able to play within the couture sphere and work with some incredibly talented people who were letting their creativity fly," says Benny. "It was a pretty special event. So we came away from Fashion Week last year feeling really good about the opportunity that World has there."
This year they're planning to step things up in a different direction. Although World is known for its commitment to the outrageous and unexpected, a culture of acceptance and compassion is just as much a part of the label's DNA. Their charitable collaborations over the years have included work with Diabetes NZ, Starship, the United Nations, Leukemia and Blood Cancer NZ and the Open Minds campaign. So when they stage the opening show for NZ Fashion Weekend, all 600 guests will enjoy a delicious pre-show meal box as part of a collaboration with Eat My Lunch, which will result in 600 lunches also being donated to children in need.
With the working show title Protest the World, and a collaboration with artist John Reynolds in the mix, it's sure to be an exuberant, eclectic way to kick off the consumer Fashion Weekend. "At the end of the day, fashion is nothing if it's not positive," says Benny. "It's not a necessity, it's positivity, in the same way art or music is. We always try to keep that in mind. Our job is not to sell people skirts; it's to make people happy."
Share this: