10 Things We Learned From Britain's Fashion Awards
What happened at this year's Fashion Awards? Victoria Moss and Bethan Holt were there to note every outfit, intrigue and heartfelt dedication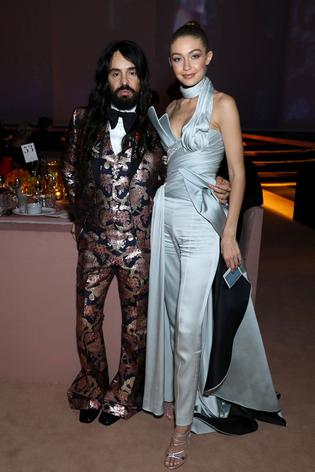 On Monday night the biggest names in fashion gathered at the event formerly known as the British Fashion Awards as it presented its super-sized, sexier, rebranded version, known simply as The Fashion Awards.
The brainchild of British Fashion Council chairman, Dame Natalie Massenet (and founder of Net-a-Porter), the new high-octane concept was designed to bring Glamour, Glory and Money to the UK's fashion industry. (Money being the operative — Massenet has pledged to raise £10 million ($17.6m) over the next 10 years to fund British fashion education, in the form of workshops, apprenticeships and scholarships.) Hence the event was moved back to its previous home, the Royal Albert Hall, complete with an expansive red carpet, giant Swarovski crystal posing gong (FYI — it creates great back lighting, something to consider with your seasonal party planning) and a souped-up international flavour.
As ever at fashion events, sartorially the guests divided into their natural style habitats. The insider-insiders stuck to chic neutrals (black, black and black), while Alexa Chung offered a jaunty take on evening pyjama style in a feather-trimmed Prada two-piece as an alternative to those more intent on Attention — a fabulous, if rather uncovered Naomi Campbell — peacocked their way along that carpet for all it was worth. Special recognition here to X Factor judge Nicole Sherzinger for services to Julien Macdonald, and ice-dancers the world over.
READ Inside Vogue's 100th Birthday Party
Inside, the hierarchy of the fashion world was arranged as acutely as ever, with graduated levels of seating. Front and centre were guests invited on to tables (which cost up to as much as £48,000 a pop, and seated 10 to 12 guests); beyond there were boxes for those just out of reach, and up in the gods — well, there certainly wasn't any waitered table service.
The place was decked out with giant pink origami flowers, the carpet (all 1000sq m of it) and tables a tasteful blush pink: all in all it had a cosy, womb-like appearance that made a fitting backdrop for the polite back-slapping which marked the night.
Besides Jack Whitehall's opening token Trump jibe — "To all the models, if you work really hard you too could end up married to a psychotic nutter" — there was little in the way of controversy. Certainly, when pressed, designers were shrewd enough to dodge the would-they-dress Melania question. "I am definitely not going to answer that," Sarah Burton, said when asked if she'd like to see the future First Lady in the Duchess of Cambridge's favourite McQueen.
All in all, it was a dazzling, show-y, fabulous, Evian- (it was a Monday night, after all) and champagne- (Louis Chaurer via M&S if you're interested) fuelled soiree. Bravo, Dame Natalie for serving up a keen reminder that British fashion can glam it up as well as the rest of them. — Victoria Moss
1. Best voice of a generation: Gigi Hadid
Fresh from last week's flesh-fest that was the Victoria's Secret show, the elder Hadid sister took to the stage in an ice-blue Versace trouser/cape top combination to collect her International Model of the Year award from Donatella Versace. (The younger Hadid sister, Bella, had also been nominated, but didn't win and didn't turn up.) Holding back tears, an emotional 21-year-old Gigi acknowledged that as much as she is "blessed" to be from the "social media generation" (a nod to her 26 million followers on Instagram), it was the venerated fashion audience in front of her that means the most. When you can casually drop the first names of Anna (Wintour), Mario (Testino) and Bruce (Weber — the photographer who was there to collect the Isabella Blow Award for Fashion Creator), you know you've made it in style. (VM)
2. Best velvet: Kate Moss and David Beckham
If you want to be Of The Moment right now you need something velvet-y in your wardrobe arsenal. Clearly Moss and Becks have been paying attention. They both sported sensuously gorgeous velvet numbers. KM was elegant in her grown-up maxi number (teamed with a black fur coat, which she was overheard describing to Mario Testino as "very Liberace"), while Becks (sans Victoria) was ever so handsome in a Ralph Lauren velvet tuxedo jacket. Note the black and olive tones. Chic. (VM)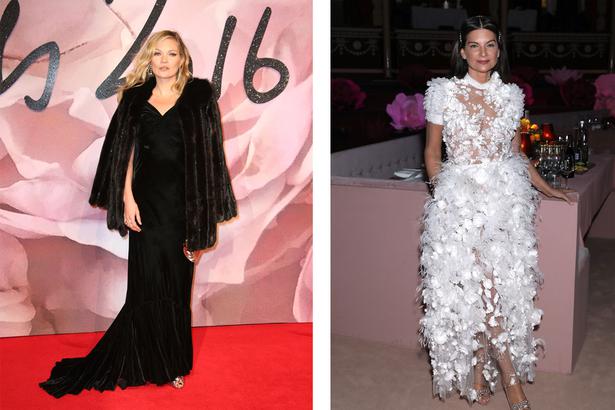 3. Best Dame: Dame Natalie Massenet
The patron saint of British fashion was the true Queen of the Night. Attired in a not dissimilar style to a fairy atop a giant, style-conscious Christmas tree — in a shredded white Ralph & Russo number, complete with tiara-esque sparkling hairband — she was resplendent in overseeing the elegant extravagance of her creation. Guests were shrewd to note her patronage: every winner thanked her first. A fashion goddess duly honoured. (VM)
4. Best Bromance: David loves Ralph, Jared loves Gucci, Marilyn Manson loves Demna
In presenting Ralph Lauren with his Outstanding Achievement Award (cue an Americana film montage which served as a wholesome salve against the country's current political predicament), Becks let slip what a fan he was of the pony-motif label. He gamely recalled meeting Mr Lauren for the first time earlier this year at Oxfordshire celeb country retreat Soho Farmhouse, attired head to toe in RL, obviously. Meanwhile, in edgier love-ins, Hollywood actor Jared Leto declared his obsession with Gucci creative director Alessandro Michele; while surprise — but, on reflection, not that surprising — Marilyn Manson appeared to furnish the arch-provocateur (and his dear friend) Vetements and Balenciaga designer Demna Gvasalia with one of his two awards of the night. (VM)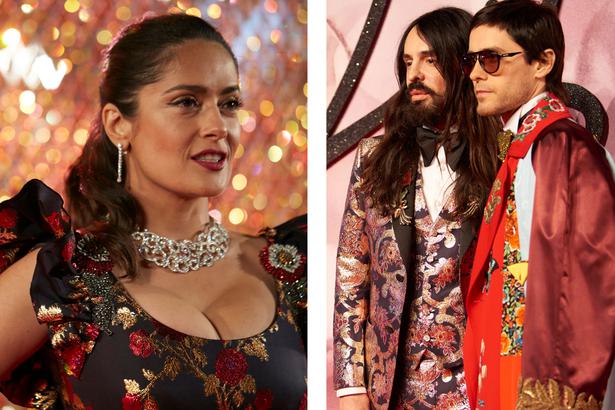 5. Best boobs: Salma Hayek and Jourdan Dunn
Hayek's decolletage reached ever-more impressive proportions in her custom-made Gucci dress — so helpful to be married to Francois-Henri Pinault, the CEO of Kering, which owns Gucci. Meanwhile, Ms Dunn took on the current vogue for a crop top with aplomb. Both knockout. Who said fashion was anti front-flumps? Not us. (VM)
6. Best appropriation of black-tie: Ralph and Ricky Lauren
Proving that in these heady modern times jeans have a home at any occasion, Mr Lauren teamed his signature blue denims with a full tuxedo on top. While his wife, Ricky, neatly twinned with her husband, sporting a white-tie tux (complete with bow-tie) and elegant black court shoes. Now that's how to interpret a dress code. (VM)
7. Best designer: Demna Gvasalia
His name may not be quite tripping off your tongue yet, but he has undoubtedly been the man of the year — and the Fashion Awards, where he picked up two gongs. The first was for the label Vetements (which he leads with his brother) and the second for his work as creative director of Balenciaga. His industry-shifting approach has turned £800 jeans, bright yellow DHL logo T-shirts, striped leather Thai market bags, ditsy printed midi dresses (the reason you are seeing a tea dress revival) and Titanic (yes, the film) branded sweatshirts into cult, sell-out items. His work maybe provocative, but it's also shrewd and forward thinking. You'll be hearing a lot more about it. (VM)
8. Best dressed: Maye Musk
"Every 68-year-old should try a slit!" proclaimed the radiant model Maye Musk. Her look — a long dress with aforementioned slit and an oversized metallic jacket by Zaid Affas — managed to do what few red carpet ensembles ever manage: play to glamour and practicality all at once. She was even wearing tights, a woman after our own hearts. "British style is more exciting than New York style; you're a little cheekier," Musk winked, hot-footing down the red carpet to show the kids how it's done. — Bethan Holt
9. Best style icon: The Queen
Her Majesty might have been missing from proceedings — how we'd have adored to see her presenting Ralph Lauren with his award — but she was never far from hearts and minds. "My British style icon has to be the Queen, she's amazing," said designer Simone Rocha, who won the British Womenswear Designer of the Year award. "I'd love to see her in my clothes." Indeed, one of Rocha's deconstructed trench coats would make excellent Balmoral attire. A regal air was also lent by several attendees sporting State Banquet-worthy tiaras. (BH)
10. Best party beauty tips
What can we learn from a crowd who practically party for a living? "Dye your hair pink. Be creative! 'Tis the season after all," encouraged Erin O'Connor, wearing Giles Couture, hair slicked back and sprayed copper. Getting ready in extra-quick time was the evening's most popular humblebrag: "I just want to get there!" quoth Molly Goddard, who confided that she'd wiped off most of her professionally applied makeup. While It Girl Laura Jackson offered some practical notes — wash your face with coconut oil and a hot cloth before bed to give you last-night-never-happened glow the next day. (BH)
Who won what?
British Emerging Talent: Molly Goddard
British Menswear Designer: Craig Green for Craig Green
British Womenswear Designer: Simone Rocha for Simone Rocha
Isabella Blow Award for Fashion Creator: Bruce Weber (Photographer)
Special Recognition Celebrating 100 years of British Vogue British Brand: Alexander McQueen
International Business Leader: Marco Bizzari (president and CEO, Gucci)
International Urban Luxury Brand: Vetements
New Fashion Icons: Jaden and Willow Smith
International Model: Gigi Hadid
International Accessories Designer: Alessandro Michele for Gucci
International Ready-to-Wear Designer: Demna Gvasalia for Balenciaga
Outstanding Achievement in Fashion: Ralph Lauren
The Swarovski Award for Positive Change: Franca Sozzani (Editor in Chief, Vogue Italia & L'Uomo Vogue)
— The Daily Telegraph
Share this: